New food trends are constantly appearing. Whether in magazines, cooking blogs or social networks, we're exposed to all kinds of meal prep suggestions that can sometimes be tricky to navigate. That's why we'd like to talk to you about meal prep and two ways to go about it. You'll see, it's not as complicated as you might think!
So what's meal prep, anyway?
It just means preparing meals in advance. The concept is simple: preparing meals or a few steps beforehand will save time later so you can enjoy good meals even if you're having a busy week. You've probably seen pictures of meal prep in plastic containers ready to be put in the fridge or freezer. Well, just know that there are more ways than one to prep meals. The two main techniques are« Prep Freeze Cook » and Classic preparation.  
Source: New Leaf Wellness
For Prep Freeze Cook, you assemble all the ingredients and put them in the freezer in resealable plastic bags or containers. The only thing left to do is cook and serve. For this technique, slow cooker or one-pot recipes are the best. To better understand prep freeze cook and discover meal ideas, visit this website.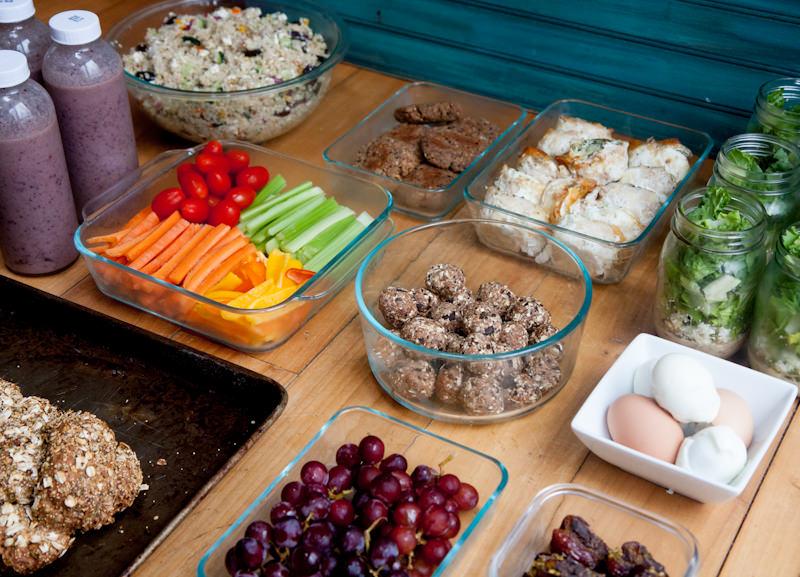 Source : Fraîchement Pressé
Classic preparation is a meal prep technique you might already be using. It's about making the entire recipe: cutting, seasoning and cooking everything in advance so that the only thing left to do is reheat when you're ready to eat. Dishes prepared this way can be stored in the fridge, but also in the freezer for a longer preservation.
Choosing food
According to Fraîchement pressé, there are four essential steps for good meal prep:
Choosing the right recipes
Making a grocery list
Preparing the basics (cutting veggies, cooking grains, etc.)
Assembling recipes in an efficient manner
Food choice for meal prep is the heart of the preparing in advance process. If you choose your food well, the steps that follow will be a lot easier.
Regardless of which meal prep technique you use, the most important thing is being flexible with the ingredients. The more you choose ingredients that can be used in more than one recipe, the simpler and more affordable the preparation. For example, if you use chicken in more than one recipe, but in various ways – pulled, diced or sliced, for example – then buying more will cost you less at the grocery story because the price per pound will be lower.
Meal planning is more than picking the food. If you want to learn more, read our article called Getting around the hassle of meal planning.  
What are the benefits of meal prep?
As well as saving time and money, meal prep allows you to enjoy your meal because it takes the stress out of cooking when you're pressed for time. It's also really customizable. Read this example of meal plannning that uses the two techniques we suggest and you'll see how meal prep can be helpful to you.
Top 10 reasons to love meal prep
The benefits of « Prep Freeze Cook »
Prep Freeze Cook is great for slow cookers or for when you're at home, but don't have the time to make a whole meal. As well, it's a good opportunity to involve people who don't necessarily feel comfortable in the kitchen with minimal risk. Often, this technique requires between one and six hours in terms of cooking time.
The benefits of classic preparation
This technique is a bit simpler than Prep Freeze Cook because all you have to do is reheat the already-made, cooked meal. Preparation time may be a little longer, but it'll take less time when you're ready to enjoy the meal. With this technique, you can also easily make spaghetti sauce or chili con carne ahead of time and just cook the pasta or tortillas when you're ready to eat. One way to use this technique is to double or triple recipes. You won't feel like you've spent the whole weekend preparing meals and you'll be able to put extra servings in the fridge or freezer for quick meals later on. 
What kinds of recipes can you prep in advance?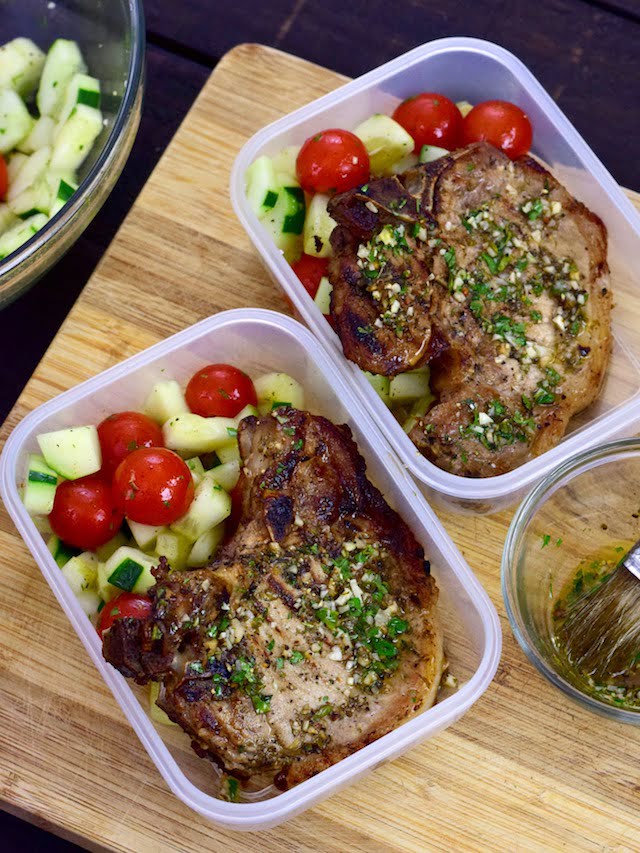 Source: Meal Prep Mondays
Most of your favourite recipes can be prepped in advance. You just have to know which technique is best for each one. In general, Prep Freeze Cook is best for one-pot or slow cooker recipes. The Classic preparation technique, on the other hand, is good for almost any recipe depending on how much time you have for preparation and on the flexibility of the ingredients you choose. 
Prep Freeze Cook recipes
Want to try Prep Freeze Cook? Here are a few recipes just for you:
 Slow cooker recipes are perfect for this method. Consult our In the Spotlight : Slow Cookers article to inspire you to try Prep Freeze Cook.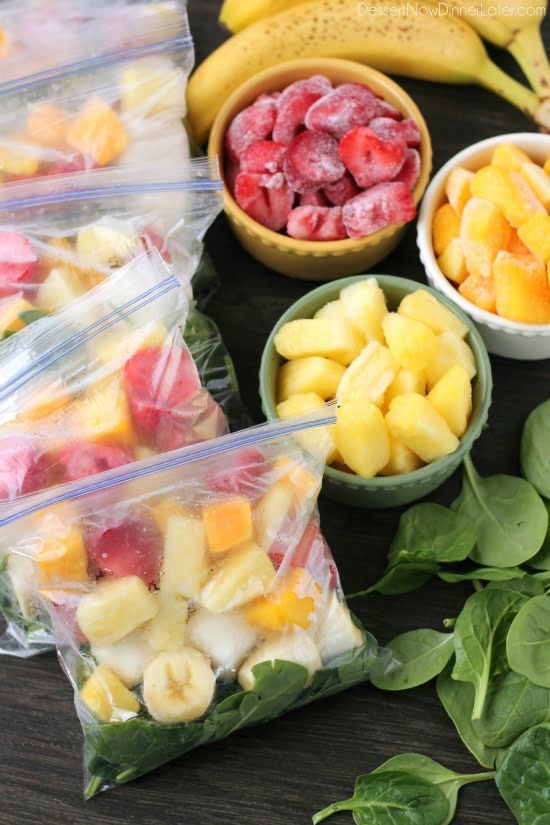 Source : Dessert Now Dinner Later
Smoothies also work very well for Prep Freeze Cook. In fact, all of your favourite smoothie recipes can be prepared in advance. Making smoothie packs ensures you get smoothies that are made well, made fast. Just put all the solid ingredients like cut fruit and veggies and frozen yoghurt cubes into individually-portioned, resealable plastic freezer bags. Then all you'll have to do is pop one into the food processor with some milk or juice. To freeze yoghurt, simply spoon yoghurt into ice cube trays and freeze. Try preparing your favourite smoothies this way. If not, here are a few recipes for inspiration:
Peach and Peanut Creamy Green Smoothie
Recipes for the classic preparation
Pasta
Macaroni Casserole with Meat and Vegetables
Spinach Stuffed Shells in Florentine Sauce
Try these 20 Easy Pasta Salad Recipes. You won't be disappointed!
Pies and quiches
Chicken & Bacon Pot Pie with Goat Cheese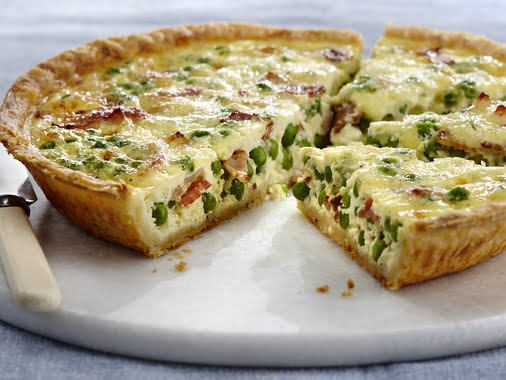 Soups
Moroccan Red Lentil Vegetarian Soup
Appetizers
Desserts
If you're looking for inspiration, you can also take a look at these and these 5 easy recipes.  
For a better understanding of these two techniques and examples on how to use each one, read this Beginners Meal Prep Guide.
Menu suggestions
Does the Prep Freeze Cook method intrigue you? Why not try this menu for supper this week. 
Prefer the classic preparation technique? Here's an example of weekly menu of meal prep. We encourage you to give it a try or use it as inspiration to create your own menu.
Want to create your own menu? Regardless of the technique you choose, feel free to use our menu template for a week to plan your meal prep.
Tips and tricks for good meal preparation
Source : Yoopa
Tools needed
There are lots of meal planning apps for Apple and Android out there. Looking for an app to help you manage groceries? Read our article on Managing Groceries at you Fingertips. It'll open up a world of possibilities.
Apart from planning tools, the containers you use will have a big impact on meal prep, so it's important to have enough on hand in the right formats for the type of preparation you choose. Ideally, you'll have resealable plastic bags and containers specifically for meal prep over and above your regular containers.
Kitchen Hacks
Whether you use your grandma's tricks or other kitchen hacks, there are lots of out-of-the-ordinary tricks that can help make meal prep more fun and more efficient.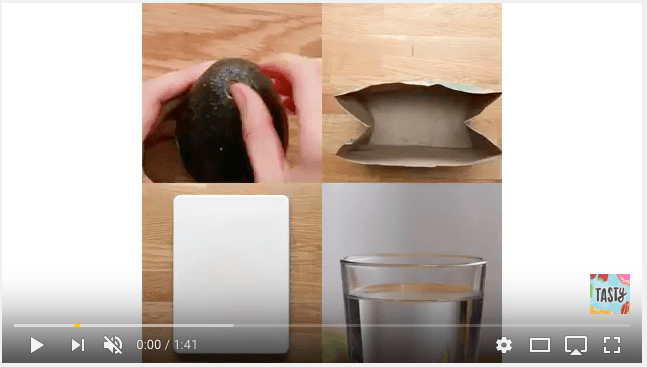 Did you know that you can get avocados to ripen more quickly? Here's how:

Put avocados in a paper bag with bananas and close the bag.
Wrap avocados in tinfoil and bake in the oven at 200 °F for 10 to 60 minutes.
To know if an avocado is ripe, look at the stem. If it's green, that means it's ripe. If it's brown, it's too ripe. If you can't remove it, then it's not ripe enough. For more details on how to ripen or store avocados, watch this video on Tasty's YouTube Channel for more details. 

Looking for a way to soften butter without melting it? Why not try something new? It's oh so simple. In the microwave, heat water in a measuring cup for a minute or two. Then, empty the cup, turn it upside down and cover butter that's already been placed on a plate. The butter will melt in no time.
Using frozen veggies can really help when it's time for meal prep. This recipe from Cuisine futée is a good example of how to use frozen veggies for Prep Freeze Cook. For other tips on how to use them, check out our web site!
Here's a trick if you've burnt something in a pan and it just won't come off. Pour some water, baking soda and vinegar into the pan, then bring to a boil. Your pot will look like new again!
Tricks for the Prep Freeze Cook technique
If you're making potatoes, peel and put them in cold water. They're now ready to cook which will help you save a lot of time.
If you like homemade iced coffee, pour brewed coffee into ice cube trays and freeze. Once frozen, transfer to a resealable plastic bag. You'll just have to put the cubes in a glass and add a little milk!
For other tricks and advice on Prep Freeze Cook, we recommend reading How to Freeze Food: 30 Do's and Don'ts.

For freezing tricks, visit this

site.
Source : Fraîchement pressé
Tricks for the classic preparation technique
Instead of cooking rice, quinoa or pasta every time you need some, make them in big batches, then freeze to always have on hand.
It's possible to season one type of cooking in several different ways. Here's how: put three sheets of tinfoil next to each other on a large baking sheet. Fold the ends up to make three sections. Place meat or veggies onto each section and season each one in a different way. This meal prep trick means you won't be eating the same thing all week long. See this pinterest post for more ideas like this one! 
Instead of the famous smoothie packs, prepare your favourite smoothie and pour it into a muffin tin. Freeze, then transfer to a freezer bag. Just put one or two smoothie muffins into the blender and add a little milk when you're in the mood for some.
Cook a bunch of veggies on the same baking sheet. To ensure you get enough veggies at mealtime when prepping meals in advance, use the baking sheet technique. Put a variety of veggies onto a baking sheet, add a little olive oil and seasoning, broil for 5 to 10 minutes and voilà!
Use mason jars to make salads ahead of time. It's easy. Put the dressing at the bottom, add some protein and top with veggies making sure that you put the most delicate on top.
To ensure you eat healthy snacks, prepare your mixes ahead of time and store in small resealable plastic bags or containers.
It's really easy to prepare overnight refrigerator oatmeal. Pour half a cup of oatmeal and half a cup of Greek yoghurt into a mason jar, then add some fruit and nuts. Let stand overnight in the fridge and enjoy for breakfast in the morning.
Source : Food Network
Prepare raw veggies in advance. In mason jars, add dip, stand veggies up in the dip and you'll have crunchy veggies ready for snacking.
Prepare homemade dressings and sauces ahead of time.
Freeze pesto in ice cube trays. It'll keep longer and individual servings are really practical. Read our article called Herbs : Growing, Preserving and Enjoying them! to get other tips on how to use them. 

Hate peeling garlic? Here's a trick that will make it easier. Put garlic cloves in a glass, put the mouth of another glass against it and shake. The garlic will peel itself. A closed, plastic container will do the same trick. See how in this 

video

!

Want to make more than one hard-boiled egg at a time? Use a muffin tin and cook for 30 minutes at 350 °F. For more details, view this 

recipe
For more tricks on a successful meal prep, read this article on How to Master your Weekly Meal Prep and continue with this article on How to make an healthy meal plan.
Now that you've read about the latest meal prep trend, will you give it a try? If you do, share your results and comments.