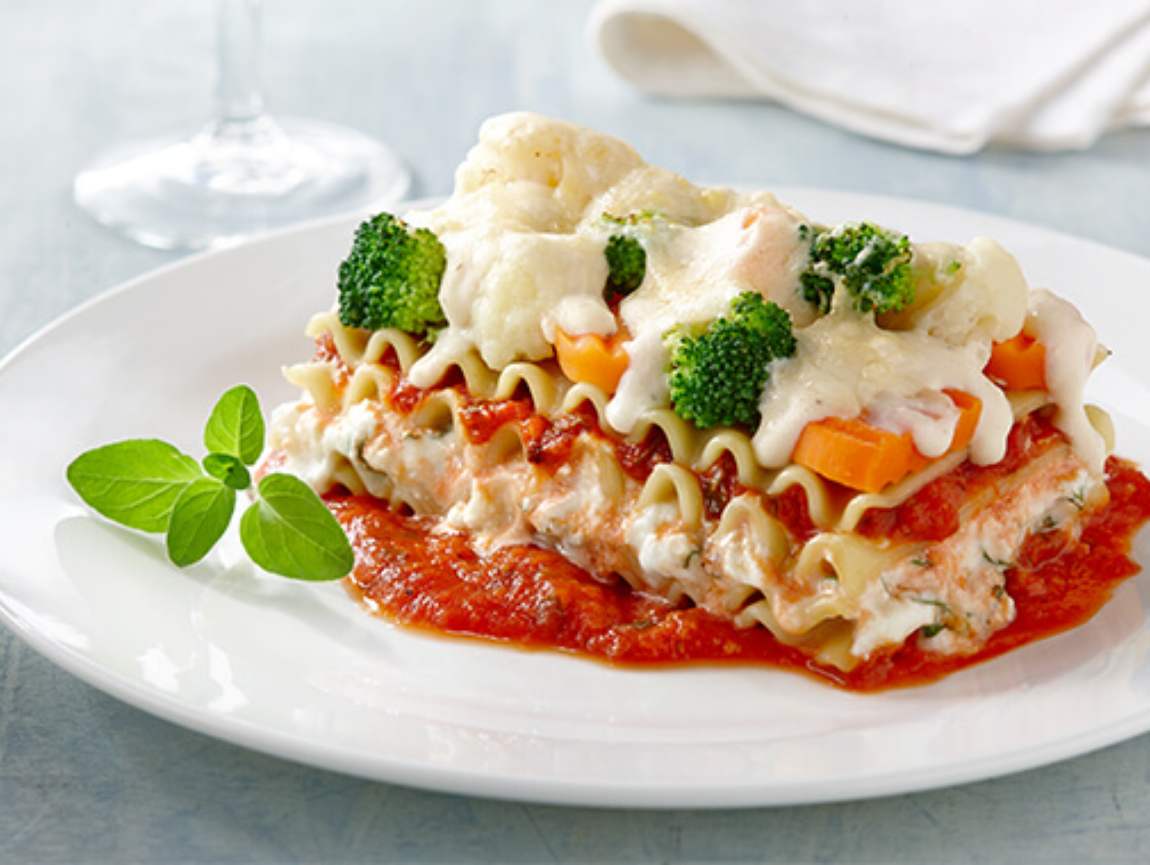 Ingredients
500ml Mornay sauce
500g lasagna noodles
450g ricotta cheese
15 basil leaves, minced
1 cup of grated Parmesan cheese
salt and ground pepper
250ml tomato sauce
2 cloves garlic, roasted
1 egg

Mornay sauce :
5ml butter
5ml flour
250ml 2% milk
250ml grated cheddar cheese
salt and ground pepper

Tomato sauce :
15ml butter
1 onion, thinly sliced
4 large tomatoes, peeled, seeded, and diced
2 cloves garlic, chopped
4 sprigs fresh thyme
15ml tomato paste
salt and ground pepper
Preparation
Mornay sauce :
Melt butter in a heavy bottom saucepan over low heat. Mix flour into melted butter using a wooden spoon. Gradually add milk while whisking. Cook for 15 minutes. Add cheese and allow it to melt. Season and set aside.

Tomato sauce :
Melt butter in a saucepan over medium heat and sweat onion. Add tomatoes, garlic, thyme, and tomato paste. Cook for 15 minutes. Season and remove thyme sprigs. Set aside.
Prepare Mornay and tomato sauces. Measure out quantities required for recipe and keep remainder for other uses. Preheat oven to 400 °F. Cook lasagna noodles according to package directions. Drain and set aside.
Combine ricotta, basil, garlic, and egg in a large bowl.
Spread half of tomato sauce in a lasagna dish. Add a layer of noodles, then a layer of ricotta. Add another layer of ricotta, a layer of noodles, and remaining tomato sauce. Finish with a layer of noodles and a layer of vegetables, then top with Mornay sauce and Parmesan cheese.
Bake for 25 minutes.
Let stand for 15 minutes before cutting. Enjoy!
Nutrition Facts (per serving):
Calories: 1135
Protein: 58 g
Fat: 43 g
Carbohydrate: 131 g
Fibre: 14 g
Sodium: 945 mg
Recipe ideas using this product