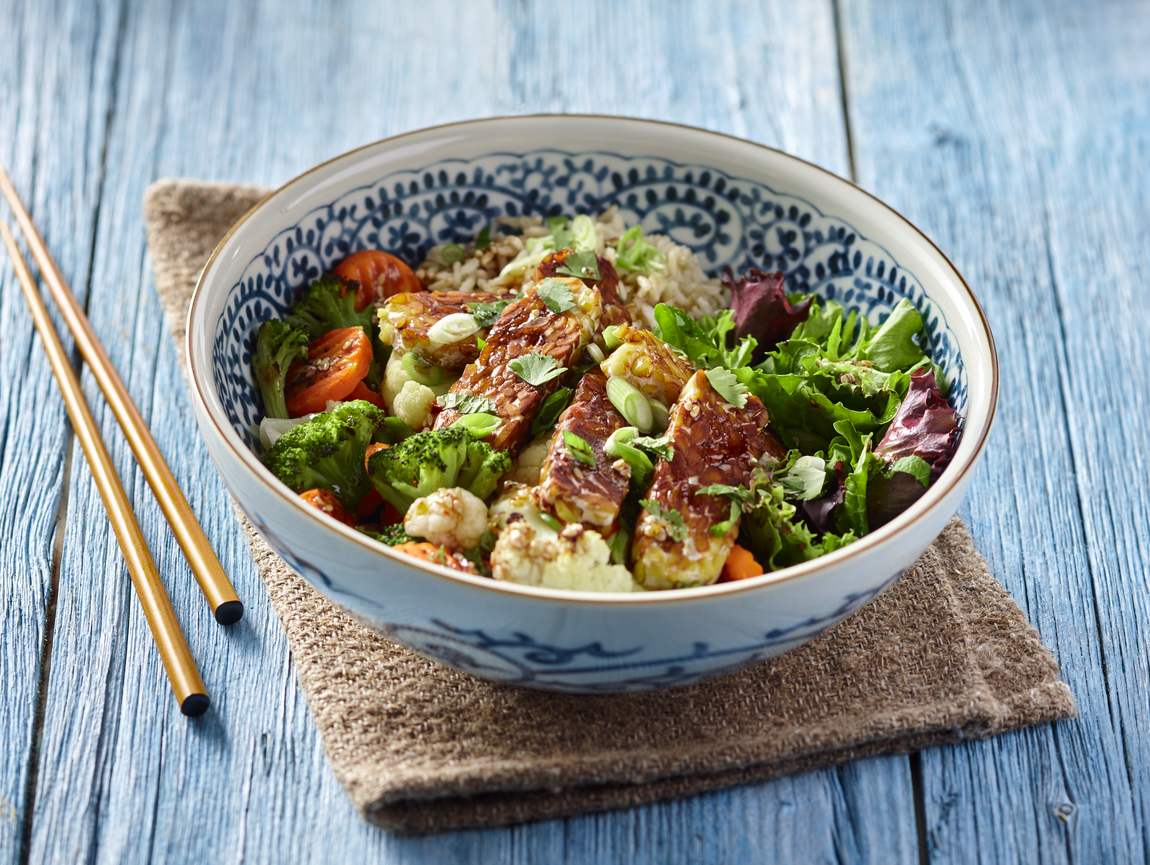 Ingredients
1 tbsp (15 ml) canola oil
1-2 cloves of garlic
1/3 c (80 ml) brown rice
6 oz (180 g) tempeh, julienned
1 tbsp (15 ml) fresh ginger, minced
1 tbsp (15 ml) soya sauce
Homemade sesame dressing:
2 tbsp (30 ml) canola oil
1/2 tbsp (7 ml) grilled sesame oil
2 tbsp (30 ml) lemon or lime juice
1 tsp (5 ml) nutritional yeast
1 tbsp (15 ml) soya sauce
1/2 tbsp (7 ml) honey
red pepper flakes, to taste
2 tsp (10 ml) sesame seeds
2 c (500 ml) mixed baby greens
2 green onions, chopped
Fresh herbs, your choice or mixed (cilantro, mint, basil, etc.)
Preparation
Preheat the oven on broil.
On a baking sheet lined with parchment paper, mix vegetables with oil and garlic. Season.
Cook in the oven for 15 to 20 minutes. Stir a few times.
Cook rice in salted, boiling water (like pasta) for about 15 minutes or until tender. Drain and set aside.
Toss tempeh strips with ginger and soya sauce. Put on baking sheet lined with parchment paper and roast in the oven for 5 to 10 minutes.
Put all the dressing ingredients in a jar, close the lid and shake vigorously.
Put the food in separate bowls next to each other: lettuce, grilled veggies and the cooked rice.
Garnish with roasted tempeh, green onions, fresh herbs and sesame dressing.
Nutrition Facts ( per serving ) :
Calories: 596
Protein: 27,4g
Fat: 37,5g
Carbohydrate: 48g
Fibre: 11g
Sodium: 879,3mg
Recipe ideas using this product