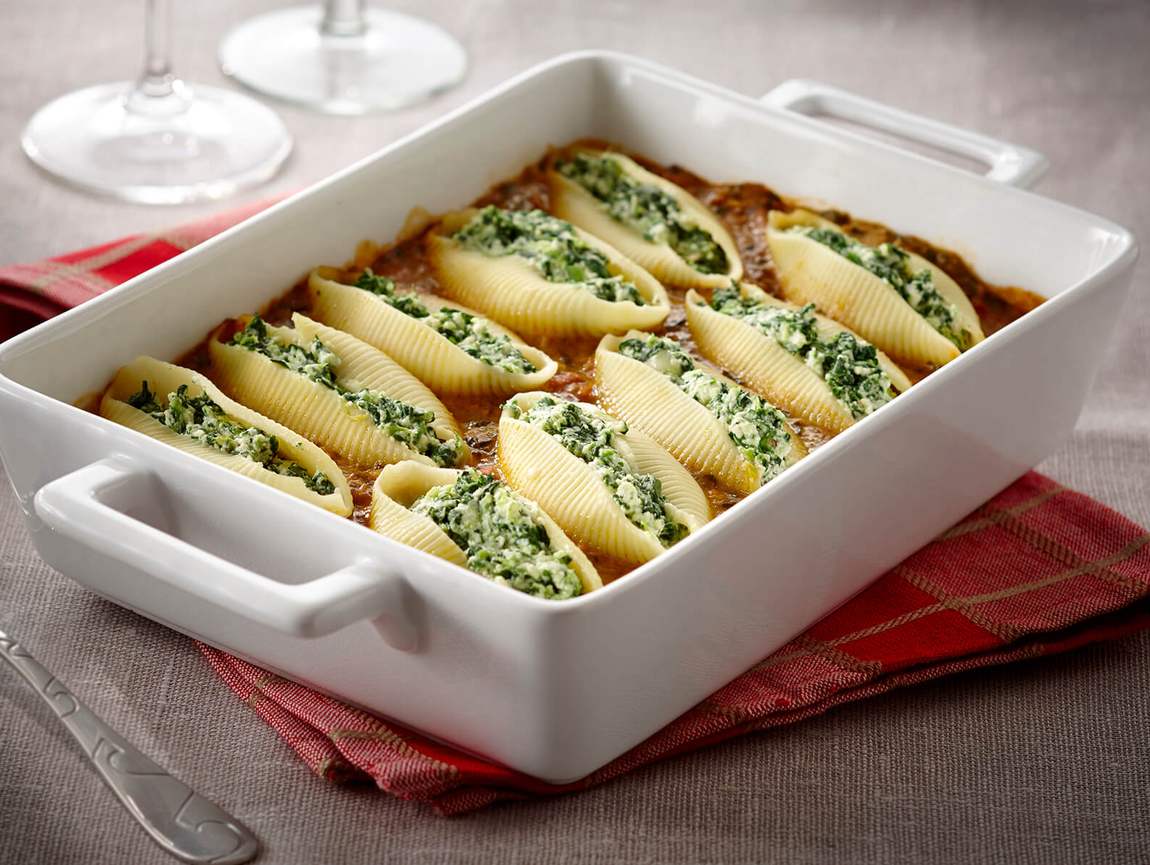 Ingredients
1 bag Arctic Gardens spinach
1 tbsp (15 ml) olive oil
3 cloves of garlic, finely chopped
1 onion, chopped
1 28 oz can (796 ml) diced tomatoes
1 cup (250 ml) sauce tomatoes
½ cup (125 ml) 15% cooking cream or 35% cream
3 tbsp (45 ml) pesto
20 large shells (pasta)
1 ½ cups (375 ml) ricotta
1/3 cup (80 ml) grated parmesan
1 egg
Salt and freshly ground pepper
Preparation
1- Thaw spinach according to package instructions. Press the spinach in your hands to extract all of the water.
2- In a pot, heat the oil to medium heat and sauté the onions and garlic for 5 minutes. Add the tomatoes, tomato sauce, cream and 1 tbsp (15 ml) of pesto. Bring to a boil and simmer for 15 to 20 minutes.
3- In the meantime, in another pot, cook the pasta shells according to package instructions. Drain.
4- Put a little more than half of the spinach in a bowl. Add the remaining pesto, ricotta, parmesan, egg, salt and pepper.
5- Incorporate the rest of the spinach into the rosé sauce and season to taste.
6- Preheat to the oven to 400o F (200o C).
7- Pour the sauce into the lasagna pan that is going into the oven.
8- Fill the shells with the cheese and spinach mixture and put on top of the sauce.
9- Cover and bake in the oven for 20 to 25 minutes
Alternative uses for the rosé sauce: on chicken, fish, pasta, as a sauce for pizza, etc.
Nutrition Facts (per serving):
Calories: 430
Protein: 19 g
Fat: 25 g
Carbohydrate: 34 g
Fibre: 5 g
Sodium: 500 mg
Recipe ideas using this product