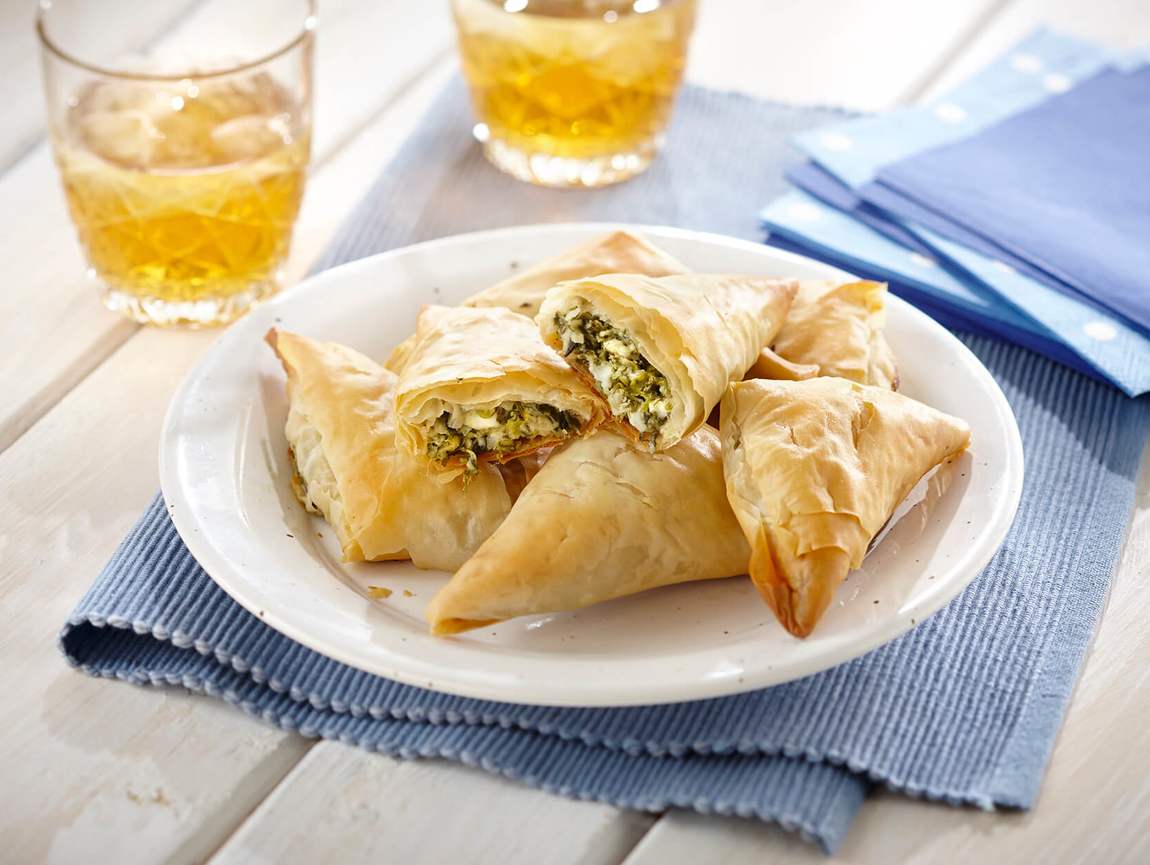 Ingredients
1 bag Arctic Gardens spinach, thawed
½ cup (125 ml) olive oil or melted unsalted butter
1 onion, chopped
4 cloves of garlic, chopped
2 cups (500 ml) feta, crumbled
1 egg
2 tbsp (30 ml) freshly chopped dill
1 pinch ground nutmeg
freshly ground pepper
14 sheets phyllo pastry
Preparation
1- In a pot, heat a small amount of the olive oil or butter and soften the onion with the garlic. Let cool.
2- Drain the spinach, pressing down with your hands to extract as much water as possible.
3- Put the spinach in a bowl and add the onion and garlic mixture, feta, egg, dill, nutmeg and pepper. Mix well.
4- Preheat the oven to 375o F (190o C).
5- On a large work surface, put a sheet of the phyllo pastry. Brush the entire surface with olive oil. Cover with a second sheet and brush it again.
6- Repeat these steps with the other sheets to get 7 sets of 2 brushed sheets. Cut into 4 strips.
7- Put a large spoonful of the spinach mix at the end of each strip.
8- Starting from a corner, fold the phyllo pastry over the mixture to form a triangle. Keep folding the triangle over itself until you reach the end of the strip so that it is well wrapped. Do the same thing with the other strips.
9- Put the stuffed triangles onto a baking sheet lined with parchment paper and bake in the oven for 20 minutes.
Nutrition Facts (per serving):
Calories: 410
Protein: 14 g
Fat: 25 g
Carbohydrate: 33 g
Fibre: 4 g
Sodium: 745 mg
Recipe ideas using this product