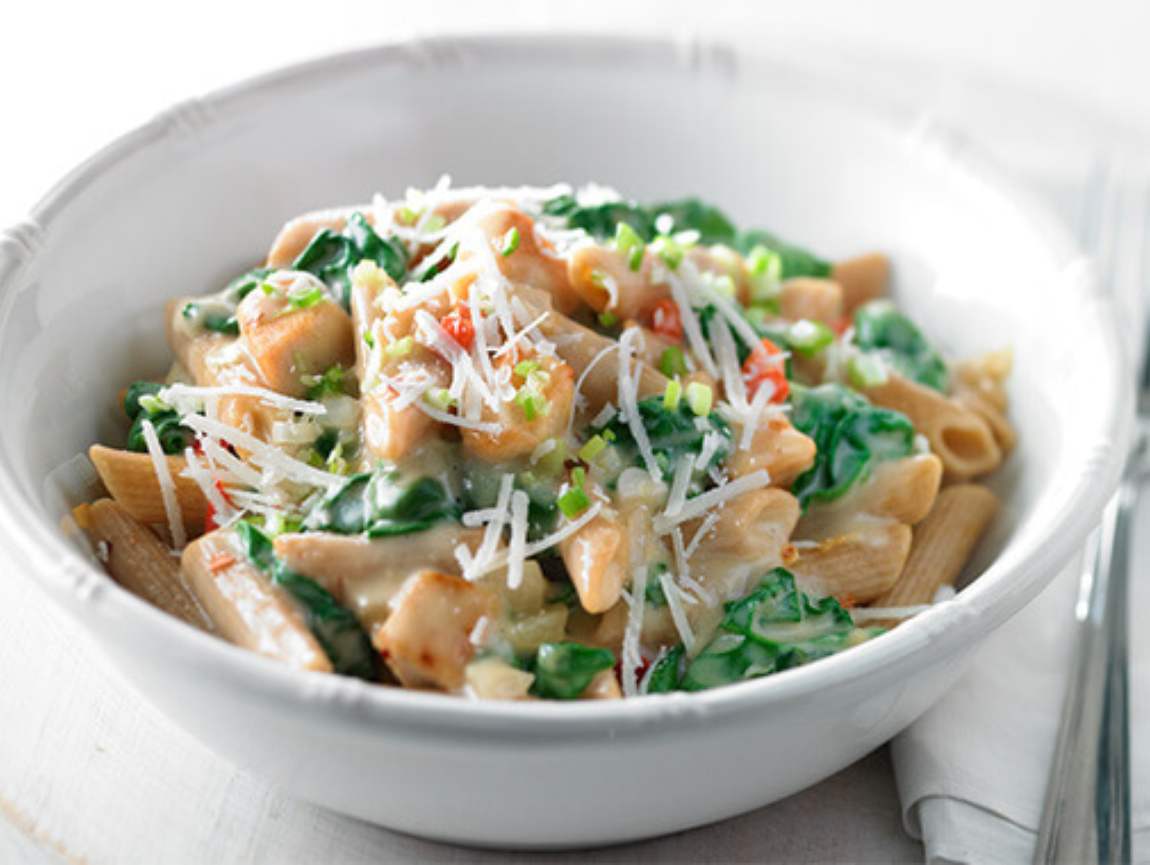 Ingredients
1/2 bag (250g) Arctic Gardens Spinach
2 tsp (10 mL) vegetable oil
12 oz (340 g) boneless skinless chicken breasts, cubed
1/2 cup (125 mL) chopped onion
2 cloves garlic, minced
2 tbsp (30 mL) all-purpose flour
3/4 tsp (4 mL) pepper
1/2 tsp (2 mL) hot pepper flakes (optional)
1/2 tsp (2 mL) salt
1 can (358 mL) evaporated fat-free milk
5 cups (1.25 L) whole wheat penne
1/2 cup (125 mL) chopped sweet red pepper (optional)
1 1/2 tsp (7 mL) dried basil or 1/3 cup (80 mL) shredded fresh
2 tbsp (30 mL) lemon juice
2 green onions, chopped
1/4 cup (50 mL) grated Parmesan Cheese
Preparation
Steam Arctic Gardens Spinach in microwave for 4 minutes; drain and squeeze out excess water. Set aside.
In large nonstick skillet, heat half of oil over medium-high heat; brown chicken. Transfer to bowl.
Drain off any fat from skillet; add remaining oil. Add onion and garlic; fry over medium heat until softened 4 to 5 minutes. Sprinkle with flour, pepper, hot pepper flakes (if using) and salt; cook stirring, for 1 minute.
Return chicken and any accumulated juices to pan. Add evaporated milk; cook, stirring often, for 5 minutes or until thickened, without bringing to boil.
Meanwhile, in large pot of boiling salted water, cook penne until tender but firm, about 12 minutes. Drain and return to pot. Add chicken mixture, spinach, red pepper (if using), basil, lemon juice and onions; toss to combine. Sprinkle with Parmesan.
Nutrition Facts (per serving):
Calories: 675
Protein: 48 g
Fat: 7 g
Carbohydrate: 105 g
Fibre: 8 g
Sodium: 590 mg
Recipe ideas using this product