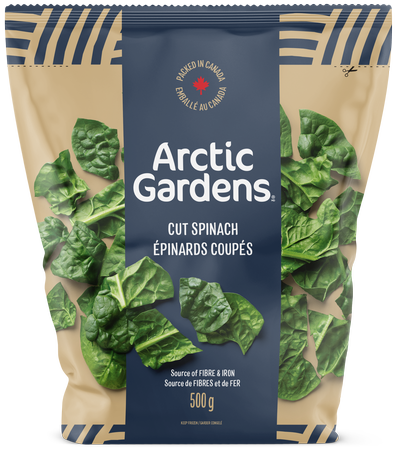 Cooking Method
Recommended Method:
Stovetop / Skillet

1/2 bag: 8-9 min. | 1 bag: 9-10 min.
Preheat a large skillet or pot to medium-high.
Pour frozen spinach with a small amount of boiling water (about 1 tbsp per nugget).
Heat while stirring regularly and break nuggets apart with a utensil. Cover and let simmer for 3 - 4 minutes.
Alternative Method:
Microwave
Pour spinash in a microwaveable dish with a small amount of water (about 2 tbsp) and cook on high power.
1/2 BAG: 3-4 min.
1 BAG: 5-6 min.
Do not refreeze thawed product. If thawed, cook immediately.
Recipe ideas using this product