Many people are familiar with cauliflower and eat it regularly. Then there are some who find it difficult to prepare or aren't really familiar with it. But do you know it in the form of rice? Cauliflower rice is a universal and nutritious food that can be added to many recipes for a healthier alternative. Low in calories and carbohydrates, cauliflower is suitable for several dietary restrictions such as the ketogenic and gluten-free diets or diets suitable for diabetics.
If you like try new foods or want to eat healthier, cauliflower rice is ideal for expanding your culinary horizons. You'll be surprised at just how versatile it is. Whether as a starter, main or dessert, it'll satisfy even the biggest foodie. Discover a few recipes that make cauliflower rice the star. But first, let's talk about some of its nutritional benefits and why replacing rice with cauliflower can be interesting alternative.
Features and benefits of cauliflower
In recent years, cauliflower has become an increasingly important part of basic groceries for many people. This nutrient-rich, easy-to-prepare food is also gaining popularity in restaurants around the world. In addition to being available on the market year-round, it offers a multitude of health benefits for cauliflower lovers.
Cauliflower has a neutral taste that will absorb the taste of whatever you give it. This is why it's so easy to incorporate it into any recipe, sweet or savoury. This vegetable then goes unnoticed and easily becomes a portion of vegetables. It becomes what you want it to become and is therefore an excellent for vegetable consumption.
Cauliflower is an ally for your health. Rich in vitamins, minerals and antioxidants, this little-known vegetable provides many remarkable benefits. Here are a few if you're still not convinced to replace your rice with cauliflower:
Cauliflower is high in fibre with 3 grams of fibre in a cup, which is 10% of the daily fibre requirement. Adequate fibre intake promotes good digestive health and reduces the risk of several chronic diseases.
Cauliflower is low in calories with only 25 calories in a cup. Cauliflower, in all its forms, can also be used as a low-calorie substitute for high-calorie foods such as rice, pasta and flour.
Cauliflower is low in carbohydrates. There are 5 grams of carbohydrates in a cup as opposed to 45 grams of carbohydrates in a cup of rice. Not only is adding cauliflower to your diet a fantastic way to increase your veggie intake, it's also particularly good for people on low carb diets.
Now that you know the benefits of cauliflower, it's time to get into the kitchen and start cooking it. Here's how to prepare cauliflower like a chef when it's in rice form.
How do you make cauliflower rice?
To maximize time and minimize waste, Arctic Gardens frozen riced cauliflower is always handy. The recommended method of cooking is to put the frozen bag in the microwave and nuke it for 5 to 7 minutes on high. It's also important to let the bag stand for 1 minute before serving and avoid steaming. Then add it to one of the recipes below. It'll be ready quickly and you'll avoid a lot of hassle this way.
If you have a little more time, you can try making your own homemade cauliflower rice. However, you'll need a food processor for this preparation. Simply coarsely chop some cauliflower, put the pieces in the food processor and pulse in short bursts until they are the consistency of grains of rice. In a large pan over medium, heat 2 tablespoons of olive oil, then add the cauliflower rice. Heat the cauliflower rice for 3 to 5 minutes or until tender. Season to taste as desired. If you don't have a food processor, you can grate the cauliflower to make cauliflower rice. Although the grains will be smaller, the result will very similar.
A few recipes ideas
Discover cauliflower by trying our delicious recipes featuring cauliflower rice.
Reinvent the classics…
In the mood to devour some pizza without the guilt? Choose a healthy crust made of cauliflower rice to increase your daily veggie consumption. Simply mix the cauliflower rice with eggs, spices and oil to create the mixture that will be the base of your pizza.
Tomato basil pizza with cauliflower crust
Try new flavours…
Just like cauliflower itself, cauliflower rice is also versatile in its various preparations. In this recipe, cauliflower rice is roasted in the oven alongside chickpeas and various spices. Mango, Lebanese cucumber, avocado and cilantro create a refreshing harmony of flavours that you'll fall in love with.
Cauliflower rice power bowl with avocado and mango (K for Katrine)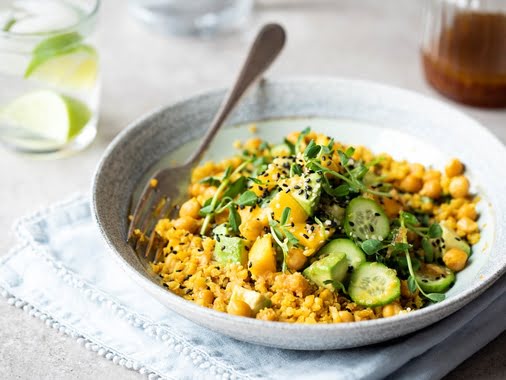 Impress company…
You can forget the long preparation and the stress of making a risotto with this delicious easy, creamy cauliflower rice risotto. Preparing this vegetarian dish in less than 30 minutes is perfect for easy entertaining. Serve with your favourite wine and enjoy in good company.
Cauliflower rice risotto with mushrooms
For some comfort food…
Here's another delicious, guilt-free alternative to the usually heavy comfort food. For this recipe, cauliflower rice is seamlessly incorporated into an Alfredo-style white sauce to add a delicious creaminess. No one will notice that you've added cauliflower rice to your sauces to consume more vegetables.
Fettucine Alfredo-style with cauliflower
For a light meal…
Make a couscous-free tabbouleh with Arctic Gardens riced cauliflower. Even easier to prepare and similar in taste to the original, this 100% veggie tabbouleh is a must for busy lunches or lazy evenings.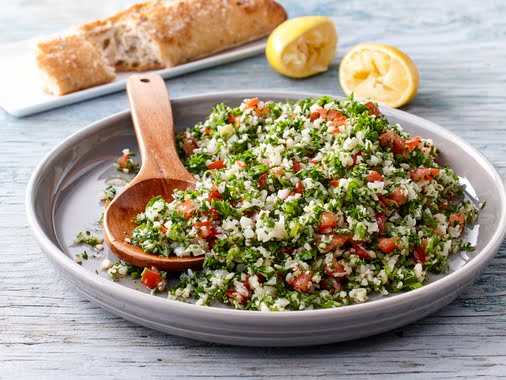 For the kids…
Having trouble getting the kids to eat more veggies? They'll see only deliciousness in this mac and cheese recipe. It's the same principle as the creamy fettuccine Alfredo cauliflower sauce mentioned earlier that the veggies in this recipe go completely unnoticed. They'll definitely ask for seconds!
For your sweet tooth…
These nutritious muffins are a great snack that can be taken quickly on-the-go or leisurely with a cuppa java. The taste of dates mixed with coconut makes such a good blend that you forget there's cauliflower rice hidden in them. The cauliflower rice also makes the muffins really moist.
Oatmeal muffins with dates and coconut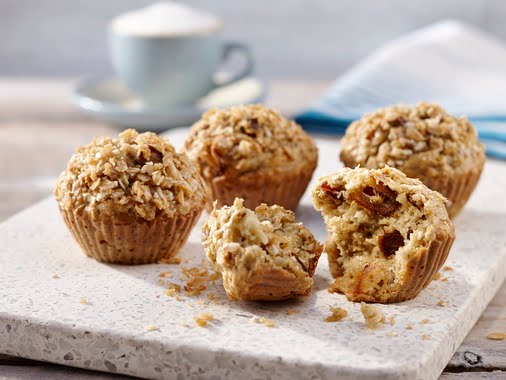 For even more veggies!
Discover Arctic Gardens vegetable cauliflower rice. It's the same fresh cauliflower rice with the added bonus of peas and carrots.
You'll fall in love instantly with this no rice chicken fried rice. Quick and easy to prepare as a weekday meal, this stir-fry provides an incredible amount of vegetables for maximum flavour.
Cauliflower rice with chicken and vegetables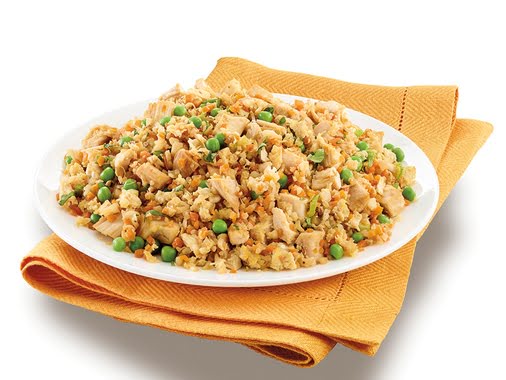 Create your own veggie burger with vegetable cauliflower rice. The fresh taste of lime, spicy mayo and crunchy arugula makes this burger an absolute must.
Cauliflower burger with spicy mayo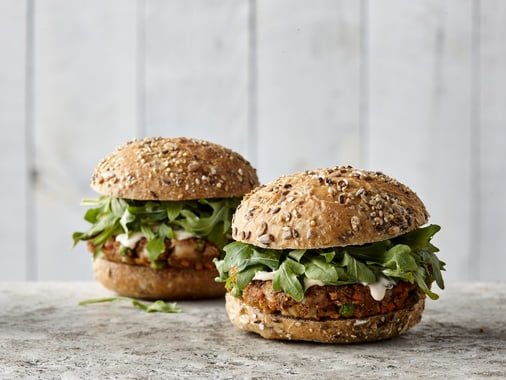 Cauliflower rice is a great way to get the kids to eat more vegetables – grown-ups, too. Rich in nutrients and antioxidants, it can also reduce the carbohydrate daily intake for certain diets considerably. We particularly like how cauliflower rice is so versatile and can be used in so many recipes without changing their taste.
Have you ever tried Arctic Gardens riced cauliflower? If you haven't, let us know in the comments section which recipe you'll try it in first.