The ABCs of empanadas
Empanadas are undoubtedly part of the gastronomic tradition, particularly in Spain and Latin America. So there's a lot of different kinds of empanadas in the world.
But what are empanadas exactly? It's a food made with corn or wheat dough filled with meat, veggies or seafood and can be oven-baked or fried.
The name of this traditional Spanish food empanar means "close something up in a dough or bread, then cook it".
If you're ready to throw yourself into making a batch of empanadas, here's a little guide that'll tell you everything about them, from how to prepare them (click here to go directly to preparation), to what to serve them with and how to store them. Evenings with friends and family will definitely be delish!
The origins of empanadas
The origins of empanadas date back to the time when shepherds and travellers filled bread with meat and veggies for nourishment in the countryside.
Over time, the stuffed dough was baked and later on, other types of dough were created to wrap the filling.
This type of preparation gave birth not only to empanadas but also to Italian calzones and English meat turnovers known as Cornish pasties.
In the Middle Ages, the purpose of this kind of food was to preserve the filling because cooking it inside the dough allowed it to be kept for several days. At that time, the Spanish made empanadas with wheat flour.
Over the years, other types of empanadas were created in Spain, which then went to Latin America with the conquistadors.
Once in Latin America, preparations and fillings varied because of indigenous and African influences. Corn meal and other types of veggies and fruits were introduced.
Varieties of empanadas
Empanadas have a long history and are present in many countries. Today, there is a wide range of fillings and dough. We'll expand upon a few of the most popular ones to see how they differ.
Spanish empanadas
The most famous empanada is the Galician
Tuna is the main filling ingredient
The filling is made with onions and peppers
It's the only empanada that doesn't have tomato in the filling
The dough is made of wheat flour
It's made with a mould 20 or 30 cm in diameter
Argentinian empanadas
They're the world's best-known empanada
They're generally semi-circles no bigger than 20 cm in diameter
They're closed with pleats and come in different shapes so you know what they're filled with
The dough is made of wheat flour and baked in the oven
The most popular fillings are meat or veggie-based with cheese or white sauce
Chilean empanadas
De pino is the best known which is spiced ground meat and onions
The filling also has eggs, olives and raisins, which are optional
The dough is made of wheat flour and baked in the oven
Eating empanadas increases considerably in September during the Homeland Holidays (historical days for Chile)
L'empanada colombienne
They're generally made with corn flour and are fried
The best-known filling is made with potatoes and meat
They prepared with fermented corn for a slightly spicy flair
Other ingredients are grilled peanuts for a de pipian version
Sweet empanadas
Who says empanadas can only be savoury? Don't be ridiculous! You can also get sweet versions.
As for sweet ones, the most popular are filled with apples, blueberries, cherries and even peaches spiced with ginger, cinnamon or nutmeg. Another popular ingredient in the fillings is dulce de leche.
Depending on the country, they're either fried or baked, and the dough is made of wheat flour.
Vegetable empanadas
Traditionally, empanadas are filled with any kind of meat. Lately, however, veggie empanadas are really getting big.
If you go into a restaurant for empanadas, it's common to find traditional, as well as vegetarian versions. These are a great choice if you want a comforting plant protein dish.
Vegetarian empanadas are filled with veggies like cabbage, peppers, zucchini, yellow squash, spinach and Swiss chard.
Legumes like lentils, chickpeas and beans are also included.
What to serve with empanadas
There's nothing better than enjoying an empanada as a starter with a sauce and a drink.
Here we explain some of the sauces that go best with empanadas and the most popular drinks, too.
Guasacaca salsa
This sauce of Venezuelan origin is made of avocado, garlic, onion, cilantro, parsley, peppers, vegetable oil, vinegar, salt and pepper to taste.
It's considered the queen of sauces because it goes great not only with empanadas, but with other dishes like arepas.
The main ingredient is avocado, so the sauce tends to oxidize more quickly than others. It's best to enjoy them fresh or keep them in the fridge.
You shouldn't confuse the sauce with guacamole because the big difference is that guacamole generally has peppers and jalapenos whereas guasacaca doesn't.
Chipotle salsa
Chipotle sauce is creamy and spicy which enhances the empanada. It's made from a type of smoked pepper that tastes similar to tabasco or jalapeno.
The smokey taste makes this a great accompaniment for meat and veggies. The key is to let the chipotle ripen on the plant until it's bright red, then harvest and dry it by smoking it for several days.
Chimichurri
This is the traditional Argentinean dressing par excellence, but it's just as popular in Paraguay and Uruguay.
It's an accompaniment not only for empanadas, but also salad, meat and bread.
It's a pretty spicy, liquidy sauce with ingredients including: parsley, oregano, garlic, vinegar, vegetable oil, ground pepper and salt to taste.
Colombian ají
Ají is a traditional sauce from Colombian cuisine. The best thing about this spicy sauce is that it goes great with many traditional recipes.
For example, ají can be an excellent complement not only to empanadas but also for arepas, patacones, etc.
To make it, you need tomatoes, cilantro, ají or habanero peppers, white vinegar, lemon (optional) and salt and pepper to taste.
You choose the level of heat you want from the start. The perfect balance depends on the quality of the pepper and vinegar.
Yasgua salsa
Yasgua salsa is a typical side dish you'd see in northwest Argentina, Bolivia and northern Chile. The 2 main ingredients are ají locoto and tomato. You just need a little vegetable oil and salt to taste.
In some areas of Latin America, as well as being a complement for empanadas, it's also used for BBQs (discover our guide to an amazing veggie BBQ), sandwiches, and more. It's also really common to eat it with bread as an appetizer.
It's best to eat yasgua the same day you make it or to keep it refrigerated no longer than a day, otherwise, the taste intensifies and if you're not used to spicy food, you'll find it too hot.
Drinks
There are no rules when it comes to the best drinks for empanadas. Honestly, everyone's tastes are different. But some drinks are more typical with empanadas.
In Argentina and Chile, people enjoy them with a good glass of wine. Oh yeah! Empanadas and wine are a match made in heaven.
In general, red wine really enhances the flavour of meat, ham or cheese empanadas. Malbec and Cabernet Sauvignon would be a good start.
For chicken, fish or veggie empanadas, white wine is recommended for its light taste. Try a Chardonnay.
Reminder
Please enjoy alcohol responsibly
In other regions of Latin America, notably Colombia and Venezuela, people usually eat empanadas with Malta, a soda that's very popular in these countries.
It's a non-alcohol pop made with malt. In Latin grocery stores, Pony Malta or Polar Maltin are the brands to look for. You'll discover how the taste of malt pop is the perfect match for empanadas.
How to make Colombian empanadas
Now that you have discovered more about empanadas, here's a recipe for homemade Colombian empanadas.
The filling is made of meat and potatoes in the traditional recipe, but today, we'll be making vegetarian ones (spinach and cheese) while respecting the traditional preparation and cooking methods.
Ingredients for the dough
Let's start with the dough. To make the dough, you'll need the following ingredients:
2 3/4 c (680 ml) water
4 c (1 l) corn flour You can find these PAN and MASECA, 2 brands of corn flour, at the supermarket.
1 pinch saffron
salt to taste
oil for frying
Steps for preparing and assembling empanadas
Step 1: Bring 1 cup (250 ml) of water to a boil and infuse the saffron.
Step 2: In a large bowl, combine cornflour and salt.
Step 3: Add water to the flour and knead the dough until smooth and even.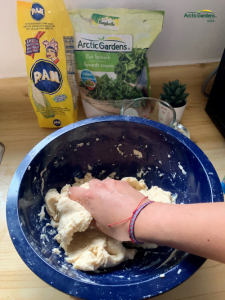 Tip
How do you know when the dough is ready? After kneading for a few minutes, the dough shouldn't stick to your hands. If it does, add a little more flour.
Step 4: Divide the dough into small balls of about 1/4 cup (60 ml) each.
Step 5: Cover the work surface with plastic wrap, place a ball of dough and cover with another piece of plastic wrap.
Step 6: Roll out the dough to 1/8″ (0.3 cm) thickness with a rolling pin (or use your hands) to a 5″ (12.5 cm) diameter circle.
Step 7: Put 2 tablespoons of filling in the middle of each circle of dough and fold into a semi-circle.
Step 8: Using any bowl, press down to help close the circle and form the empanada into a half-moon shape.
Ingredients for the filling
Now we'll explain to how make the spinach and cheese filling, but you can use any filling you want. In our recipe section, you can find other kinds of vegetarian fillings for empanadas (click this link).
But for now, here are the ingredients you'll need for the spinach and cheese filling:
1/4 tsp (1 ml) garlic powder
1/4 tsp (1 ml) onion powder
1/4 tsp (1 ml) chili powder
1/4 tsp (5 ml) vegetable oil
Salt and freshly ground pepper
Steps for the filling
Step 1: In a wok with hot oil, add the package of spinach. Keep the temperature at medium-high.
Step 2: Add remaining ingredients and season to taste.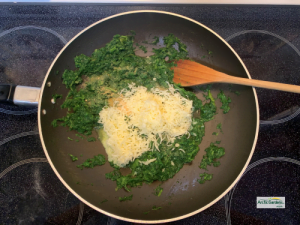 Step 3: Mix until spinach is thawed and all the ingredients are well incorporated.
Cooking the empanadas
Now that the empanadas are ready, it's time to fry them up!
Step 1: In a deep fryer or deep saucepan, heat oil at medium-high until temperature reaches 375 °F (190 °C).
Step 2: Cook 2-3 empanadas at a time until golden brown.
Step 3: Drain and set on a rack in a baking sheet.
Step 4: Serve empanadas hot.
And there you go, delicious homemade empanadas!
How to store empanadas
One of the great things about empanadas is that the dough allows the filling to keep. So you can leave them in the fridge and when you're in the mood, just reheat them in the oven or microwave.
Tip
When making empanadas, whip up a big batch and leave a few uncooked in the fridge. Then when you're ready to eat, just fry one up and you'll have fresh, hot empanadas!
Remember, we recommend storing empanadas in the fridge for 3 to 5 days max, otherwise, the filling loses its freshness. (Please read our guide to storing food).
You're now an empanada pro! As well as being totally delish, it's a flexible recipe you can adapt to any meal and it's homemade! Let us know in the comments section if you've tried making empanadas and what your fave filling is.
And as a bonus before signing off, if you ever want to throw yourself into homemade cooking, why not take a peek at our guide to making fresh pasta. We promise it'll be a huge success!