Not always well-liked, peppers or sweet peppers, are nonetheless versatile when it comes to cooking them. As well as having a wide range of nutrients that are good for your health, they can be prepared in oh so many ways. Peppers can be the star of the meal or be camouflaged if you're trying to convince a certain someone to try them.
What are sweet peppers, anyway?
Far from being spicy like its cousin the jalapeno, peppers come in 5 colours, namely green, yellow, orange, red and purple. And they're not necessarily different varieties. The colour varies depending on how ripe they are when harvested. For example, traditional peppers go from green to yellow, but turn orange before becoming red once ripe. Purple peppers, which are a slightly different variety, go from ivory to purple, then finally red.
A taste for every colour
Did you know that every colour tastes a little different? The less ripe, the more bitter and vice versa – the riper, the sweeter. That's why the sweeter ones are excellent in salads, for example.
Harvesting
Sweet peppers are harvested between June and September. That's why you can get them fresh locally during the summer months. Peppers come from Central America, but it ispossible to grow them at home despite our climate which isn't always the warmest. You just need to know a few good tricks and tips so they can grow.
7 benefits
Not only are peppers flavourful and versatile, they have all sorts of nutrients. All the colours have the same benefits in common, except for some vitamins: the riper, the more nutritious. Here's a summary of the benefits of sweet peppers: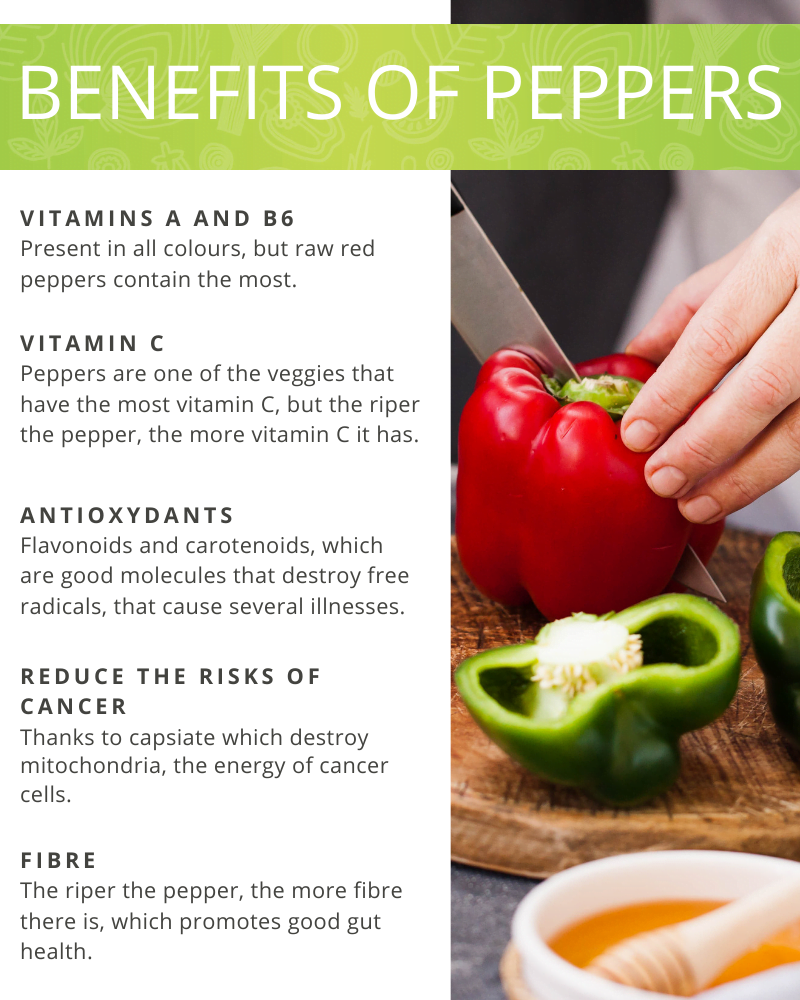 How do you cook them?
There are lots and lots of ways to cook peppers. They can be easily added to many recipes and can be cooked a thousand ways. Here are just a few popular ways to make peppers, as well as a few tips to make sure they turn out.
Grilled
Grilled peppers are the perfect addition to sauces. They can also be enjoyed as tapas on little morsels of bread. Here's what you do:
1.Grill them
On a gas stove: If you have a gas stove, light an element, then put the peppers directly on the middle of the flames.
In a frying pan: Put peppers directly into the pan without oil.
On the BBQ: Put peppers directly onto the grill.
In the oven: Halve the peppers and put them on a baking sheet, skin side up. Bake them for 10 to 15 minutes at 400
It's important to blacken the entire surface of the skin.
2. Let them rest
In a towel, tinfoil or plastic container, set the peppers aside in a sealed place for about 15 minutes. The steam created will facilitate the next step.
3. Peel them, throwing away the skin
You can then add the, to various recipes. Here are a few ideas to inspire you to test them out:
Marinated Roasted Bell Peppers
Roasted Red Pepper Pasta (a great alternative to fattier rosé sauces!)
Microwaved
For all you super busy people out there, it's easy to microwave peppers. Just cut them into cubes or strips while removing the stem and seeds. Put them in a microwave-save container and add 2 tablespoons of water. Cover with parchment paper and microwave for a few minutes. Check on them every minute so you know when they're perfectly done, just the way you like them. And voilà, the peppers are ready to be added to your favourite recipes!
Steamed
This cooking method is the best way to preserve the most micronutrients because the veggies cook without coming into direct contact with water. It's better to use a steamer because you lose a little more of the micronutrients with a pressure cooker.
To do so, rinse and dry the peppers before cutting them however you like. Then put them in the steamer basket for 10 to 15 minutes, depending on how you like them.
Sautéed
Browning veggies in a pan gives them a delicious, caramelized flavour. This is the way to go with frozen peppers that keep their texture during sautéing. They're perfect for fajitas or stir-fries. Just a little oil on medium heat for 5 or 6 minutes and you'll get the texture you love.
How do you store them?
It's great knowing how to make perfect sweet peppers, but what do you do if you want to save them for another time? Here are a few ways to store peppers:
In the fridge: For about a week in the veggie container or in a dry, cool place.
In the freezer: It's really easy to freeze peppers because they don't need to be blanched. Wash and cut them, then store in a freezer container for about a year.
In lacto-fermentation: lacto-fermentation makes it possible to store your veggies for a really long time while preserving their nutrients. The result is a slightly acidic taste which is excellent in sandwiches and salads. This recipe is a good example:
Lacto-Fermented Red Pepper Recipe 
If you want to know more about these storing methods, take a look at our article called, How to preserve summer vegetables. There are a ton of creative ways to preserve your vegetables while cultivating your culinary creativity.
Our favourite pepper recipes
You may be the biggest fan of peppers or maybe you're just trying to add them to your diet for the first time. We thought of you all, not to worry!
The essential stuffed peppers
If your mouth waters just by hearing the word "pepper", these recipes are for you because sweet peppers are the star.
First of all, if you've never tried stuffed peppers before, here's a simple dish you can make that can be adapted to your tastes or your leftovers. The principle is simple: stuff emptied peppers with a grain, a source of protein and other veggies if that's what you want, then you get a complete meal that's easy to prepare and enjoy as a lunch.
Dishes that put peppers first
Many recipes use sweet peppers as one of the main ingredients to add a slight sweetness and a crisp texture. Here are some samples to encourage you to put peppers first:
Crispy Fish with Red Bell Pepper
Pasta with Red Peppers and Sautéed Vegetables
Crispy Olé Olé Appetizers & Spicy Southwest Dip, Signed Cynthia Marcotte
Hot Appetizers with a Southwestern Flare
To subtly add peppers to your meals
To initiate you gently to the world of peppers, we offer you recipes that have a lot of (hidden) peppers!
Green Bean Spring Rolls and Peanut Butter Sauce 
Pizza with Capicollo, Pesto and Vegetables 
Peppers in dessert, why not?
A touch of boldness allows you to insert a dose of veggies into a sweet dish. You just have to keep an open mind.
Have you ever tasted carrot cake? Even the tomato one? Have you tried zucchini bread? Yup, veggies are often discriminated against when it comes to desserts and yet they do have a special place in them. A touch of boldness allows you to insert a dose of veggies into a sweet dish. You just have to keep an open mind.
Anyway, peppers are technically fruits since they grow outside the soil. They're only called veggies because they're used mainly in savoury dishes. All the more reason to use them the way we use other fruit and make a good jam:
Delicious as a slightly sweet accompaniment to a cheese platter, this jam is delicious on toast or cheese. You can adjust the amount of sugar according to your preference.
Red Bell Pepper Coconut Laddoo
If it's good enough for jam, peppers can also be used to replace the fruit portion of a little dessert like this laddoo.
If you're more of a cake person, here's a suggestion that'll make your mouth water. Another perfect marriage between sugar and peppers!
Now that you're a pepper expert, start experimenting to create the most tempting and nutritious dishes possible. If you already like peppers, try new ways to enjoy them: as a starter, main, dessert – anything goes! But tell us one thing: where will you start?