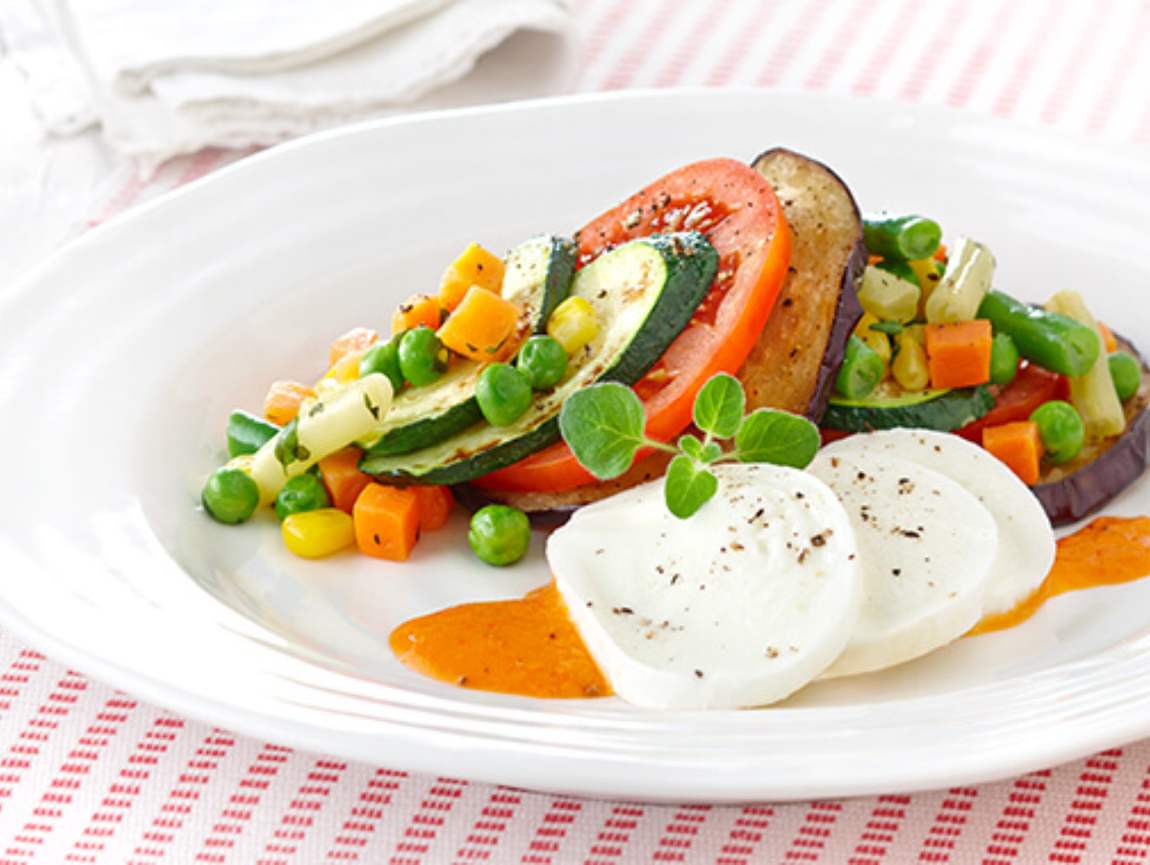 Ingredients
250ml olive oil
3 cloves garlic, chopped
2 large greenhouse tomatoes, washed thinly sliced
5 fresh oregano leaves, chopped
2 bell peppers, washed and quarter sliced
60ml cup white wine
30ml 35% cooking cream
1 large eggplant, washed and thinly sliced
1 large zucchini, washed and thinly sliced
15ml butter
Half a bag (375g) Arctic Gardens Mixed Vegetables
2 sprigs fresh thyme, leaves removed
salt and ground pepper
1 clove garlic, peeled
2 balls mozzarella di bufala, thinly sliced
Preparation
Combine olive oil, eggplant, zucchini, and garlic in a large bowl. Season.
Sauté eggplant and zucchini on a hot skillet without browning too much.
Lay eggplant and zucchini on a paper towel after cooking. Place tomatoes on a paper towel and refrigerate for 20 minutes.
Melt butter in a skillet and sauté mixed vegetables with fresh oregano and thyme. Season.
Poach bell peppers in a small saucepan with garlic and white wine. Cook for 20 minutes, until dry. Crush using a hand blender and incorporate cream. Season.
Layer eggplant and zucchini mixture with mixed vegetables. Top with mozzarella di bufala and bell pepper coulis. Serve.
Nutrition Facts (per serving):
Calories: 745
Protein: 11 g
Fat: 68 g
Carbohydrate: 25 g
Fibre: 9 g
Sodium: 200 mg
Recipe ideas using this product