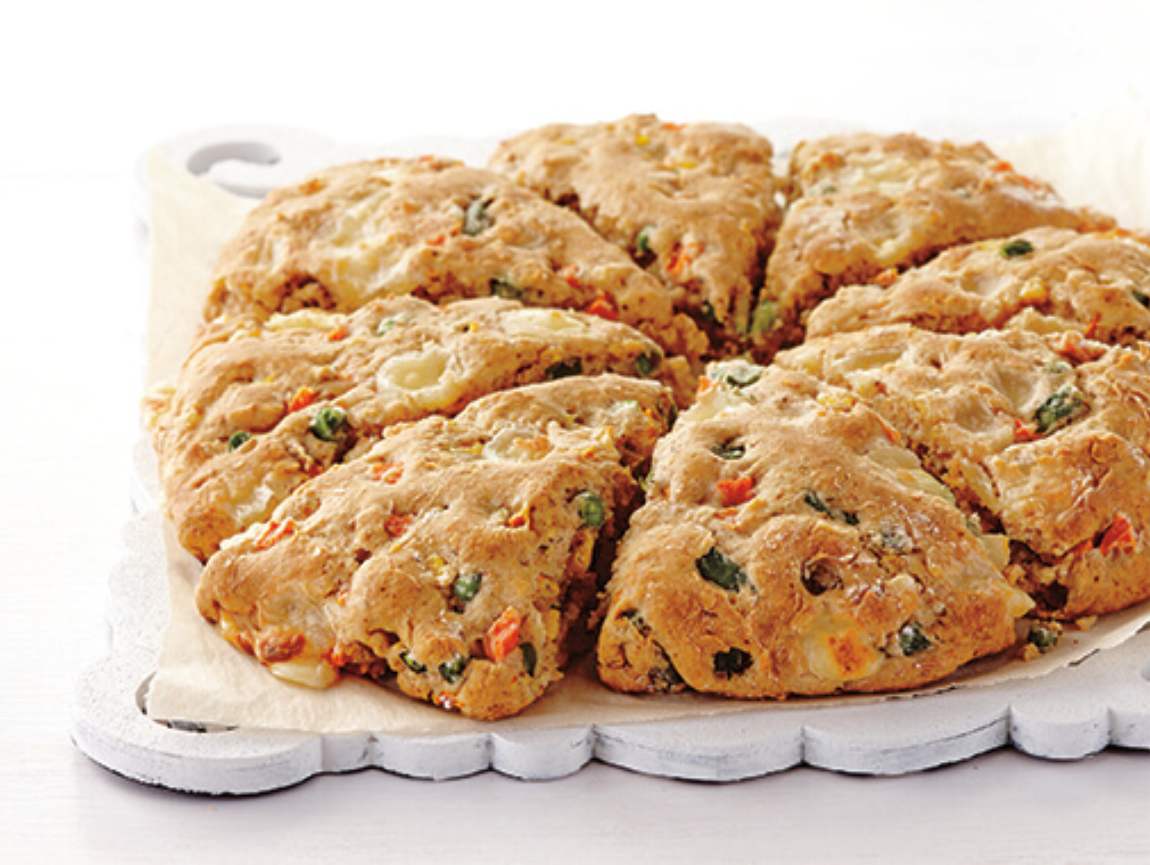 Ingredients
1 cup (250 ml) whole wheat or multi-grain flour
1 ½ cups () unbleached flour
3 tbsp (45 ml) sugar
1 tbsp (10 ml) baking powder
1 tsp (5 ml) baking soda
1 tsp (5 ml) chili powder
½ tsp (2 ml) dried oregano
¼ tsp (1 ml) salt
Pepper to taste
½ cup (125 ml) cold butter, cubed
1 ¼ cups (310 ml) milk
2 cups (500 ml) Arctic Gardens Macedonian vegetables
1 cup (250 ml) cheddar or Swiss cheese, cubed
Preparation
Preheat the oven to 375o F (190o C).
In a large bowl, mix together dry ingredients.
Incorporate butter with a pastry blender or by hand to obtain a grainy texture.
Add milk and mix with a fork until smooth.
Add frozen vegetables and cheese cubes. Form dough into a ball and dust with flour.
Put the dough on a baking sheet lined with parchment paper, flatten into a disc shape of a least 8" to 10" (20 to 30 cm) in diameter. Cut into 8 equal slices. Separate the slices a little.
Bake in the oven for 30 minutes until a tooth pick can be inserted and removed cleanly or until golden.
Nutrition Facts (per serving):
Calories: 390
Protein: 12 g
Fat: 20 g
Carbohydrate: 41 g
Fibre: 4 g
Sodium: 445 mg
Recipe ideas using this product