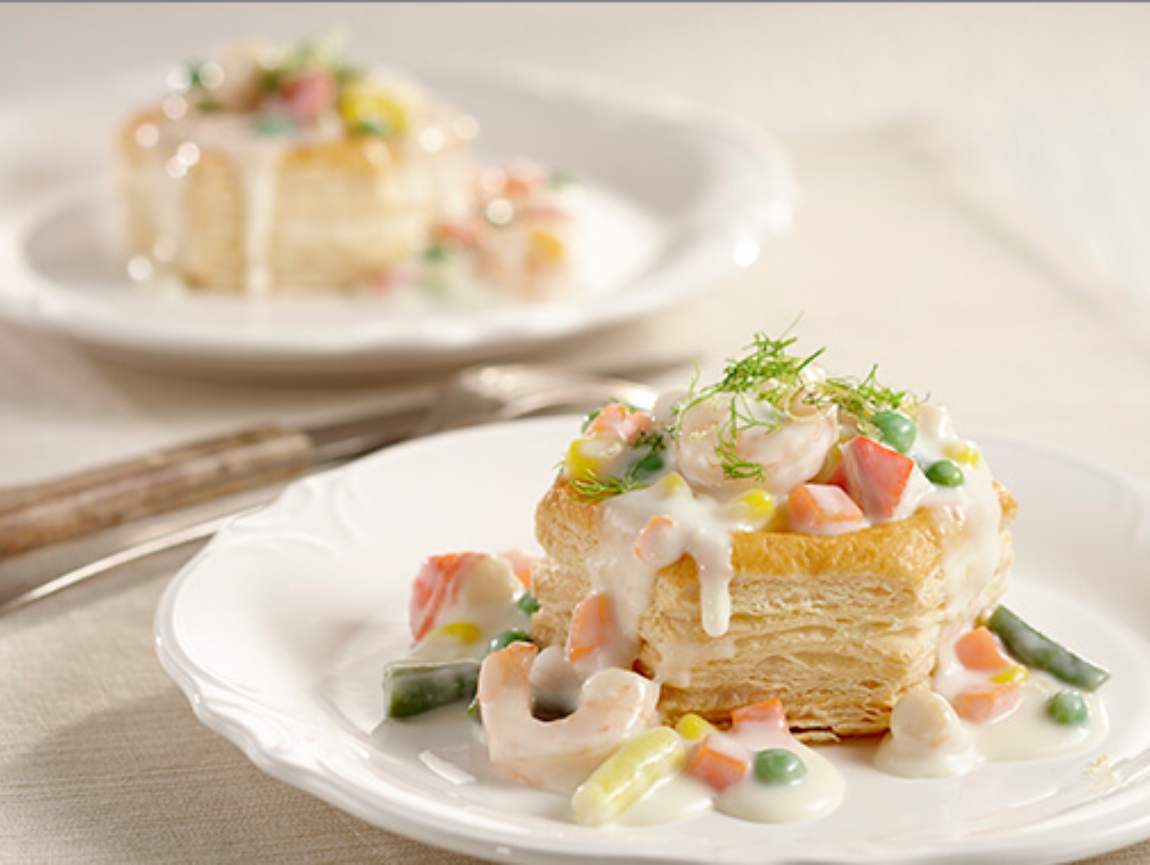 Ingredients
3 tbsp (45 ml) butter
1 lb (450 g) mix of seafood (baby shrimp, baby scallops, pollock, etc.)
3 cups (750 ml) Arctic Gardens mixed vegetables
3 tbsp (45 ml) flour
2 ½ cups (625 ml) milk
4 to 6 vol-au-vent shells
Fennel Gremolata:
2 tbsp (30 ml) fennel leaves, chopped
1 clove garlic, finely chopped
1 tbsp (15 ml) lemon zest
1 tbsp (15 ml) olive oil
Salt and freshly ground pepper
Preparation
1- Mix together fennel, garlic, lemon zest and olive oil. Season and set aside.
2- In a large pan, melt half of the butter on high heat and sauté the seafood. Set aside.
3- In the same pan, heat the vegetables to thaw. Set aside with the seafood.
4- In the pan, melt the remaining butter and add the flour. Add flour and stir until it forms a smooth paste. Cook for 2 minutes.
5- Add the milk while whisking. Bring to a boil and simmer for 5 minutes or until thickened.
6- In the meantime, reheat the vol-au-vent shells according package instructions.
7- Incorporate the reserved vegetables and seafood into the hot sauce. Reheat for a few minutes.
8- Pour the seafood vegetable sauce onto the hot vol-au-vent shells and garnish with the fennel gremolata.
Nutrition Facts (per serving):
Calories: 430
Protein: 25 g
Fat: 23 g
Carbohydrate: 33 g
Fibre: 3 g
Sodium: 400 mg
Recipe ideas using this product