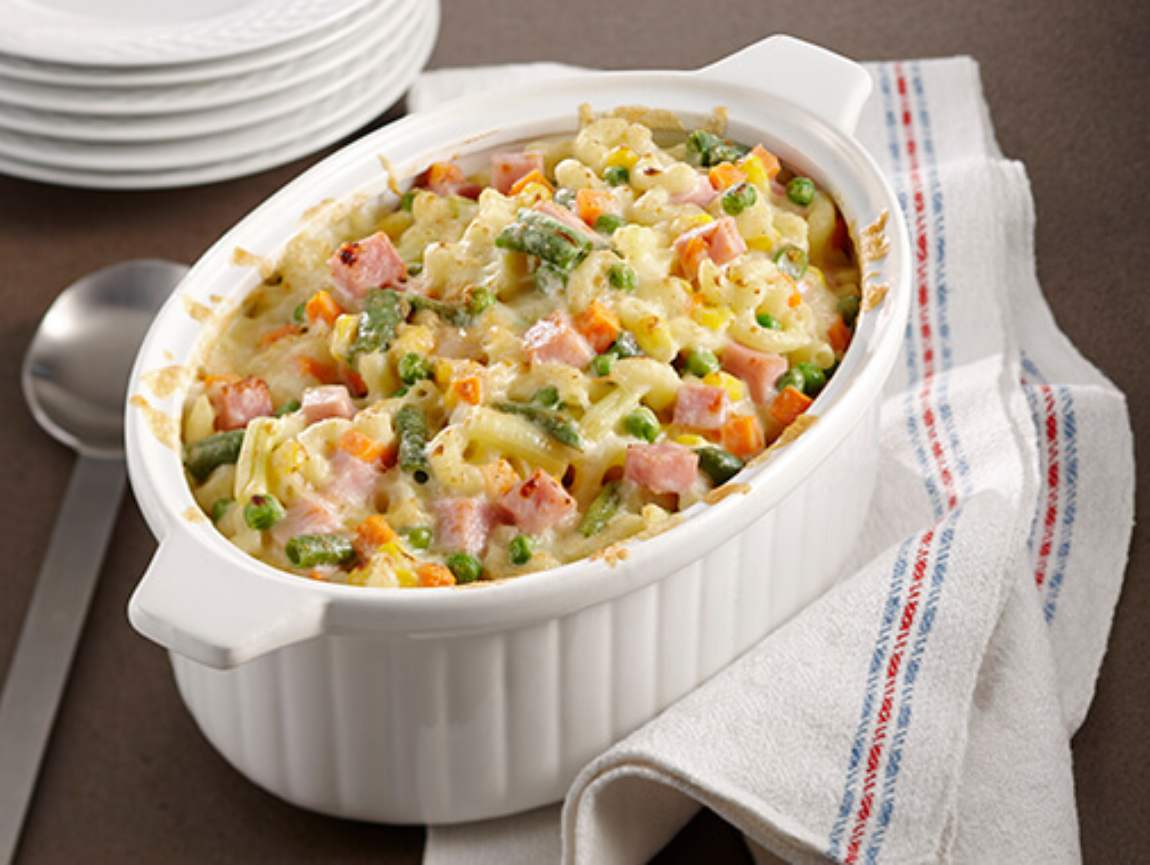 Ingredients
1 lb (450 g) uncooked macaroni
1 bag Arctic Gardens mixed vegetables
3 tbsp (45 ml) butter
3 tbsp (45 ml) flour
2 ½ cups (625 ml) milk
¼ tsp (1 ml) ground nutmeg
¼ to ½ tsp (1 to 2 ml) cayenne pepper
Salt and freshly ground pepper
3 cups (750 ml) cheddar cheese, grated
2 cups (500 ml) ham, cubed
Preparation
1- Preheat the oven to 425o F (210o C).
2- Bring a large pot of salted water to a boil and cook macaroni according to package instructions.
3- Add the mixed vegetables to the pot 2 to 3 minutes before the macaroni is done. When cooked, drain and set aside.
4- In the meantime, in another pot, melt the butter on medium heat. Add flour and stir until it forms a thick paste. Let cook 2 minutes.
5- Incorporate the milk gradually while whisking. Simmer until thickened.
6- Add the nutmeg and cayenne pepper and season.
7- Melt 1 cup (250 ml) of the cheese in the hot sauce and season. Add the ham.
8- Transfer to an oven-proof casserole dish. Add the cooked macaroni to the vegetables and stir. Top with the remaining grated cheese and put in the oven.
Nutrition Facts (per serving):
Calories: 600
Protein: 33 g
Fat: 26 g
Carbohydrate: 59 g
Fibre: 5 g
Sodium: 963 mg
Suggestion:
If your family loves olives, add a few before covering the macaroni with the cheese. You'll love the change!
Recipe ideas using this product