Green bean spring rolls and peanut butter sauce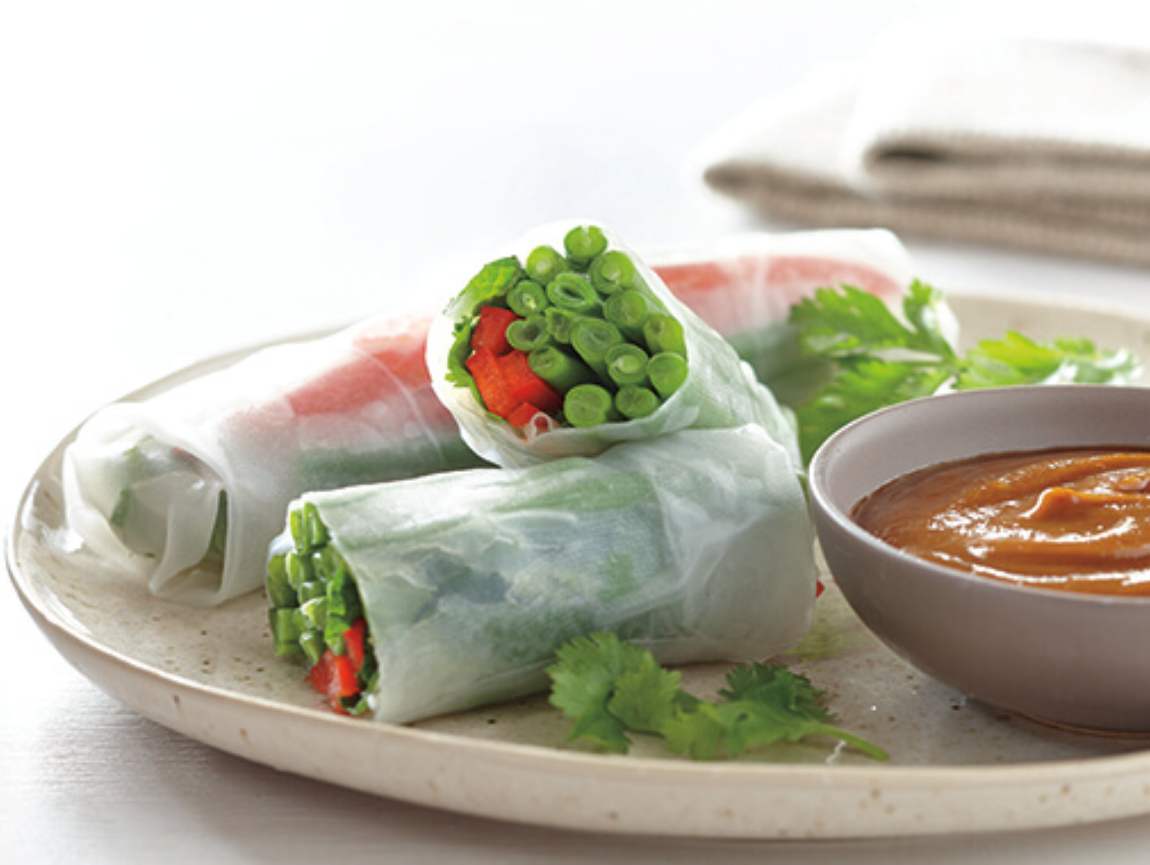 Ingredients
1 bag Arctic Gardens extra-fine green beans
8 to 10 sheets rice paper
24 to 30 fresh mint leaves
1 red pepper, julienned
8 sprigs fresh cilantro
Homemade peanut butter sauce :
3 tbsp (45 ml) peanut butter
3 tbsp (45 ml) boiling water
2 tbsp (30 ml) soya sauce
1 tbsp (15 ml) rice vinegar
1 ½ tsp (7 ml) honey
1 pinch hot pepper flakes
Preparation
In a microwave-safe bowl, thin the peanut butter with boiling water. Add soya sauce, vinegar, honey and red pepper flakes.
Microwave the sauce for 30 seconds, stir and let cool to room temperature.
In a large pot, bring salted water to a boil and cook beans for 5 minutes. Drain in a colander and rinse under cold water to cool. Drain well.
In a bowl large enough to dip rice paper sheets, fill with hot (not boiling) water.
Dip a sheet of rice paper into the hot water for about 15 seconds. Drain and put on a cutting board.
Add toppings to the first third of the sheet leaving 1" (2.5 cm) around the edges. On each, add 3 mint leaves, a few strips of red pepper, a sprig of cilantro and about ½ cup (125 ml) of beans.
Baste the two ungarnished edges again and starting from the garnishes, roll into a spring roll.
Repeat for remaining sheets.
Serve spring rolls with peanut sauce.
Nutrition Facts (per serving):
Calories: 75
Protein: 2 g
Fat: 3 g
Carbohydrate: 10 g
Fibre: 2 g
Sodium: 130 mg
Recipe ideas using this product