So now that the cold is definitely here, it's time to prepare for the frenzy of the holidays. Family dinners or a good meal with friends will be here soon enough and we have just what you need to impress your guests the next time they come over. In this article, we'll show you 5 delicious hot dip recipes and how to match them with other food to create beautiful platters that will take your breath away. Let the holidays begin!
Why we like hot dips
Quick and easy to prepare, hot dips are in the holiday spotlight this year. We love hot dips because they've got a comforting side and because they're different from other kinds of holiday appetizers. They get people around an delicious tray and always enhance any kind of raw veggie platter. Plus, hot dips and their sides satisfy everyone's tastes. With several combinations per platter, hot dips are really the perfect versatile dish for any occasion. Your guests will enjoy every bite!
How do you make a dip?
Preparing a hot dip is generally really quick and easy. First, make sure you have the necessary ingredients. Then, preheat your oven as per the recipe and start prepping your ingredients. Once everything's ready, mix all the ingredients together and transfer to an oven-safe dish. While the dip is reheating for 20 to 30 minutes in the oven, it's time to put together your serving tray. Depending on the theme of your platter, prepare your veggies and sides the way you like. Finally, the dip keeps well in the fridge for several days and can also be frozen.
If you'd prefer a quick prep, try our 3 frozen Arctic Gardens portionable dips! Just pick the number of dip nuggets you want and reheat in the microwave according to package instructions. And you're ready to eat!
Our tricks for a successful platter
Putting together a dip platter can seem simple at first, but there are lots of tricks and tips to surprise your guests in how enticing your presentation is. Here are our best tricks:
The basic order for a good platter
Variety is a really important part of a successful dip platter.
For optimal results, we propose this order:
1 cheese (optional)
2 types of bread (crackers, baguette, pretzels, etc.)
3 to 4 kinds of veggies
Cut your veggies in different ways
To create a visually pleasing platter, try cutting your veggies in different ways. Of course, everything should fit into the dip bowl. For example, cut carrots into sticks, cucumbers into circles and peppers into strips. Your platter as a whole will be more dynamic and original by varying the shapes of your food.
Add some WOW to your platter
For an even more spectacular presentation, include a variety of colours. You've heard the expression that we eat with our eyes? So, go ahead and try different colours! For example, radishes add a nice touch of red and white whereas beans add a beautiful green.
A hot dip holiday platter isn't complete without a theme.  Add a few cedar branches, Christmas balls or even pine cones. Battery lanterns or festive LED lights will definitely add a warm ambiance to your evening. And why not transform your works of art into an edible centrepiece? Put everything in the middle of the table and enjoy the decorations that will be useful a well as pleasant.
Surprise your friends and loved ones by serving your hot dip in a hollowed-out loaf of bread which doubles as a serving bowl. And you can eat your bread bowl with the dip. And the pièce de résistance? There'll be one less dish to wash!
Hot spinach dip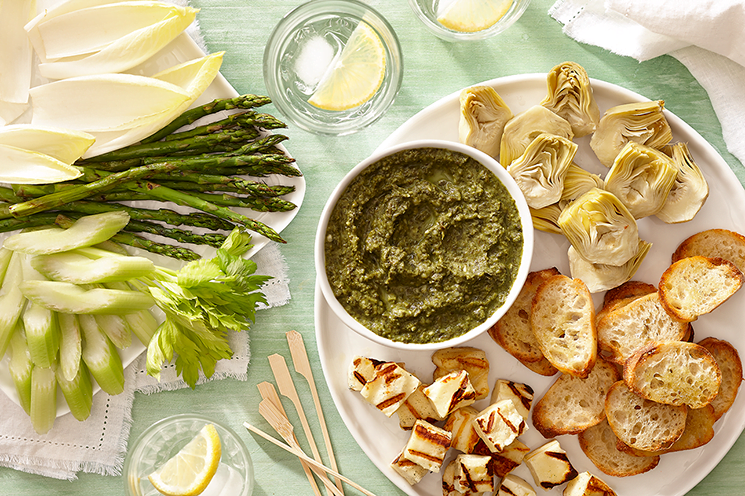 When you think hot dip, you might think creamy spinach and artichoke dip. Enjoy ours by dipping baguette croutons, cubes of halloumi, endive or more!
On your grocery list:
French baguette croutons
Grilled halloumi cubes
Endive
Celery
Artichoke
Grilled or blanced asparagus
Hot red pepper dip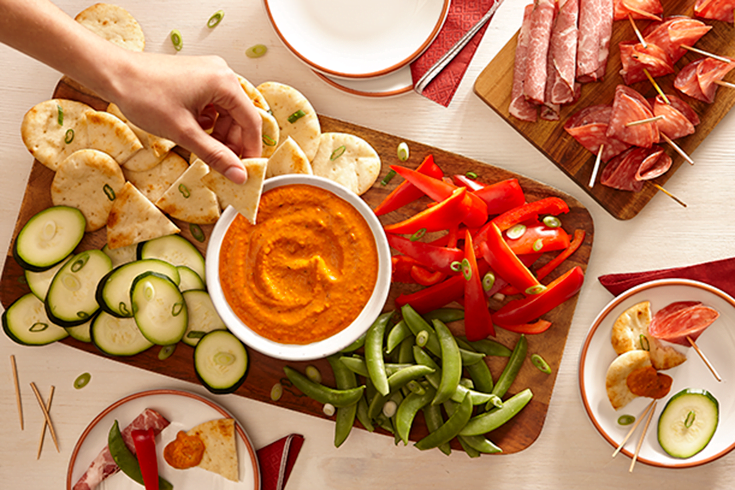 Let's get the party started with our red pepper hot dip platter! Bring your dip platter to another level by adding your favourite cheese and cold cuts.
On your grocery list:
Naan
Red peppers
Snow peas
Zucchini sticks
Rolled cold meat or cold cults
Swiss cheese
Green onions sprinkled on top of the platter
Hot south-west dip
Let us inspire you with our Artic Gardens' frozen south-west dip. Just microwave the amount you need, mix and serve. The short prep time lets you spend time with your company. Have a great evening!
On your grocery list:
Corn chips
Romaine lettuce leaves
Cauliflower
Radishes
Potatoes, quartered
Mushrooms
Cheddar, cubbed
Serve this delicious cream cheese, sour cream and corn hot dip with your veggie platter.
On your grocery list:
For the dip:
Corn kernels (fresh, canned or frozen)
Cream cheese
Sour cream
Garlic powder
Salt
Pepper jack cheese
Sharp cheddar cheese
Monterey jack cheese
For the platter:
Preztels
Baguette, sliced
Carrots
Cucumber
Cherry tomatoes
Celery
Here's a nice hot dip alternative to impress your guests – vegan or not! It contains no animal-origin product, but is overflowing with taste. To make your own cashew cream, soak 225 g of cashews in water overnight. Then drain and rinse before processing in a food processor until smooth. Add 250 ml water and a pinch of salt for a rich cream and there you go – homemade cashew cream!
On your grocery list:
For the dip:
Raw cashews
Lemon juice
Coconut cream
White vinegar
Salt
Onion powder
Vegan mayonnaise
Nutritional yeast
Olive oil
Onion
Crushed garlic
Dried rosemary
Marinated artichokes
Baby spinach
For the platter:
Crakers
Baguette, sliced
Green beans
Broccoli
Radishes
Carrots
Assorted nuts
So which hot dip platter makes your mouth water? Let us know in the comments section! If you'd like even more holiday tips, see are article, Family holiday menu ideas.
From the entire Arctic Gardens team, we wish you a very happy holiday season – and have fun dipping!