The snow is melting quickly as the weather gets warmer. Winter is coming to an end and maple trees are making a comeback. And that means sugar shack time which is synonymous with family and friends.But how to cook with maple syrup?
The benefits of maple syrup
Even though considered a sugar which you shouldn't eat too much of, maple products have several unexpected health benefits:
Not only does it act as a sweetener, maple syrup is made up of 35% water, unlike white sugar which doesn't contain any.
According to a University of Laval study, maple syrup has a low glycemic index which would allow the most sensitive people to sweeten their dishes sparingly.
Have you heard of maple water? Although relatively unknown, it's worth getting to know. It has fewer calories than coconut water, so it's perfect if you want to sweeten your smoothies a smidge. It also contains phytonutrients, minerals and vitamins.
Canada's reputation for maple syrup is well-established. That's why consuming maple syrup products encourages local production.
Below is our advice on how to cook with maple syrup and enjoy the season to the max!
Cooking with maple syrup
Even if maple syrup doesn't go on the market till mid-March, you can still cook with it all-year long. We love doing that.
It's normally used to caramelize ingredients, create sweet and savoury sauces and dressings, as well as replace sugar and honey in mains and desserts.
Here are a few of our favourite recipes:
Caramelize your ingredients
Maple vinaigrette and sweet and savoury sauce
Replace sugar with maple syrup in desserts
Maple Peanut Butter Chocolate Chip Oatmeal Cookies
Soft protein bars with chickpeas and apples
A subtle change to your meals
Get a little creative: why not replace risotto with riced cauliflower?
Maple-Cured Salmon & Barley Risotto
Replace meat with maple tofu
The best vegetarian and vegan sugar shacks
Traditional dishes with or without meat.
La Cabane à Tuque – (vegan, organic and all you can eat buffet)
La Pause Sylvestre – (vegetarian and family)
But if you're in the mood to stay in, invite your friends and family over instead. On the agenda: a DIY sugar shack!
How to plan a sugar shack at home
Prepare the sugar shack theme
Decorating the table
Believe it or not, it is possible to decorate sugar-shack-style without being tacky.
Here's our list to enjoying the atmosphere of the sugaring-off season :
Little log discs: use as coasters or place mats or put candles or other things on.
Plaid: on tablecloths, table runners, throws or placemats. Your table will look just like one in a chalet!
Deer and moose: print motifs on cushions or table runners.
Raw materials: A mason jar wrapped in straw bursting with the first spring flowers or filled with corks as place card holders on the table. And to add warmth to your ambiance, perhaps a nice faux wood candle

Taffy on snow
It's definitely one of the signature moments during the sugar shack meal, so why not make some at home? Here are the ingredients you'll need, as well as the steps for a simple, sweet treat:
Homemade maple taffy :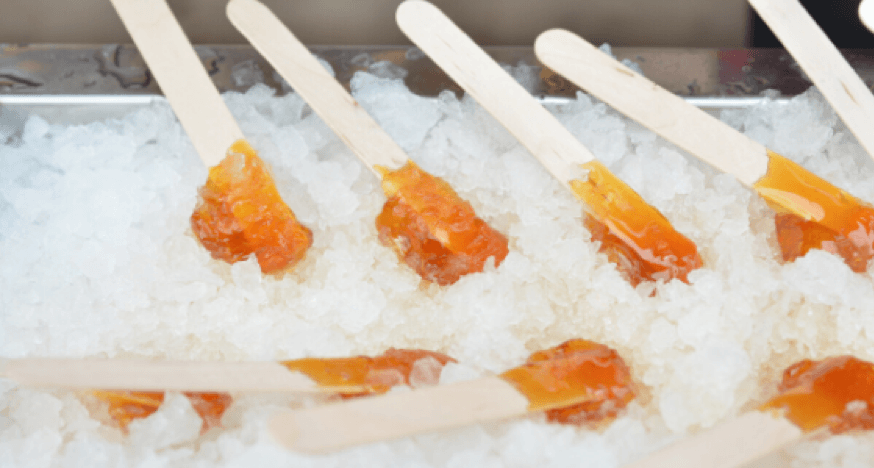 Ingredients
Clean snow
Salt
1 can 18 oz (540 ml) dark maple syrup for 8 to 10 strips of taffy
Popsicle sticks or nice little branches
Food thermometer
Big pot
Small ladle
Steps
In your large pot, boil maple syrup for 20 minutes.

In the meantime, find some clean snow and then tamp it down (tap and compress).
Add a pinch of salt to firm up the snow.

After 20 minutes or so, check the syrup's temperature (it should be about 240 oF).
Set aside the syrup for 2 to 3 minutes.
Using the ladle, pour a line of syrup about 5-6 inches long (10 to 15 cm) on the snowbank.
Test to see if a popsicle stick sticks to the syrup.
If it does, start rolling your sticks along the lines of syrup and enjoy!
Vegetarian or vegan sugar shack
If you want to improve your eating habits, always remember that half your plate should be made up of veggies. To learn more, read our article on Canada's new food guide (according to Health Canada).
2 teams pull on opposite ends of a rope where there's a coloured ribbon to indicate the middle.
Objective of the game: Destabilize the other team by pulling them across the line that separates the two sides.
1 nail per player, 1 hammer and 1 log – so definitely a game for grownups. Players (minimum 3) each take turns trying to hammer any opponent's nail into the log. You can only hit a nail once per turn.
How do you win?The winner is the last player whose nail remains standing.
2 people sit at a table across from each other. Players grip each other's hand with their elbows bent and touching the table, then try to force their opponent's arm down. Did you pin your opponent's hand to the table? Woo hoo, you win!
Sweet treasure hunt – in the snow
Have fun hiding sweet little candies indoors or out.
Young and old alike get to hunt for these maple treasures, then eat them all – okay, or almost all. A guaranteed gourmet moment!
So now you know how to cook with maple syrup and hosting a sugar shack at home. Download our sugar shack at home menu and have fun going maple.
Then in the comments section, tell us about how your best recipes and favourite tricks made this the best day ever.