Riced cauliflower avocado mango power bowl by K for Katrine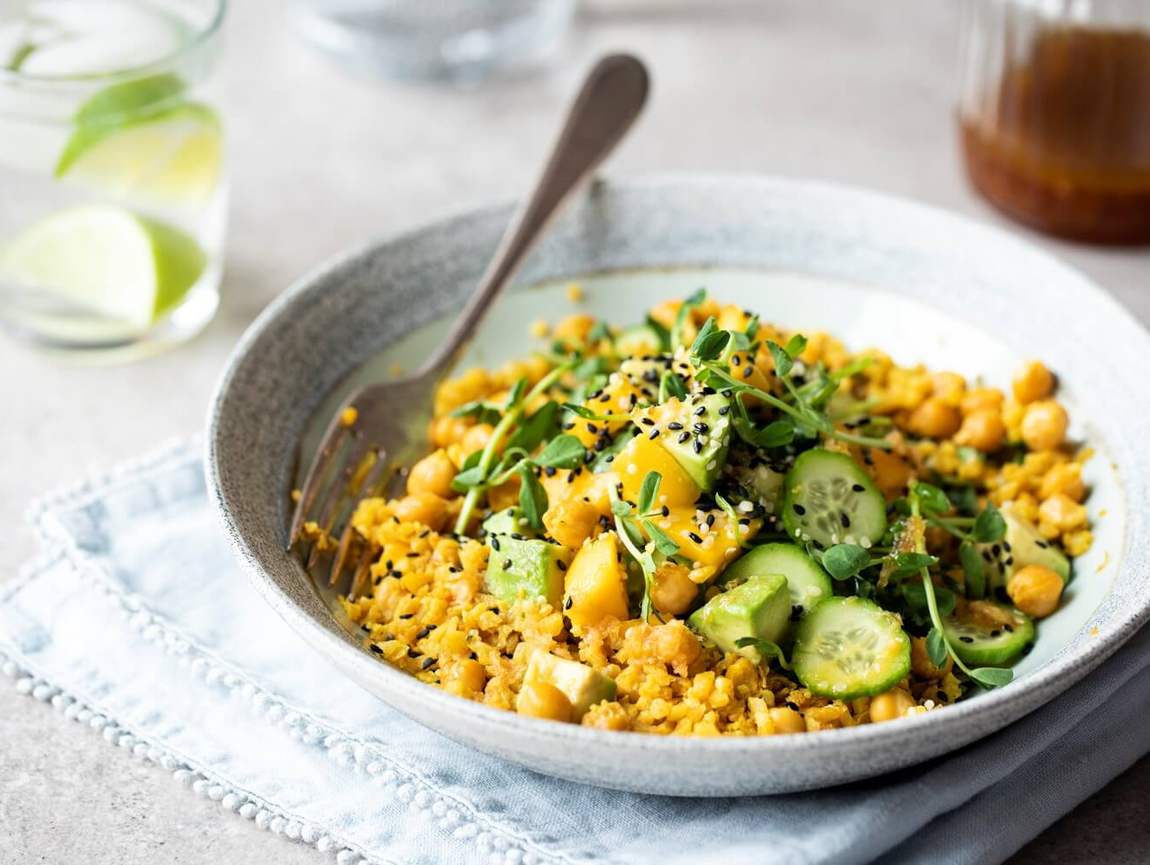 Katrine Paradis and K pour Katrine A born foodie who's generous by nature, Katrine Paradis knows how to transform her passion for cooking into a positive, collective experience. Instigator of food events for CHU/Sainte-Justine, host of the Un p'tit gâteau à la fois show on Canal Vie, today she continues to share her recipes, but in a different way since new dietary restrictions have popped up. She launched the K pour Katrine site (in French only) that provides solutions for cooking without gluten or dairy products and without anyone noticing! A new online recipe box for gluten and dairy intolerant foodies that's a big hit.
Ingredients
Grilled cauliflower and chick peas
1 tbsp toasted sesame oil
1 clove garlic, chopped
1 tbsp (15 ml) maple syrup
1 tbsp (15 ml) tamari sauce
1/4 tsp (1.25 ml) salt
1 tsp (5 ml) curry powder
1 bag 340 g Arctic Gardens frozen riced cauliflower
1 can 19 oz (540 ml) chick peas, drained well
Asian dressing
3 tbsp (45 ml) rice vinegar
1 tbsp (15 ml) toasted sesame oil
2 tbsp (30 ml) olive oil
2 tbsp (30 ml) tamari
1 tbsp (15 ml) freshly chopped ginger
1 tbsp (15 ml) maple syrup
1 clove garlic, chopped
Bowl
1 mango, cubed
1 avocado, cubed
2 Lebanese cucumbers, sliced
1/2 c (125 ml) cilantro, coarsely chopped
1 c (250 ml) microgreens
2 tbsp (30 ml) hemp seeds
2 tbsp (30 ml) black sesame seeds

Preparation
Grilled cauliflower and chick peas
1. Preheat the oven to 400 °F and put the rack in the middle. Line a cookie sheet
with parchment paper.
2. Pour the riced cauliflower into a large bowl and mix well with the remaining
cauliflower and chick pea topping.
3. Spread onto the cookie sheet and bake for 20 minutes.

Asian dressing
1. In a small bowl, mix together the dressing ingredients. Set aside.
Bowl
1. Divide the grilled cauliflower and chick pea mixture into 4 bowls and garnish with
mango, avocado, cucumbers, cilantro and microgreens. Sprinkle with hemp and
sesame seeds and drizzle with dressing.
Nutrition Facts (per serving) :
Calories (kcal) : 457
Protein : 12.7 g
Fat : 24.4 g
Sugar : 20.4 g
Fibres: 12.5 g
Sodium: 543 mg
Recipe ideas using this product