Tomato and basil pizza on cauliflower crust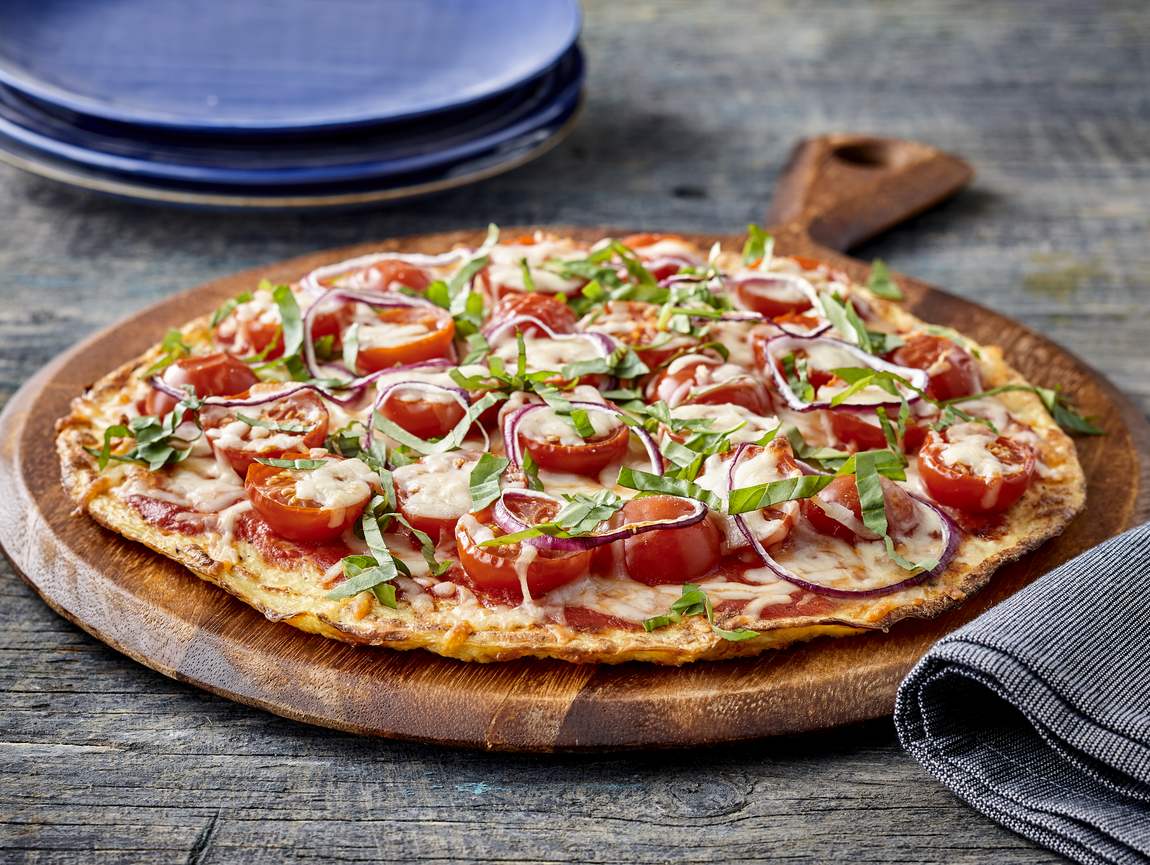 Ingredients
1 bag of 340 g Arctic Gardens riced cauliflower
2 eggs
2 tsp (10 ml) olive oil
¼ tsp (1 ml) garlic powder
½ tsp (2 ml) dried oregano
Salt and freshly ground pepper
1 cup (250 ml) Italian blend grated cheese
Toppings :
½ cup (125 ml) marinara sauce
1 ½ cup (375 ml) cherry tomatoes, cut in half
1 ½ cup (375 ml) Italian blend grated cheese
A few rings of sliced red onion
¼ cup (60 ml) freshly chopped basil
Preparation
Preheat oven to 400 °F (200 °C).
In a microwavable bowl, cook cauliflower for 5 minute stirring twice during cooking. Let cool.
Mix coarsely with an electric mix.
In a large bowl, beat eggs with oil, spices, salt and pepper.
Add cooled cauliflower and grated cheese.
Line a pizza pan with parchment paper. Spread and press the preparation to form a disc of about 10" to 12" (25 to 30 cm) in diameter.
Cook for 25 minutes. Flip the crust onto a new piece of parchment paper. Return to the oven and bake for another 10 minutes or so.
Increase the oven temperature to 500 °F (250 °C).
Top the crust with sauce, cherry tomatoes, cheese and red onion.
*Bake in the oven for 7 to 10 minutes and garnish with basil to serve.
Nutrition Facts (per serving) :
Calories: 421
Protein: 24 g
Fat: 31 g
Carbohydrate: 14 g
Fibre: 3 g
Sodium: 695 mg
Recipe ideas using this product