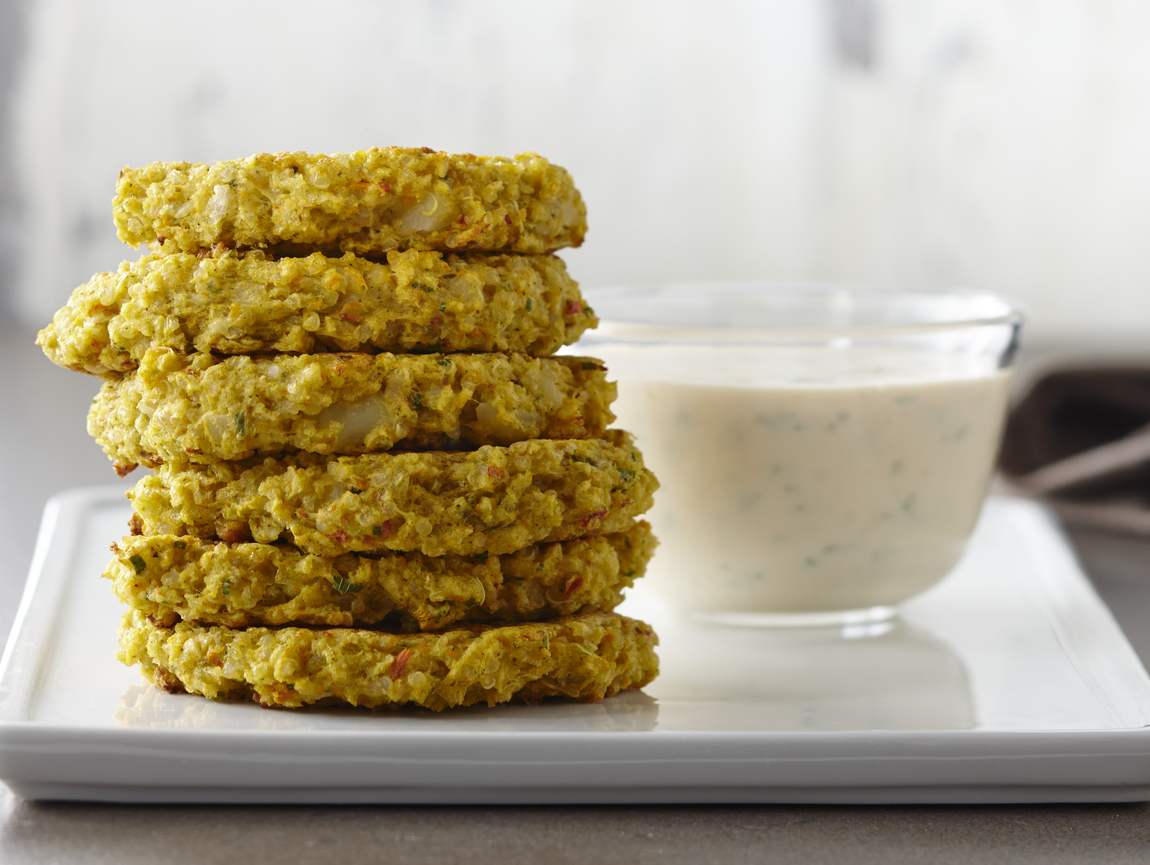 Ingredients
½ cup (125 ml) uncooked quinoa
1 cup (250 ml) water
1 cup (250 ml) potatoes, peeled and cubed
3 cups (750 ml) Arctic Gardens oriental style vegetable mix
1 egg
1 tbsp (15 ml) fresh chives, minced
¼ tsp (1 ml) paprika
¼ tsp (1 ml) garlic powder
¼ tsp (1 ml) celery salt
Salt and freshly ground pepper
¾ cup (180 ml) plain breadcrumbs or Panko
Canola oil for cooking
Spicy basil lemon mayo:
½ cup (125 ml) mayonnaise
2 tbsp (30 ml) lemon juice
1 tbsp (15 ml) lemon zest
1 tbsp (15 ml) fresh basil, chopped
1 tbsp (15 ml) honey
½ tsp (2 ml) Sriracha sauce (hot sauce)
Preparation
1. In a small pot, mix together quinoa and water. Bring to a boil, reduce heat, cover and cook for 12 to 15 minutes. Set aside and let cool.
2. In another pot, cook the potatoes in a lot of salted water for 5 minutes or until tender.
3. Add the vegetables and cook for another 4 minutes.
4. Drain in a colander and rinse with cold water to cool the vegetables. Drain again.
5. Preheat the oven to 450o F (230o C).
6. Put the vegetables in a food processor and process until smooth in texture.
7. Add the egg, chives and spices. Season generously.
8. Transfer to a bowl. Add the cooled quinoa and breadcrumbs. Mix well and let stand for 5 minutes.
9. Grease a baking sheet with a brush. Add the quinoa and vegetable mixture in large spoonfuls. Gently flatten and baste with a little olive oil.
10. Cook in the oven for 10 minutes, remove and return to oven and cook for another 10 minutes.
11. While the quinoa and vegetables are cooking, in a bowl, mix together all of the spicy basil lemon mayo ingredients.
12. Serve the hot vegetable quinoa cakes with the spicy mayo and a salad.
Nutrition Facts (per serving):
Calories: 360
Protein: 8 g
Fat: 21 g
Carbohydrate: 36 g
Fibre: 5 g
Sodium: 420 mg
Recipe ideas using this product