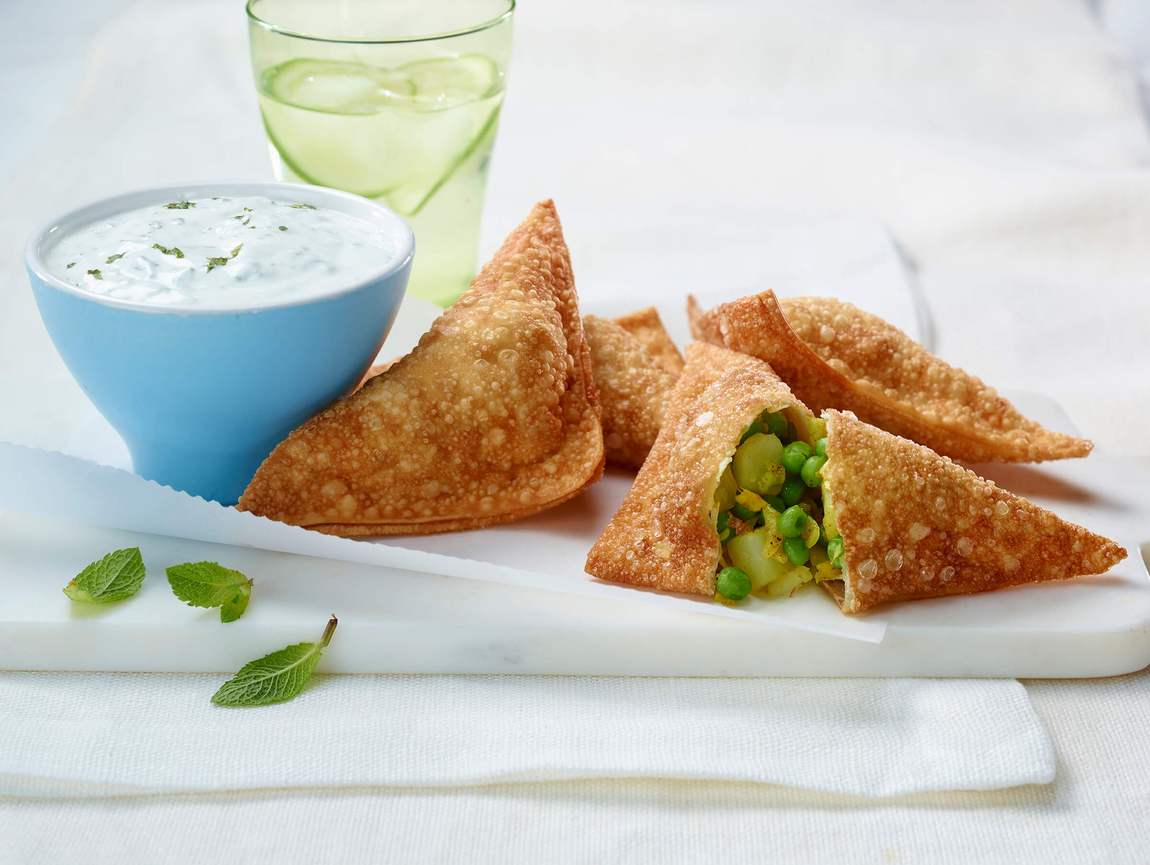 Ingredients
1 cup (250 ml) plain yoghurt
2 tbsp (30 ml) freshly chopped mint
1 pinch cayenne pepper
1 tbsp (15 ml) oil
4 cloves garlic, minced
1 onion, chopped
1 tbsp (15 ml) freshly chopped ginger
1 tsp (5 ml) curry powder
1 ½ cups (375 ml) Arctic Gardens sweet peas
2 cups (500 ml) potatoes, cooked and diced
1/3 cup (75 ml) freshly chopped cilantro
about 48 egg roll wrappers, thawed
1 egg, beaten
oil for frying
Preparation
In a bowl, mix together yoghurt with mint and cayenne pepper. Add salt to taste and refrigerate while preparing samosas.
In a large pan, heat oil to medium-high heat and sauté garlic, onion and ginger with curry for 2 minutes.
Add peas and diced potatoes. Cook while stirring frequently for 5 minutes. Season generously and add cilantro. Remove from heat and let cool.
On the work surface, spread out a few egg roll wrappers. Baste the edges of each one with the beaten egg.
Place a large tablespoon of vegetable filling onto each wrapper. Fold in two to make a triangle and press the two edges of the wrapper to seal the samosas well.
Repeat steps until all the filling has been used. Stuff the samosas as much as possible.
Add enough oil to cover the bottom of the pan at least 2 inches (5 cm) deep.
When the oil is nice and hot, use a slotted spoon to add the samosas. Cook for 2 to 3 minutes each side or until the wrappers are nicely browned.
Drain using the slotted spoon and place on a plate lined with paper towels.
Serve with yoghurt dip.
Nutrition Facts (per serving):
Calories: 510
Protein: 17 g
Fat: 12 g
Carbohydrate: 84 g
Fibre: 3 g
Sodium: 275 mg
Recipe ideas using this product