Roasted sesame salmon and pea coulis with garden herbs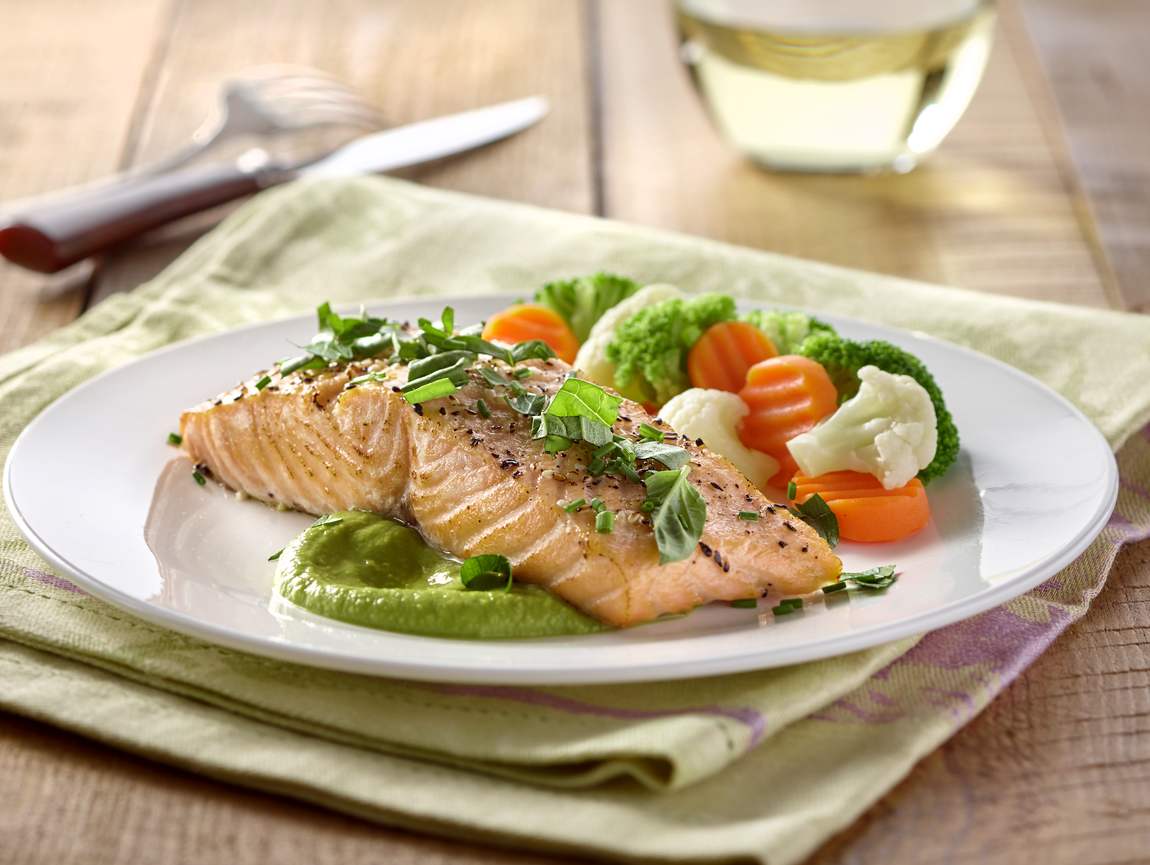 Ingredients
1 tbsp (15 ml) olive oil
1/2 tbsp (7 ml) freshly chopped ginger
2 cloves garlic, minced
2 c (500 ml) Arctic Gardens sweet peas
1 ½ lbs (675 g) salmon filets with skin on
Salt and freshly ground pepper
1 tbsp (15 ml) sesame seeds
2 tsp (10 ml) grilled sesame oil
Your choice fresh or mixed herbs (parsley, chive, basil, etc.)
Preparation
In a pan on medium heat, heat the olive oil and sauté ginger and garlic for 2 minutes. Remove half of the oil (without ginger or garlic) and allow to cool.
In the pan, add peas and 1/2 cup (125 ml) water. Cover, increase the heat to medium-high and bring to a boil. Cook for 5 minutes.
In the meantime, cut the salmon filet into 4 servings and baste with the olive oil removed from the pan. Season with salt and pepper. Sprinkle with sesame seeds.
Process peas in a food processor, strain through a cheesecloth to remove the skins. Keep warm while cooking the salmon.
Preheat the barbecue to medium and put the salmon filets skin side down on the grill.
Cook for 8 to 12 minutes depending on the salmon's thickness and desired doneness. Slide a spatula between the skin and the flesh of the fish to separate.
Serve fish with the pea coulis, fresh herbs and a few drops of sesame oil.
Nutrition Facts (per serving) :
Calories: 435, 6
Protein: 47,5g
Fat: 21,0g
Carbohydrate: 11,7g
Fibres: 4,5g
Sodium: 357,2 mg
Photo: California mix
Recipe ideas using this product