Looking to include more vegetables in your recipes? Widely used in Quebec, chicken is a versatile food that offers a lot of potential to make recipes with greenery. Adding green to chicken dishes is easy because it tastes great with almost any kind of food. But as we focus on meat to determine a dish, what vegetables should we choose? We've looked into the subject and offer tips and recipes that will let you to diversify your options and vegetize your chicken recipes.
Winning combos
Some flavour combinations are very popular with chicken and there are several more to discover. It's important to choose vegetables that go well with chicken, but because there so many options, sometimes choosing can prove to be difficult.
The most common combos with chicken

Broccoli
One of chicken's best friends, broccoli goes perfectly in stir-fries, gratins or pasta. These two simple flavours combined with different spices, cheese or sauces can only be a winning combination. Broccoli can also improve cardiovascular and eye health while reducing the risk of cancer.
Spinach
Spinach is versatile. Serve it as a hot or cold side or add it to rice, pasta or stuffed chicken breast recipes. It can be hot or cold, but cooked spinach has more vitamins. This vegetable is known to reduce cancer risk, provide a good source of fibre and antioxidants and protect eye health.
Asparagus
Asparagus is a popular side dish for chicken. We recommend adding spices and citrus flavours or preparing it with cheese. Add this vegetable to rolls, stuffed breasts or stir-fries. Asparagus is also a vegetable that's very rich in vitamins, proteins and antioxidants – all beneficial for your health.
Carrots
Carrots are often used in stir-fry and served with roast chicken. We recommende adding spices, vegetables or potatoes to counterbalance the acidity of the carrots. As well, because carrots are full of vitamins, they're good for eyes, skin, bones and even the liver.
Add these veggies to your recipes

Source : Pixabay
Sweet potato
Chicken and potato casseroles are always popular, so simply switch from traditional to sweet potatoes and discover a whole new flavor combo. Try it in this spicy chicken recipe to please your palate!
Tomatoes
Tomatoes and chicken make an excellent pair. They can be added to the broth you cook your chicken in or served grilled with your chicken (think cherry tomatoes – a little treat!). Try this chicken with roasted onion and tomato stew for a meal with punch.
Corn
Corn can bring a different dimension to chicken recipes. An iconic food in South America, it goes perfectly with chicken in many forms: tacos, quesadillas, fricassees or simply grilled. Try this chicken and corn chili for a meal that everyone will love!
To help you increase your everyday veggie consumption, read this article by nutritionist Hubert Cormier, "20 tricks for eating more vegetables".
Perfect sides

There are several ways to choose the perfect side, so here are a few that go well with chicken depending on the flavours you're looking for.
Roasted chicken
With its crispy skin and tender meat, roasted chicken is certainly a rich dish. For the perfect side, we suggest a potato and grilled lettuce salad. A simple vinaigrette, this potato salad with crunchy grilled lettuce will counter the tender, but rich side of the chicken.
For tips on vegetables on the grill and in papillote, check out our article, "Barbecue veggie rescue!"
Braised chicken
A braised chicken cooked in liquid is super tender. The broth it cooks in makes an excellent gravy that you can enjoy with bread or grilled potatoes. Serve a crunchy salad like this Brussels vegetable salad or this lemony green bean skillet to complete the meal.
Grilled chicken
Grilled chicken requires attention during cooking, so it's time to make cold salads that are chocked full of flavour to give you a break while it's cooking. The vegetables, legumes and flavours of this simple Mexican quinoa salad are sure to appeal to you. If you like your chicken spicy, calm your taste buds with this creamy broccoli salad.
Fried chicken
Although delicious, fried chicken is often heavy and greasy. We'll try to balance the meal with side dishes that are more vinegary, salty or sweet. And if you have a few days, try this marinated bean salad. Otherwise, this edamame with lime is easy to make and effective. These pickled creole vegetables can be an interesting substitute for traditional coleslaw.
For more side ideas for any kind of grilling, read our article, "Sides that are out of the ordinary".
Chicken and veggie recipes
Chicken and vegetables recipes
Now that the basics are in place, here are a few recipes that will let you easily integrate vegetables into your recipes.
The Classics
Chicken burger with spinach
This recipe replaces the traditional beef burger with a chicken patty, but also adds a touch of green to your meal with a spinach dip. You can't go wrong with this reinvented classic!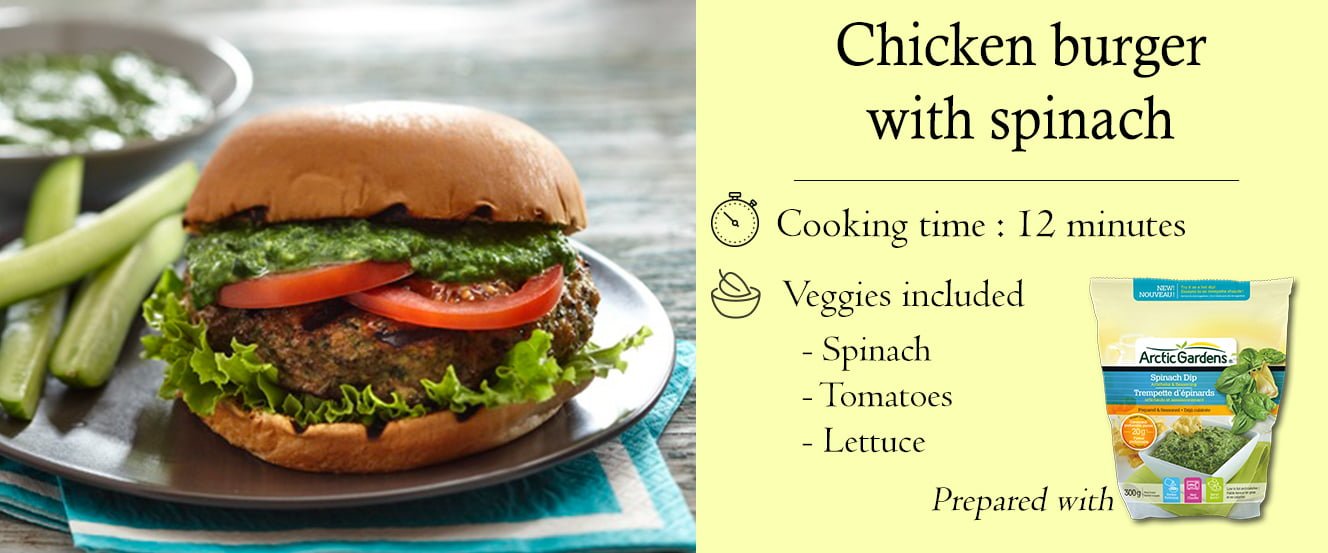 Chicken vol-au-vent
Want to add vegetables to your vol-au-vent hassle-free? There's nothing simpler than getting a bag of Arctic Gardens vegetable mix and adding it to your sauce!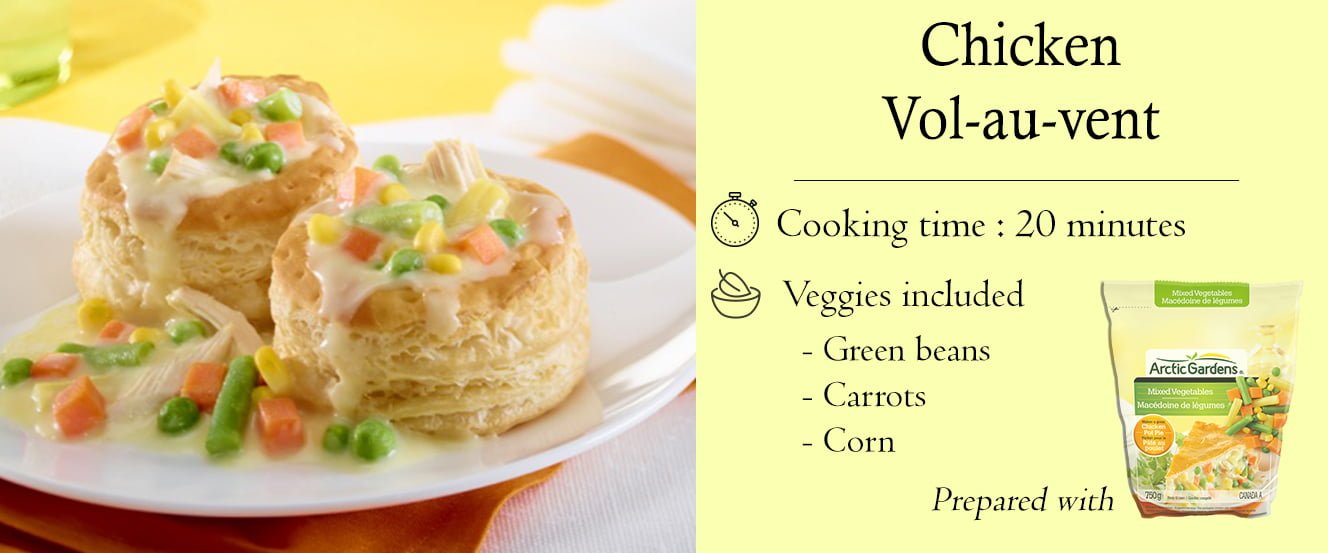 Chicken, bacon and mixed vegetable pot pie
These simple additions create a real burst of flavours. Between the taste of the chicken and bacon, creamy goat cheese and freshness of the veggies, this chicken pot pie will impress you!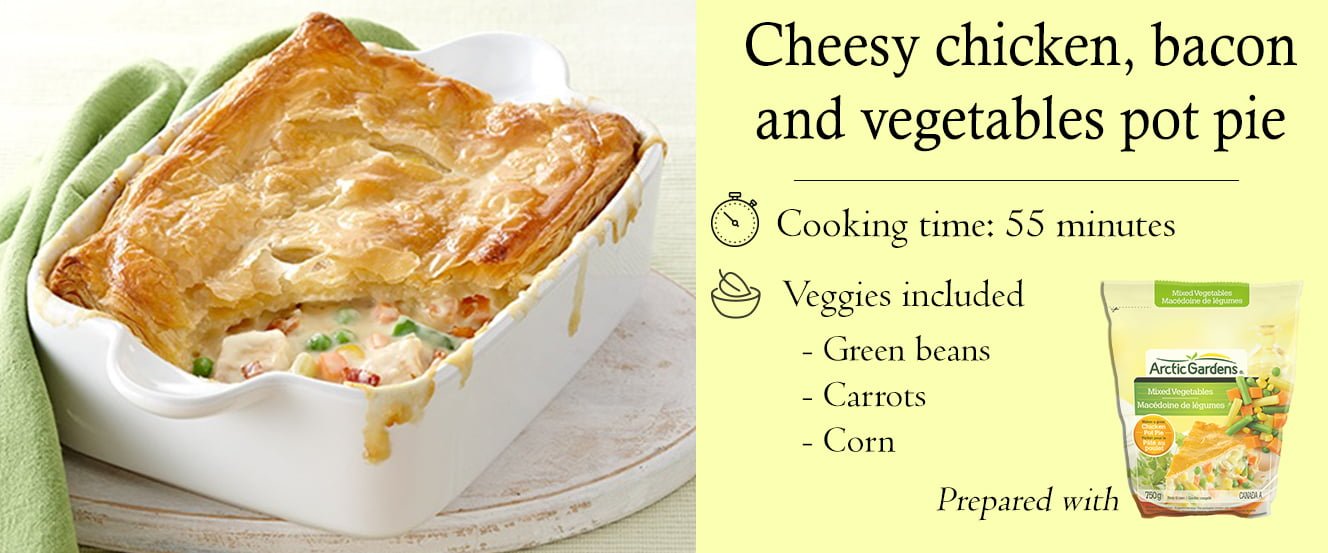 Recipes that are easy to customize
Some recipes are also really easy to customize. Just add the vegetables you love and voila! Here are some ideas of recipes to enhance to your liking.
Stuffed chicken breast
Stuffed chicken breasts are a delicious and easy way to add flavor to your meat. Just choose flavors that go well together, like this chicken breast stuffed with asparagus, ham and Swiss cheese, for example, and stuff the ingredients into the chicken breast before baking.
Stir-fries
Stir-fries are cooked in a wide variety of ways. Any flavour can be added beautifully to a stir-fry – you just have to know how to combine the ones you like. Don't hesitate to try unusual combinations like this Californian chicken stir-fry that has broccoli, cauliflower, carrot and mango.
For stir-fry ideas, check out our write-up on the subject.
Frittatas
A dish of Italian origin similar to an omelette, a frittata also lets you to create your own masterpiece of flavours, as well as being nutritious and easy to prepare. Try this chicken, broccoli and cheddar frittata for inspiration from other cultures.
Flavours from other cultures
Another way to add veggies to your recipes is to try dishes from different cultures. By doing so, we not only discover meals from other places, but also different vegetables and ingredients. And you're in luck because chicken is a popular meat all over the world!
Asian cuisine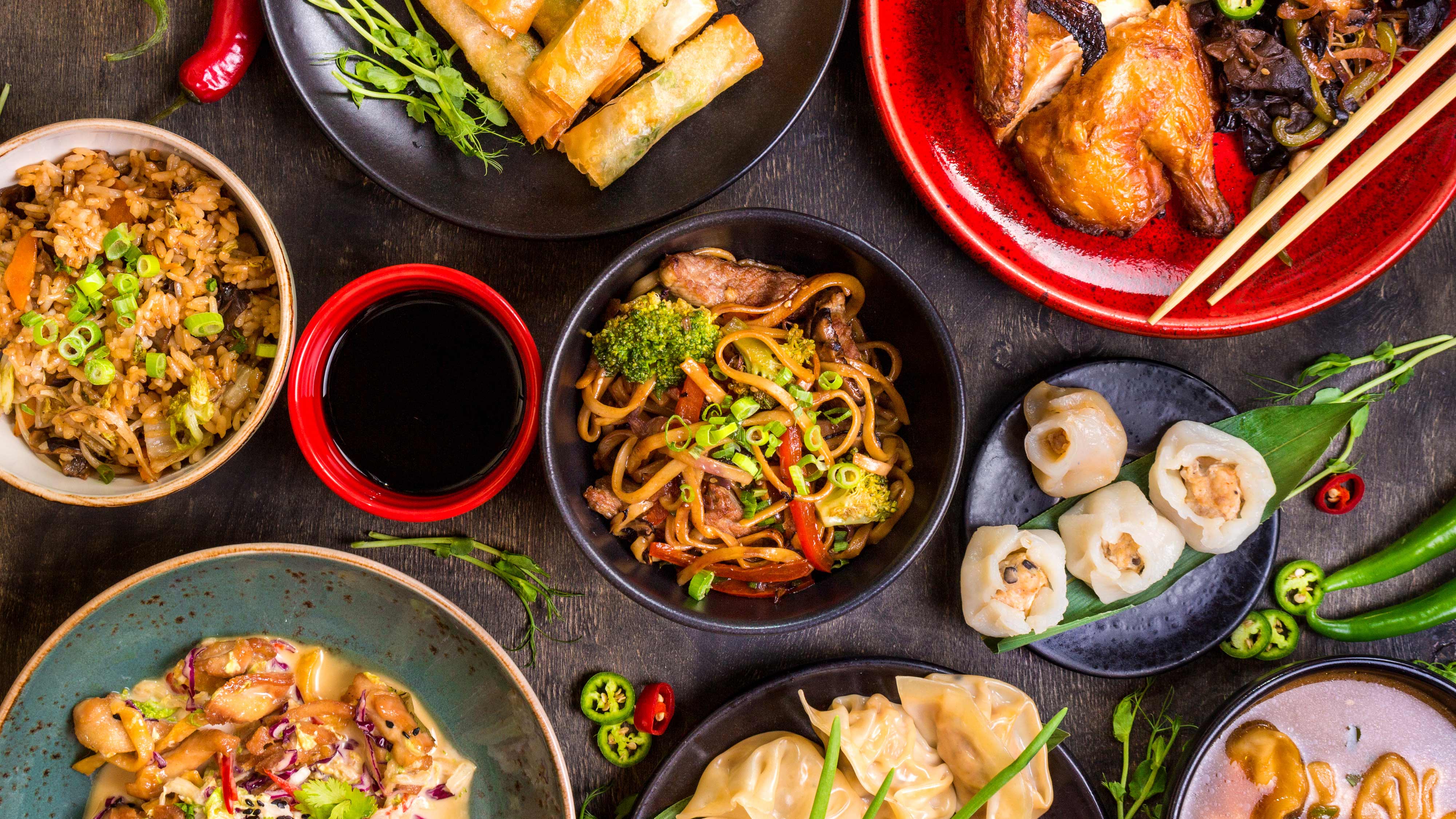 Overflowing with different cultures and nationalities, today's Asian cuisine has evolved towards one that combines the best of various regions and offers all kinds of dishes based on noodles, rice, spices and delicious vegetables. Here are a few to inspire you.
Thai fried noodles with chicken                                             Chicken teriyaki stir-fry
Hearty Chinese soup                                                                 Kung Pao chicken
Mediterranean cuisine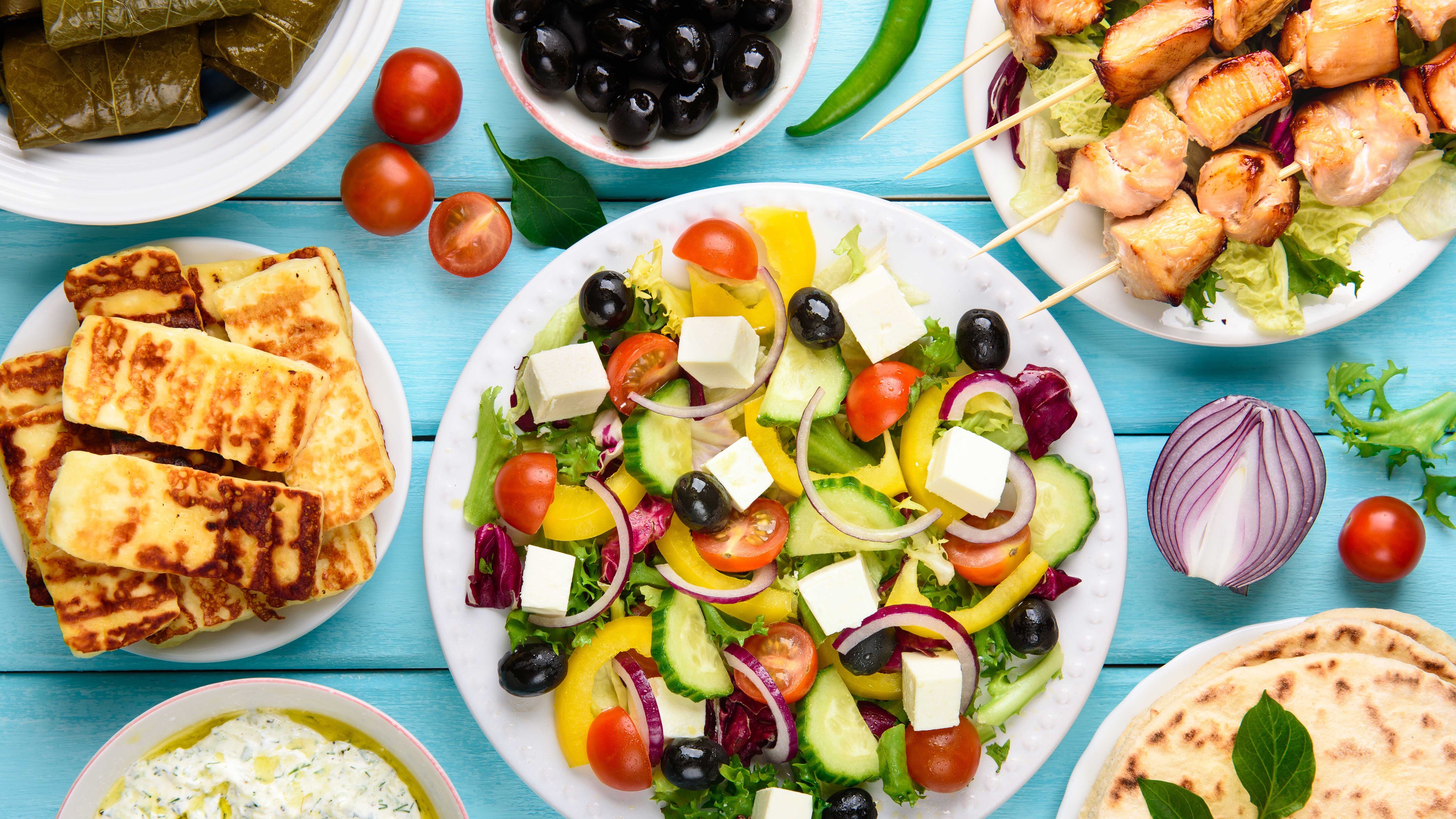 Thousands of years old, Mediterranean cuisine is a must in the culinary world. Dishes are made with refreshing ingredients and flavours like lemon, olive oil, feta cheese and lots of fresh vegetables. You'll find a variety of "healthy" recipes filled with freshness.
Greek chicken salad                                                               Mediterranean chicken wraps
One Skillet Mediterranean chicken                                    Mediterranean chicken kabobs
Mexican cuisine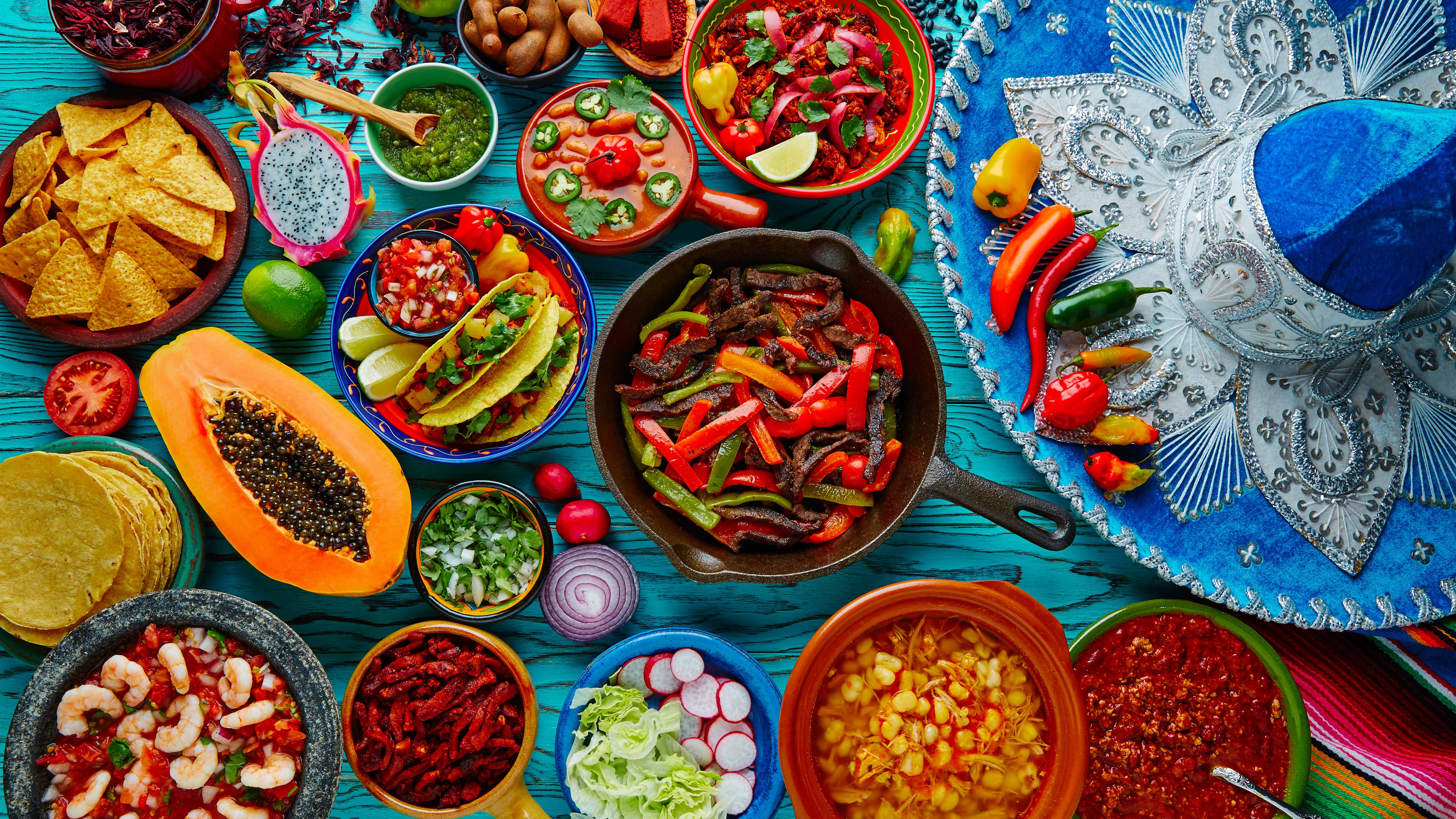 Colourful and spicy, Mexican cuisine knows chicken well and integrates it deliciously into a huge number of recipes. With the classic salsas and guacamoles, as well as tomatoes and corn, you'll have no trouble finding the perfect recipe to add greenery to your chicken.
Chicken Enchiladas and spicy black beans                       Mexican casserole
Chicken and pineapple tacos                                               One-pan Mexican chicken
If you like this kind of recipes, check out our article on Mexican cuisine.
Now that you're equipped to find all sorts of inspiration, it's time to start cooking! Let us know what your favourite chicken recipes and cooking tips are.