Distant cousin to cabbage, broccoli's origins are in Italy. It was first cooked in Mediterranean regions and remained an exotic veggie in North America until the 1920s. Its mild taste and crunchy texture quickly made it a widely used vegetable in the culinary world!
And broccoli is still appreciated today. In Canada alone, 41,400 tons of broccoli were produced and sold in 2015. That's the equivalent of more than 41,000,000 kg!
Portrait of broccoli
Broccoli is a veggie that has lots of tricks up its sleeve! It's delicious, easy to cook and really nutritious. Discover more on the subject.
Health benefits of broccoli
Rich in antioxidants and all sorts of vitamins, nutritionists and sporty people love this veggie. Here are a few health benefits:
★ Cuts your appetite. With only 29 calories per 100 gram, broccoli is a veggie that nourishes and satisfies your body without empty calories.
★ Protects your eye health. In particular, antioxidants, lutein and zeaxanthin in broccoli help prevent certain vision disorders.
★ Good for skin. Broccoli is rich in vitamins like B, C and beta carotene. It has anti-aging properties and helps regenerate damaged skin.
★ Prevents certain cancers. Several studies show that, due to different active ingredients present in broccoli, consuming it regularly reduces risk of certain cancers, such as prostate, kidney, breast and colon.
★ Strengthens bones. Rich in calcium and magnesium, broccoli helps strengthen bones and reduces the risk of osteoarthritis.
★ Improves cardiovascular health. Eating broccoli regularly is also associated with lower blood homocysteine levels which is recognized as a cardiovascular risk factor.
For more details on its health benefits, read  "Broccoli 101: Nutrition Facts and Health Benefits".
Broccoli still has a bad reputation. Perceived as a limp veggie that's full of water and not very tasty, there are, however, several ways to cook it to make delicious dishes.
How to cook broccoli?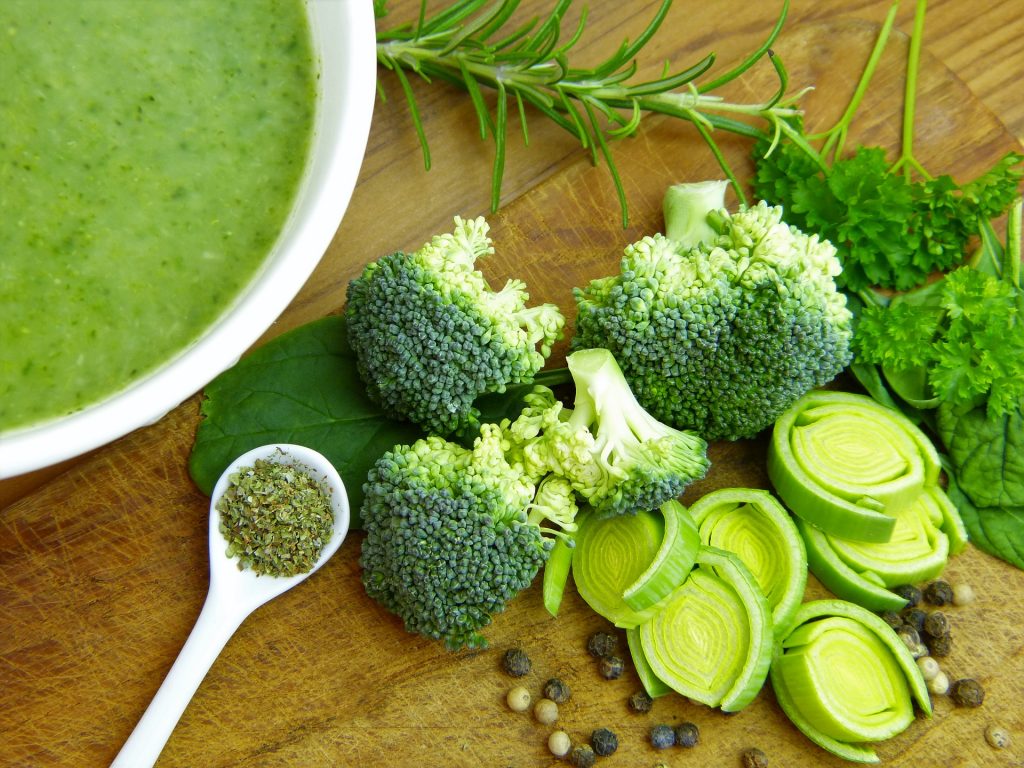 Broccoli still has a bad reputation. Perceived as a limp veggie that's full of water and not very tasty, there are, however, several ways to cook it to make delicious dishes.
Cooking broccoli
Steaming
Steaming broccoli keeps it crunchy. Just boil a pot of salted water, add the broccoli to a steaming basket and steam covered for 5 minute on medium heat (not more or it'll start to lose its crunch).
Boiling
To give florets a velvety smooth texture, drop them into a pot of salted boiling water for 8 to 10 minutes. Tip: when done, plunge into ice water to keep its bright green colour.
Microwaving
A perfect method if you're rushed, just put broccoli florets in a glass bowl filled with water (about ¼ cup of water per 1 ½ cups of broccoli). Cook for 6 minutes for crunchy broccoli and 8 for velvety florets.
Roasting
Not-so-common, but still delish, it is possible to roast broccoli. Just drizzle a little olive oil and season with lemon juice and salt, then place on a baking sheet lined with parchment paper. Roast for 20 to 25 minutes or until golden and crisp.
Barbecuing
You can also grill it on the barbecue like in this grilled broccoli with garlic recipe.
Broccoli appetizers, mains and desserts
Appetizers
It's easy to create delicious starters with broccoli. Discover these recipe ideas to prepare it in many ways. There's something for everyone!
Broccoli rolls                                                                                           Broccoli croquettes
Cream of broccoli and cauliflower                                                      Broccoli bruschetta
Dishes
Broccoli also makes for an easy side for many different dishes. Being easy to cut, cook and added to your recipes, more and more people are including it in their diet. Here are a couple of ideas to get you started.
Cheddar broccoli gratin                                                                        Broccoli breakfast wrap
Shrimp and broccoli linguine                                                              Tofu, cashew and broccoli stir-fry
Desserts and snacks
Broccoli can really be incorporated everywhere – and we mean everywhere! Not only is it tasty, it makes snacks and desserts more nutritious.
Vegetable Queen Elizabeth cake                                                         Broccoli molasses muffins
Broccoli Brownies                                                         (French Only)Chick pea, cheese and broccoli bread
Bonduelle vegetables: from field to table
Discover the path that broccoli takes before it lands at your table.

Bonduelle, the company behind Arctic Gardens, ensures product quality from harvest to processing. To get more details about the vegetable transformation process, read our article, "From field to table".
Growing broccoli: Marcel Mailhot and Les Productions Maraîchères Mailhot (PMM)

The PMM team on a harvest day.
At Arctic Gardens, we have the chance to work with local growers who are passionate about their job.
To learn more about growing broccoli (how it grows, how long a harvest lasts, who grows this vegetable?), we were in the field asking one of our local farmers. Meet Marcel Mailhot, owner of Productions Maraîchères Mailhot, a family business.
Marcel Mailhot: passionate grower
In the field at a young age, Marcel Mailhot has been the owner of Productions Maraîchères Mailhot since 1980. An experienced farmer, his family started out in farming before him and they're still going today – with him!
During our visit to PMM's fields and operations, we were able to meet team members and saw all the energy they put into their work. Marcel confided that he's not ready to stop working. "I'm not counting on retiring! One day, maybe I won't in charge of operations, but I'll still be here working and giving my family advice. It's a pleasure for me – not a job – and I want to keep having fun!"
An experienced grower, he's grown more than one veggie in his lifetime. Actually, PMM has grown vegetables like carrots, celery, cauliflower, broccoli, onions, peppers and leeks, just to name a few. The company now specializes in broccoli, cauliflower and savoy cabbage – veggies that are really popular at Bonduelle!
The art of growing quality
The PMM team really has broccoli at heart! Indeed, growing broccoli isn't easy and is actually quite an art because it's a fairly delicate vegetable that's sensitive to weather.
Harvesting broccoli is also a challenge. It takes about 65 days of love and attention before it can be harvested. If it's harvested too early, it'll lack the desired quality. If it's harvested two or three days late, it'll start to flower and deteriorate. That's why it's important to pay attention to your fields. From July 15 when broccoli starts to be ready for picking, the PMM team rakes the fields every 72 hours to avoid losses and continues right up until October!
After sorting and harvesting in the fields rain or shine, broccoli is then sent to a plant where it's sampled and inspected to ensure its quality. Once done, it's washed in ice water, cut into florets and cubes, then sent by freezer trucks to the Bonduelle plant where the freezing process begins.
This year, 6 million lbs. of broccoli will be harvested, as well as 5.5 million lbs of cauliflower and 1.6 lbs of onions.
To learn more about the freezing process, read our article called, "From field to table".
Getting out of bad situations
As a dedicated team, PMM loves challenges. They're always looking for new agricultural technologies, regularly adapting their methods and often performing culture tests to provide the best quality as effectively as possible. In an industry as vibrant and changing as agriculture, Marcel says he has no choice but to act quickly. The competition between Quebec and South American producers is tough and requires that you always be up-to-date.
In 2016, PMM faced a huge challenge: a fire that totally destroyed the plant. Nothing but the computer area could be saved. Right in the middle of the harvest period, the team had to react quickly in order not to lose the entire crop. Luckily, with the help of other farmers and Bonduelle, we managed to build a makeshift plant in four days, thanks to the equipment that was borrowed a little from everywhere and we didn't lose a single pound of cauliflower! Then, we started to rebuild the plant to our taste, fixing a few deficiencies and upgrading our equipment along the way. We finally found something positive in our misery." A feat that demonstrates all the company's dedication and expertise.
Incidentally, Marcel's vision is to continually improve his work, travelling a little around the world to meet growers and agricultural engineers with the goal of finding new technologies that will make his company even better.
Evolving every day
Marcel sees a future filled with fun and new challenges for his company. Here's his vision for PMM's next few years: "We already work a lot differently than we did 10 years ago. Vegetables are consumed more and more around the world and we have to continue to innovate and work hard to perform. We continue to explore new technologies and ways of doing things, like organic farming. As long as we are passionate about our work, we'll continue to adapt."
Trusted partners
Bonduelle and Productions Maraîchères Mailhot have been working together for more than 10 years now. It's a lasting business relationship based on similar values like quality and innovation that makes both companies proud.
To learn more about other producers like Marcel, read our article called, "Fieldmen: the passionate people who grow your favourite veggies".
So now you know everything there is to know about broccoli. Is it your fave veggie? What are the broccoli recipes you love to make? Go to the comments section and drop us a line!