Back-to-school and the return of the spring break are moments like many others that aren't for relaxing. They're often periods of adaptation that require a lot of organization for meal prep. To help you get back into the swing of things, we've put together two weeks' worth of recipes to make for the start of the school year!
Planning meals or meal prep
The technique commonly called "meal prep" consists simply of preparing meals in advance. The recipe can be prepared completely and reheated at mealtime or the ingredients can be combined and frozen and cooked when you want. It's one way to save a lot of time during the week and to keep your meals and budget in check.
To help you understand this technique in depth, we invite you to read our complete file on meal prep.
How to prepare a successful meal
Here are 5 essential tips to making meal prep easier:
1. Make a grocery list: to save as much time as possible and avoid forgetting ingredients. You can use a calendar to plan your meals like these ones!

2. Select basic ingredients and prepare them in large quantities: A simple way to be more efficient when preparing meals is to cook larger quantities of your basic ingredients (rice, pasta, quinoa, etc.). They can be easily prepared in big batches and will allow you to cook really varied recipes by simply adding a few extra ingredients each time.
3. Keep surpluses: Freeze extras or keep them handy for meals later in the week. This also helps avoid waste and mess by keeping your dishes longer.
4. Include your family: If you have kids, this is the perfect time to introduce them to cooking. Give them easy tasks like separating ingredients, cutting or seasoning veggies, washing food, etc. while supervising them. As well as participating in a family activity, your kids will be proud to have contributed to creating family meals. If you need help entertaining the kids while cooking, check out our article called, 10 activities that makes food fun for kids!
5. Have lots of containers: Preparing meals in large quantities means you'll need lots containers. Avoid plastic bags or reuse them to minimize waste. Choose large glass containers for your recipes, but also smaller ones for individual portions.
Your menu for the next 2 weeks
Here are the menus we suggest for you. You can click on them to print them up and hang them in your kitchen to easily plan your week.
Note: You can also click on each recipe and be redirected to our website to see the complete description of each dish.
Menu for the first week
Above all, it's important to do the shopping you'll need for the week. To help you save time, print the list of ingredients.
List of ingredients for week 1
Also, here is your calendar with the recipes for this week:
Sunday
On this day, set aside more time preparing the first 4 recipes proposed for week 1 of the menu. Here's an example of meal planning to follow that will help you:
First, start with the chicken pot pie to let the preparation to cool before putting it in the freezer.
Chicken and vegetables Pot Pie (About 15 minutes)
-In a large saucepan, melt butter on medium-high heat and add flour. Stir until smooth and continue to cook for 2 minutes.
-Pour the stock and cream into the pan and whisk. Bring to a boil and let simmer for 5 minutes or until thickened.
-Add the vegetables and chicken to the sauce. Flavour with sundried tomato pesto and season to taste.Let cool and pour into an hermetic container.
-Place into freezer.
The next recipe is a reimagined classic that the whole family will love!
Cauliflower burgers (About 15 minutes)
-Preheat oven to 425 oF (210 oC). Spread cauliflower onto a baking sheet lined with parchment paper. Drizzle with olive oil and season generously. Roast for 10 to 12 minutes. Let cool.
-In the meantime, mix together all ingredients for spicy lime mayo. Set aside in the fridge.
-Beat eggs with chili powder. Add cooled cauliflower, breadcrumbs and grated cheese.
-Make 4 or 8 patties.
-Heat a pan to medium and add olive oil. Cook mini hamburgers for 2 to 3 minutes each side or 4 to 5 minutes each side for larger burgers.
-Let cool and refrigerate your patties
Finally, this salad will add a light and healthy meal to the week.
Vegetables and rice asian salad (About 15 minutes)
-In a large pot, bring salted water to a boil and cook the vegetables for 2 minutes.
-Drain in a colander and rinse with cold water to cool completely. Drain again.
-In a large bowl, mix together the remaining ingredients, but not the liquids.
-Place your salad and your liquids in the refrigerator.
The only thing left to do will be to put the rice and veggies in separate containers in the fridge.
If you have a little time left over, finish off with this broccoli croquettes recipe. It's the perfect side or even main! It's really easy to prepare, so why not make a double batch?
Broccoli croquettes (About 15 minutes)
Just reheat before eating and serve with your favourite dip.
Monday
Enjoy your efforts! All you'll have to do is assemble your ingredients and heat them up.
On the menu: rice and veggie salad (2 minutes)
In a large bowl, add the dressing to the already-prepared salad and enjoy!
Tuesday
On the menu: cauliflower burger (5 minutes)
Reheat the buns in a pan, in the oven or on the grill at the same time as the patties. In the meantime, mix together all the spicy mayo ingredients. Put the burgers and salad together and enjoy!
Wednesday
On the menu : Chicken pot pie (5 minutes + cooking time)
In the morning, unfreeze your preparation. In the evening:
-Preheat the oven to 400o F (200o C).
-Pour into an 8-cup (2 litres) rectangular mould.
-Roll the pie dough onto a floured work surface, then place on top of the chicken and vegetables.
-Press the pastry onto the edges of the mould and cut a few slits on the top crust for steam to escape.
-Bake in the oven for 30 to 40 minutes or until the pie crust is cooked and golden.
While the pie is baking, why not prepare the meals for the rest of the week? Here are two easy recipes to make: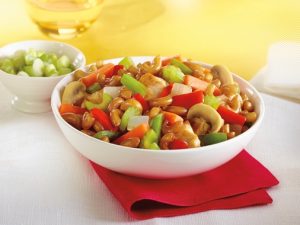 Chinese style macaronis (About 15 minutes)
-Bring a large pot of salted water to a boil. Add macaroni and cook according to package instructions.
-Drain and set aside.
-In the meantime, in a large pan or wok, heat oil on high and brown the cubes of chicken.
-Add garlic and ginger. Cook for 1 minute. Add vegetables slowly in order to keep the pan hot and stir-fry for 5 minutes.
Refrigerate the veggies and pasta in separate containers. That's it for this recipe!
Stir-fried ginger beef (About 10 minutes)
While you prepare this recipe, cook some noodles or rice to serve your stir-fry over.
-Slice steak into thin bite-sized strips.
-Stir soy with sherry, brown sugar, cornstarch, ginger, garlic and sesame oil until cornstarch is dissolved.
-Heat vegetable oil in a large non-stick frying pan over medium-high heat. Add Arctic Gardens Stir Fry Yin Yang style frozen vegetables and cook according to package directions until tender-crisp, 6 to 7 min. Transfer vegetables to a plate and reserve.
-Return pan to heat. Add steak and stir-fry until browned, 2 to 3 min. Stir in sauce, vegetables and fresh herbs.
-Refrigerate your stir-fry and that's all for your preparation
Thursday
It's the end of the week and you're starting to get tired. That's okay because there's almost nothing left to cook!
On the menu: Ginger beef stir-fry
Reheat the stir-fry and dig in!
Friday
On the menu: Chinese-style macaroni
Heat a large pan or wok. Add the oil and stir-fry the vegetables. Add soya sauce and honey to the pan and bring to a boil. Add the pasta and stir-fry for a few minutes. They'll mix together well with the vegetables because of the sauce. Bon appétit!
Menu for the second week
Happy with the first week? Now's the time to start the second back-to-school week with new recipes!
Here are once again your ingredients list and your calendar for the week, 2 essentials for a good preparation!
List of ingredients for week 2
Sunday
Same formula as last week. We'll start off strong by preparing four recipes.
AG spaghetti sauce (About 20 minutes)
-Heat oil in a large saucepan. Add beef and cook until brown. Add remaining ingredients.
-Cook over medium heat 30 minutes, stirring occasionally.
-During this time, cook pastas of your choice in salted boiling water.
-Check seasoning. Let cool and refrigerate your potions for this week. Freeze what's left!
While the sauce is simmering, you'll have time to prepare the other recipes.
Sweet potato and asparagus frittata (About 15 minutes + cooking time)
-Preheat the oven to 400 °F.
-Wash the sweet potato, cut into quarters and put on a sheet on tinfoil. Drizzle with a little olive oil, season with salt and pepper, and fold en papillote or into a package or pouch. Put the tin envelope on a baking sheet and bake for 30 minutes. Once the centre is cooked, (test with a knife tip), set aside and let cool.
-In the meantime, finely chop onion. Slice asparagus spears lengthwise, then cut in half.
-Drizzle a little vegetable oil in a non-stick, ovenproof pan and heat at medium. Add salt and pepper. Add asparagus and cook for 2 more minutes.
-Remove from heat. Refrigerate your vegetables.
Finally, we finish with a quick and healthy couscous recipe.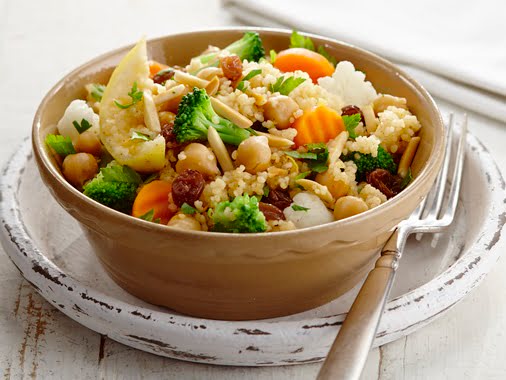 Vegetable couscous (About 10 minutes)
-In a large pot, bring a large quantity of salted water to the boil and cook the vegetables for 2 minutes. Drain and set aside.
-In the meantime, in a large pan, lightly toast the almonds on medium heat. Stir frequently until golden. Set aside in a bowl.
-In the same pan, heat the oil on medium-high heat and sauté the chickpeas with the garlic and spices for 4 to 5 minutes.
-Add the stock, lemons(s), raisins, salt and pepper. Bring to a boil, add the couscous and stir.
-Put the vegetables on top of the couscous, cover and cook for 2 to 3 minutes.
-Uncover and stir to separate the grains of couscous.
Don't forget: when you're preparing recipes, keep an eye on the spaghetti sauce that's simmering.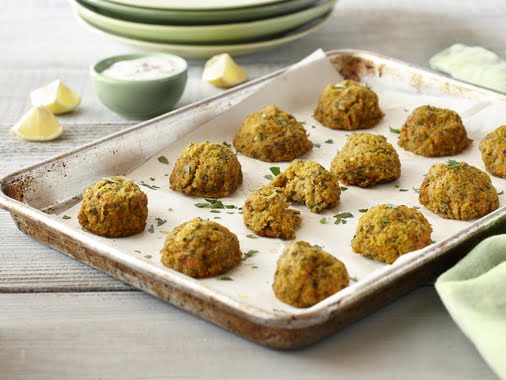 To finish off, throw yourself into the last recipe: veggie falafels that are also easy to make in big batches. They're great for any occasion!
Like the croquettes, the only left to do is reheat and serve.
Veggie falafels (About 15 minutes)
The meals for the beginning of the week are just about ready. All you have to do now is enjoy them!
Monday
On the menu: Arctic Gardens spaghetti sauce (about 10 minutes)
Cook the pasta according to package instructions. Drain, then add your already ready sauce. Bon appétit!
Tuesday
On the menu: veggie couscous
Just reheat the servings and enjoy!
Wednesday
On the menu: asparagus and sweet potato frittata (10 minutes + cooking time)
-In a large bowl, beat eggs, add milk, paprika, half of the crumbled feta, half of the cheddar, salt and pepper. Mix well.
-Pour the mixture into the greased, non-stick pan (or use a round mould lined with parchment paper). Add unpeeled sweet potato quarters and the remaining feta and cheddar.
-Bake for 20 minutes or until the frittata is puffed and golden.
While the frittata is baking, prepare the ingredients for the next two recipes so you can finish quickly after supper:
Chicken and vegetables quesadillas (About 15 minutes)
For this recipe, you should shred the cooked chicken before starting the prep work.
Mix:
-In a large pan on high, heat the oil and sauté the vegetables to thaw.-
-Add chicken, spices and cilantro. Cook for about 4 to 5 minutes or until heated.
-Let the mix cool and refrigerate with tortillas and cheese.
Tuna and vegetables one pot pasta (About 25 minutes)
-In a large pot, combine the vegetables and tomatoes.
-Put the linguine in the pot. Add 750 ml (3 cups) of boiling water and season generously.
-Bring to a rolling boil and lower the heat to medium. Cook for 10 to 12 minutes, stirring frequently until the pasta is al dente and has absorbed most of the liquid.
-Remove from heat. Add pesto and tuna. Reheat while stirring gently. Cover and set aside for 5 minutes.
-Correct the seasoning and serve topped with basil and parmesan, if desired.
Then refrigerate your pasta and that's it, you're done for the week!
Thursday
On the menu: chicken quesadillas (about 10 minutes)
-Preheat the pan to medium.
-Put half of the tortillas on the working surface and garnish with cheese and the chicken and vegetable mixture.
-Cover with the remaining tortillas.
-Cook in the pan for 3 to 4 minutes on each side or until the cheese is melted and the tortillas golden.
-Serve with salsa, sour cream and guacamole.
Friday
On the menu: one pot tuna and vegetable pasta
Simply reheat, season pasta to taste and garnish with parmesan and basil.
So, now you're done with your meal planning for the first few weeks of the new school year, but why stop here? It's easy to incorporate this routine into your daily routine and make it a family activity. Share your favourite recipes and stories in the comments section!