The recipes we love
Chinese Style Macaroni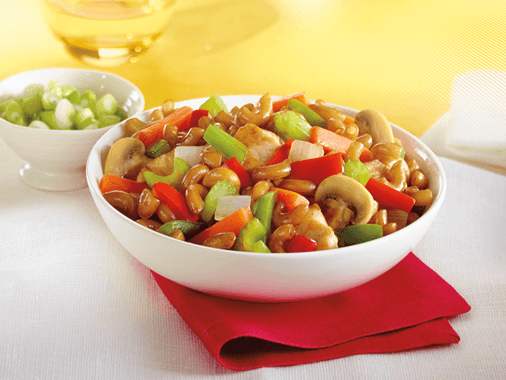 Chinese Style Macaroni
Preparation Time
Cooking Time
Ingredients
2/3 lb (300 g) uncooked macaroni
2 tbsp (30 ml) canola oil
1 lb (450 g) chicken breasts or thighs, cubed
2 cloves of garlic, chopped
1 tbsp (15 ml) freshly chopped ginger
½ c (125 ml) soya sauce
2 tbsp (30 ml) honey
3 green onions, chopped
Preparation
Bring a large pot of salted water to a boil. Add macaroni and cook according to package instructions.
Drain and set aside.
In the meantime, in a large pan or wok, heat oil on high and brown the cubes of chicken.
Add garlic and ginger. Cook for 1 minute.
Add vegetables slowly in order to keep the pan hot and stir-fry for 5 minutes.
Add soya sauce and honey to the pan and bring to a boil.
Add drained macaroni and stir-fry for a few minutes, then garnish with green onions.
Nutrition Facts (per serving):
Calories: 380
Protein: 27 g
Fat: 7 g
Carbohydrate: 52 g
Fibre: 4 g
Sodium: 815 mg
Recipe ideas using this product