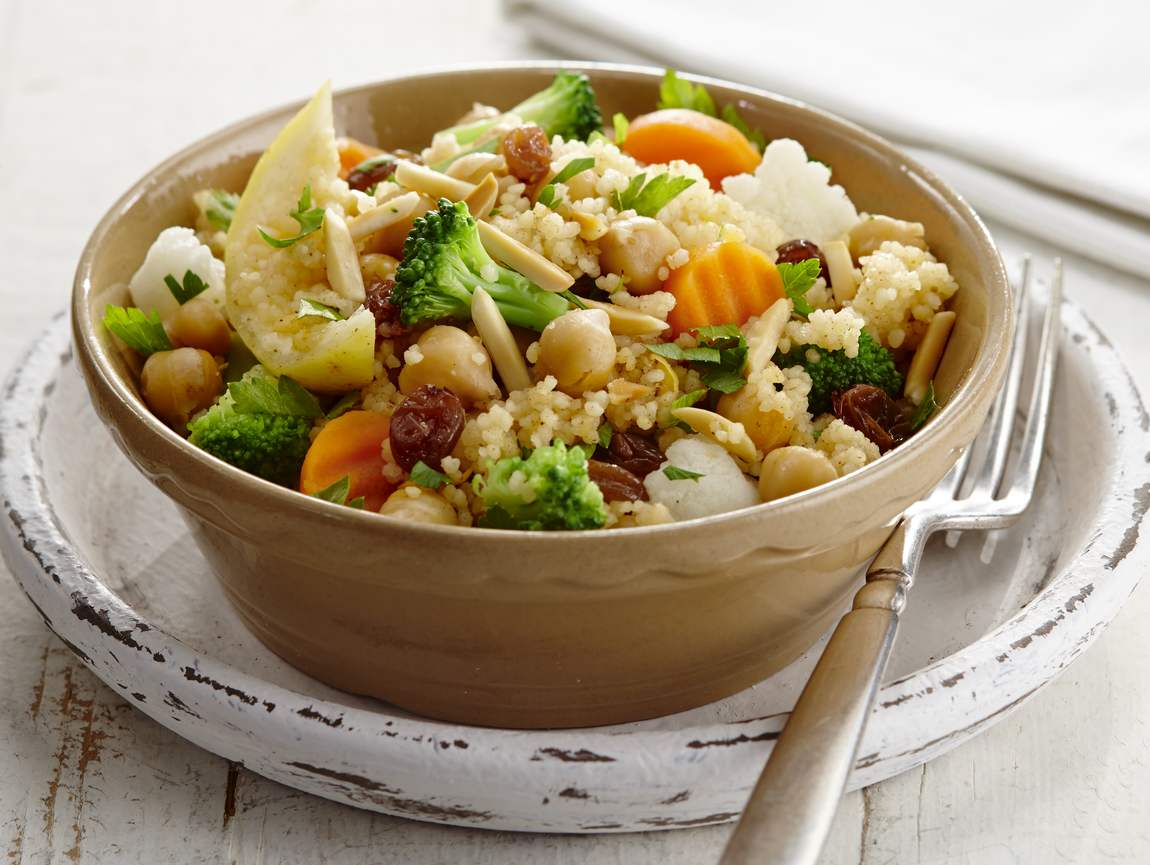 Ingredients
1 bag of Arctic Gardens Californian vegetable mix
½ cup (125 ml) slivered almonds
1 tbsp (15 ml) canola oil
2 cloves of garlic, chopped
1 can 19 oz (540 ml) chick peas
¼ tsp (1 ml) ground cumin
¼ tsp (1 ml) ground ginger
¼ tsp (1 ml) ground cinnamon
¼ tsp (1 ml) paprika
½ tsp (2 ml) ground coriander
2 cups (500 ml) vegetable stock
1 or 2 lemons, washed and quartered
Salt and ground black pepper
½ cup (125 ml) raisins
1 ½ cups (375 ml) couscous
1 cup (250 ml) fresh chopped parsley
Preparation
1. In a large pot, bring a large quantity of salted water to the boil and cook the vegetables for 2 minutes. Drain and set aside.
2. In the meantime, in a large pan, lightly toast the almonds on medium heat. Stir frequently until golden. Set aside in a bowl.
3. In the same pan, heat the oil on medium-high heat and sauté the chick peas with the garlic and spices for 4 to 5 minutes.
4. Add the stock, lemons(s), raisins, salt and pepper.
5. Bring to a boil, add the couscous and stir.
6. Put the vegetables on top of the couscous, cover and cook for 2 to 3 minutes.
7. Uncover and stir to separate the grains of couscous.
8. Add the parsley and correct the seasoning. Garnish with almonds and serve with lemon wedges to be squeezed over the couscous to taste.
Nutrition Facts (per serving):
Calories: 470
Protein: 17 g
Fat: 9 g
Carbohydrate: 84 g
Fibre: 12 g
Sodium: 485 mg
Recipe ideas using this product