Asian cuisine has become popular in recent years. Rich in flavours, spices and vegetables, it also offers interesting nutritional values. However, it's not always easy to prepare recipes that we're not familiar with. How to do cook it, which vegetables do you choose, where do you find all the spices? We've decided to look into the subject and introduce you to different recipes that are typical of various regions in Asia.
The different cuisines of Asia
Asia is a very large continent with several very different cultures. And each one has its own cuisine with its own spices, flavours and dishes.
Chinese cuisine
China's territory is the largest in Asia and its cuisine is extremely varied. Each region of China has created a recipe repertoire that's quite distinct from other geographical regions. There are eight in all. From rich and complex dishes to simple spicy ones, there's something for everyone.
Soya sauce, cinnamon, toasted sesame oil, green onions, ginger and peppers are frequently the star of Asian cooking. To get a taste of traditional Chinese cooking, the best known dishes are:
– Cantonese rice – Peking duck – Pork with sweet and sour sauce
– Dim sum –  Won Ton – Szechuan fondue
Japanese cuisine
Japanese cuisine has been greatly influenced by Chinese cuisine. The use of chopsticks comes mainly from Chinese culture following major waves of immigration. An essential trait of Japanese cuisine is the importance given to raw foods. Sushi is a good example. Fish and vegetables remain raw to preserve as much of their original taste as possible. The invention of tasty teriyaki dishes also goes back to this cuisine.
The most common flavours are soya sauce, miso (a paste made from many broths) and wasabi. The most commonly used condiments are salt, sugar and rice vinegar. If you're in Japan, try these typical dishes:
– Sushi – Ramen – Mochi
– Teriyaki chicken– Tonkatsu – Soba noodles
Vietnamese cuisine
Vietnamese cuisine stands out by the use of herbs and spices not found elsewhere, meaning rarely. It's a cuisine that differs from one region to another which brings diversity and new flavours to dishes.
The main condiment is nuoc mam, a fish sauce fermented in salt. Aromatic herbs and raw and cooked vegetables are also used a lot. Go to your nearest Vietnamese restaurant to experience these delicious dishes:
– Spring rolls  – Pho (national soup)
– Banh mi (sandwiches) – Bo bun (traditional soup)
Korean cuisine
This cuisine distinguishes itself by its strict etiquette. For example, tradition says when you eat, you can't eat too slowly as if you're being forced to. And you can't eat too fast like you're stealing someone else's food.
Sesame oil is everywhere in Korean cuisine, but chili flakes, cilantro, cabbage and rice also have an important place. Here are a few of the best known Korean recipes:
– Kimchi (fermented veggies) – Bibimbaps
– Bulgogi (also know as Korean barbecue) – Mandu (dumplings)
Many other regions in Asian offer different delicious cuisines like Thailand with its spicier dishes and India with its vast choice of vegetarian recipes. Since the range of Asian cuisine is extraordinarily wide, we'll focus only on the cuisines mentioned above.
Your Asian starter kit
Asian cooking is rich in unique flavours and spices. That's why it can be easy to be overwhelmed and not know where to begin at the grocery store. For a good start, here are our suggestions for sauces, herbs and spices to add to your Asian starter kit!
Soya sauce

:

Easy to find, it's an essential ingredient for many Asian dishes. Made with soya sauce, hoisin sauce is sweeter so can be interesting as a glaze for meat, to elevate stir-fries or served as a dip.
Cilantro

:

A frequently used herb especially in south eastern Asia, it's often chopped before being added to recipes. Make sure to choose the greenest leaves!

Ginger

: A root used for its anti-inflammatory and digestive benefits, ginger is essential in Asian recipes. Grated, minced, julienned or mashed, it always adds a tangy freshness and a slight spiciness.

Mint

:

This herb adds instant freshness. Used in several forms in Asian cooking, it can be found in rolls, soups and stir-fries.

Sesame seeds and oil

:

Sesame seeds are mainly served as a garnish, but the oil is used often to enhance flavour in various dishes.
Garlic

: As China is a major producer of garlic, this plant is very common in Asian cuisine. You can taste in noodles and garlic tofu recipes and in many sauces. Smash one up in a garlic press to add it more easily.

Oyster sauce

:

Sauce made with oysters and spices, it's a popular condiment in many Asian stir-fries and preparations. Smooth, thick and velvety, it's similar to hoisin in its dark, brown colour.
Red curry paste: This paste combines hot peppers, lemongrass, garlic, cilantro and cumin. Make sure to reheat it on low before adding it to your dishes.
Sambal oelek 

: A spicy Indonesian paste with simple, flavourful ingredients, it tastes similar to sriracha, so can be used as a substitute. To be used sparingly.

Rice vinegar

: Essential in Japanese cooking. Less acidic than white vinegar, it mainly enhances the taste of sticky rice with a slight acidic touch.

Mirin 

:

Similar to sake, this rice vinegar adds umami that will enhance the flavours of your dishes. It can be difficult to find pure mirin in the grocery stores, but Kikkoman sells "aji-mirin" which is very close to the original.
Now that you have the basic ingredients and seasonings, it's time to get cooking!
Starting out in Asian cooking!
Discover our Asian recipe suggestions. Some are quick and easy. Others more complex requiring more time and effort.
Quick and easy recipes
Don't start off with recipes that are too complicated. Get used to the different spices and flavours of the more simple recipes first. Here are a few easy ideas that you can make with frozen veggies.
Not too spicy, this chicken stir-fry is a typical dish that's easy to make. Serve it with steamed rice for a complete and balanced meal.
The secret of this veggie stir-fry is the red curry. The paste can be found in most grocery stores, but you can also make it yourself. Try this version that needs a little time to prepare, but has tons of flavour.
Quick and easy to make, this hearty, comforting soup is a nice change from traditional homemade soups.
Here is Arctic Gardens' famous teriyaki chicken. Reproduce this classic Japanese taste with our Asian stir-fry mix. An easy, traditional meal you can make at home! Serve with steamed rice and garnish with fresh basil.
Soba noodles, veggies and salmon bowl
Ce bol de nouilles renferme plusieurs ingrédients, mais c'est dans la sauce faite à base de sauce soja, de mirin, de sauce ponzu et de vinaigre de riz qu'on retrouve le plus de saveurs de l'Asie.
Intermediate recipes
You'll need to spend more time prepping these recipes, but you won't go too far out of your comfort zone! The hardest part you'll face is the slightly more complex prepping of vegetables and other ingredients. But don't worry, you're culinary exploits will be well worth the effort!
Very popular in Vietnam, spring rolls are made of julienned veggies, like cucumbers and carrots, rice noodles, mint and cilantro leaves. They usually come with a peanut and sesame seed dipping sauce.
You can personalize spring rolls by changing up the ingredients like in this chicken and mango spring roll recipe!
Bowls!
Buddha bowl (China)
Originally from China, bowls are normally a vegetarian meal. Instead of meat, you'll find plant proteins like edamame and tofu. The visual aspect is important in this kind of recipe, so don't hesitate to vary the colours and assemble ingredients with love!
Bibimbap (Korea)
Very popular in Korea, you'll immediately recognize the spicy taste and the egg placed on top of the bowl. For this recipe, ingredients are first cooked, then stir-fried in a pan and finally assembled on a bed of rice.
Bowls from other places
The poke bowl is probably the most recognized bowl in North America. Originally from Hawaii, it's really become popular in the last few years.
As well as the famous poke bowl, a lot of innovative bowls like the dragon bowl are popping up in the culinary world. To learn more, read our article called, "The fascinating world of one-bowl meals".
From Vietnam, banh mi is a delicious sandwich served on a small baguette with julienned veggies, meat or marinated veggies, all topped with a classic sauce or lemongrass. In the recipe below, Bob the Chef shows you his delicious version.
You can easily adapt this recipe to your own tastes. If you love bowls, test this banh mi in a bowl recipe from Budget Bytes.
Despite their vague origins, dumplings are well-known around the world. There's a huge variety of dumplings that are most often made with pork or shrimp. Today, we propose a vegetarian version.
It's a dish that requires more time to prepare, but you'll see for yourself just how much it's worth the extra effort.
This national Vietnamese dish is a very fragrant soup that's really trendy in Montreal. Depending on the region, it can taste sweeter or spicier.
Complex recipes
The next few recipes require more prep and technique than the others, so roll up your sleeves and get prepared to cook up some real delicacies!
Sushi
If you've ever made your own sushi, you know that it can time and can be a not-so-easy task. Even though they look relatively easy, making sushi is an art. You have to have the right portion of ingredients and make sure that everything sticks together.
For sushi-making to be easier, use sticky rice to assemble them. Everything will hold together more easily. You can then choose ingredients that go well together, then assemble them. We recommend this delicious Californian sushi recipe, a very popular variation. There's also this vegetarian version if you want to avoid seafood.
Kimchi
This iconic Korean side dish consists of salted, fermented veggies. You can season it in many ways including with chili powder, ginger or garlic.
What makes this recipe difficult is the significant amount of time needed to ferment the kimchi, not to mention the prep time itself. Here is a full recipe, as well as tips on how to eat it.
Mochi
Japan's iconic dessert, mochi is a small cake made with sticky rice dough. Traditionally, the dough is kneaded by hand and repeatedly hit with a hammer. It's an impressive technique that has given rise to quite a few viral videos. Click here to see how it's made.
The dough is coated with all kinds of toppings. Classic mochi contains sweet beans, but the possibilities are endless: green tea, coconut, strawberries, ice cream… extravagant flavours are being created every day!
The secret to making a good mochi is to make the dough yourself. There are easier ways than the traditional technique like this mochi dough recipe. You can then adapt it to make your own mochi like this strawberry and sweet red bean mochi, a nice variation from the traditional flavour.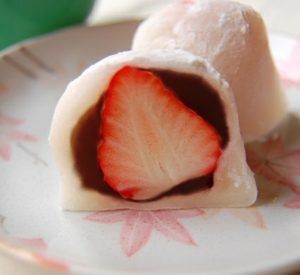 ---
So you're now ready to throw yourself into the wonderful of Asian cooking and integrate these recipes into your daily menu so you can travel. You just need to know the basics and start with a basic pantry of the essential ingredients. From all the recipes here, which one do you find the most tempting? Let us know in the comments section!