Recipes ideas for a successful game night
Fall's arrival often signals the start of the sports season. These emotionally-charged evenings spent alone or with friends are often the perfect opportunity to eat high-in-fat, high-in-calorie foods. Why not change your habits and have a healthy game night instead? Take advantage of the game's friendly atmosphere to enjoy vegetized appetizers! In this article, you'll get ideas for making easy dishes for guests and tips to ensure a successful event.
Hosting without a hassle
Hosting a large group can be stressful, especially when your favourite team is playing, so we wanted to help you get the most out of your evening with a few of our simple steps to follow.
Game plan
To avoid forgetting anything and not having to prep last minute, some preliminary steps are a must for a memorable evening.
Pre-game:
A few weeks before the game, suggest a potluck to guests. This kind of inviting meal helps save you time while letting people try new flavours that are a nice change from traditional recipes. As well, it'll lighten your workload so you'll be able to relax a bit the night before the game.
For a really festive atmosphere, suggest a theme for the menu. Give your friends a few tips on recipe choices, then be pleasantly surprised by the dishes they bring!
Here are a few theme suggestions you can try:
Veggie night

Salad buffet

Mexican night

Create your own pizza

Brunch for supper

Cheese and cold cuts
If you'd prefer to choose the night's theme yourself, set the menu and ask people to bring something. This way, everyone participates, but you keep control over the evening.
To save even more time, think about using the slow cooker, freezer and other meal prep techniques when it comes time to prepare your part of the menu. The freezer can be useful if you want to cook in advance. The slow cooker is perfect for cooking the same day in peace. Just prepare the ingredients ahead of time and let them cook for a few hours. Easy squeezy!
Now that you've decided on the menu and the theme, here are a few fun ideas that can make the evening a remarkable event. To create even more memories, you can buy or make crazy accessories to decorate the front of a homemade photo booth. Accessories can vary according to your theme or the teams' colours, for example. It's possible to buy them on Etsy, but we recommend personalizing your accessories for the most fun.

A few hours before game time, turn the oven on and start making the first batch of appetizers. You have to lay the foundation. Then, you can turn on your music playlist that'll set the mood while you wait for the game to start. Now you're ready for your guests!
Game night :
The time has finally come. Your guests have all arrived and there's a thrill in the air! Think about offering a drink to start the evening off on the right foot. Not everybody drinks? No problem, good thing there's mocktails! There are a lot of quick and easy mocktail recipes you can find online, but you could get creative and impress your friends at the same time!
At this moment of the evening, the table should be set with the appetizers and dishes people have brought. Enjoy all the delicious dishes in good company, but mostly, have fun watching the game you've been waiting so long for!  Also, don't forget to have fun with your photo booth. During down times or commercials, get the sweet stuff ready for the dessert.
Post game:
Now that the night's over, you've got several options. You can offer to share the leftovers with your guests or enjoy them again tomorrow yourself for lunch. Cooking leftovers is an art and to avoid food waste, you have to know how to prepare them properly.
The evening went as planned? So why not start again and plan the next game! You now have a winning formula you can use time and time again!
A healthy meal for a night with friends
To help you organize an evening even more, we propose several recipes that can be enjoyed as appetizers. Some are based on classic game night dishes, but others have less fat and more veggies – a winning combo!
Quick and easy starters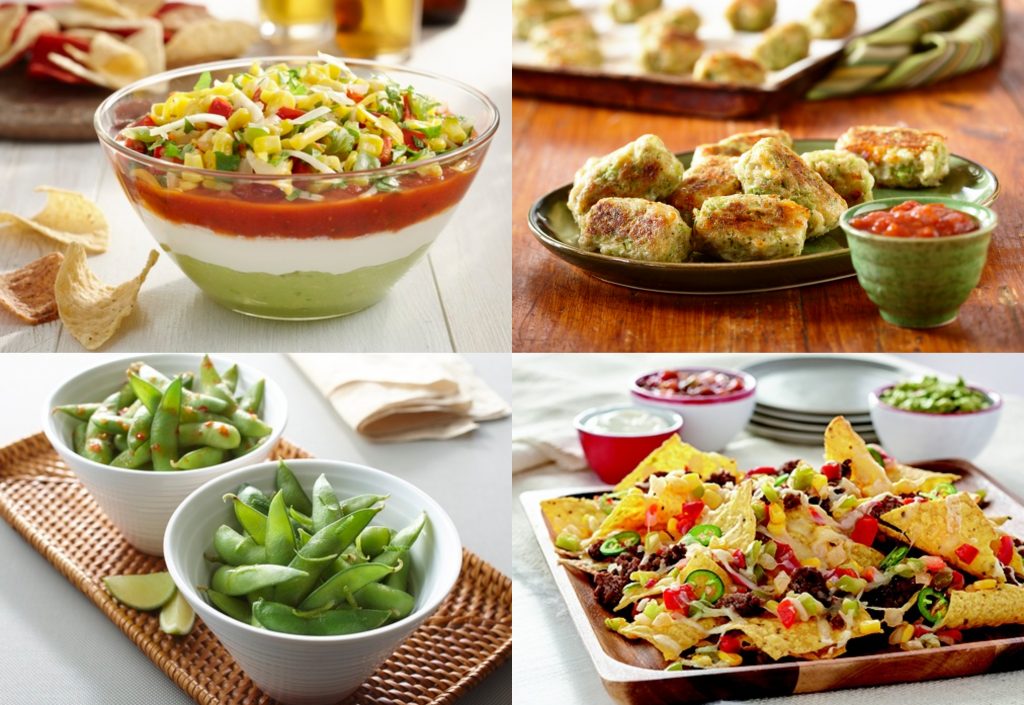 Hot spinach and artichoke dip signed Cynthia Marcotte
BBQ kale chips (Thyme at the table)
Honey mustard cauliflower wings (Eat. Drink. Shrink)
Salty bacon cheddar veggie muffins
Savory mains
Slow cooker chipotle vegetable chili
Tomata and basil pizza on cauliflower crust
Cauliflower burgers with spicy mayo
Veggie quesadilla (Modern Honey)
Mini taco bowls  (Love from the oven)
Surprising desserts that hide veggies
12 tasty desserts with hidden veggies (Mindfulness Mama)
Salted caramel popcorn (Cookies and Cups)
Vegan, gluten free cookie dough balls (Beaming baker)
---
So now you're ready to have your friends over for the next game. We hope that our helpful tips and easy recipes will make your evening a great one. Tell us about your favourite sports event to invite friends over for!