The recipes we love
Vegetable sloppy joes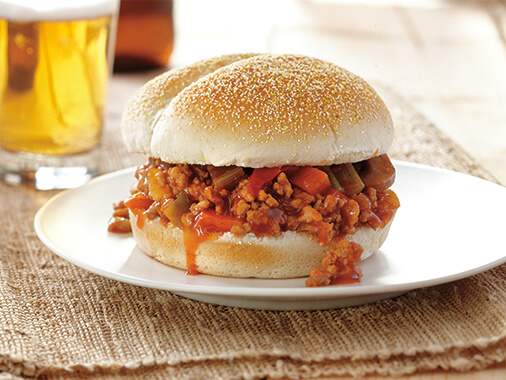 Vegetable sloppy joes
Preparation Time
Cooking Time
Ingredients
1 lb (450 g) lean ground veal
1 bag Arctic Gardens Chinese-style macaroni
3/4 cup (180 ml) ketchup
½ cup (125 ml) barbecue sauce
¼ tsp (1 ml) paprika
¼ tsp (1 ml) celery salt
¼ tsp (1 ml) dried thyme
¼ tsp (1 ml) garlic powder
Salt and ground black pepper
4 to 6 hamburger buns
Nutrition Facts per portion ;
- Calories : 445.1
- Protein : 17.6
- Carbohydrates: 38.2
- Fibre : 5.6
- Sodium : 1252.4
Preparation
In a large pot on high, brown ground veal until cooked through.
Add vegetables and cook for 5 minutes.
In a measuring cup, mix ketchup, barbecue sauce, spices and ¾ cup (180 ml) water.
Pour into the pot and simmer for 10 to 15 minutes until the vegetables obtain the tenderness desired.
Heat the hamburger buns in the oven. Garnish the bottoms with the meat and vegetable mixture and cover with the tops.
Nutrition Facts (per serving):
Calories: 405
Protein: 22 g
Fat: 13 g
Carbohydrate: 52 g
Fibre: 4 g
Sodium: 1035 mg
Recipe ideas using this product