With spring right around the corner, you don't have to bundle up in a cozy blanket to spend time outside with friends in the evenings anymore. You get together for happy hour more frequently as you come out of hibernation. And often, happy hour is associated with drinks and salty, fattening munchies. That's why, for the love of cocktails, we propose a healthy version of this tradition!
Mocktails
Nope, that wasn't a typo. You read it right! Mocktail is the new name for non-alcoholic drinks. Whether it's bringing a variation of the traditional grape juice served in a plastic wine glass for kids or offering guests a favourite virgin cocktail, it's an excellent option for your evenings.
It's hard to tell what's a mocktail and what isn't. That's because it can be presented as a virgin cocktail or a mix of ingredients because many recipes aren't inspired by a familiar drink, so you have carte blanche to create them from scratch.
Wow your friends with these original non-alcoholic recipes:
Veggies for mocktails
Some veggies are classic in mocktails and resemble their alcoholic versions. Cucumber, tomato and celery, for example, are often found in drinks.
Tomatoes
We all know what a Bloody Mary is. You can order it in restaurants and bars and – you guessed it – it has tomato juice which is a refreshing ingredient that goes well with a lot of dishes. So why not take advantage of the season's first few rays to enjoy a delicious not-so-Bloody Mary?
Cucumbers
Cucumbers are already popular in spas that serve them in water, so it's not surprising that you can find them in cocktails, too! If you add fresh herbs and a sparkling beverage, it'll be the first mocktail you'll think of when you're thirsty. Try this cucumber lemonade mocktail – it won't disappoint.
Celery
Generally, celery is used as decoration in drinks. However, you can also find it as a main ingredient like in this celery and mint mocktail recipe.
Simple, healthy appetizers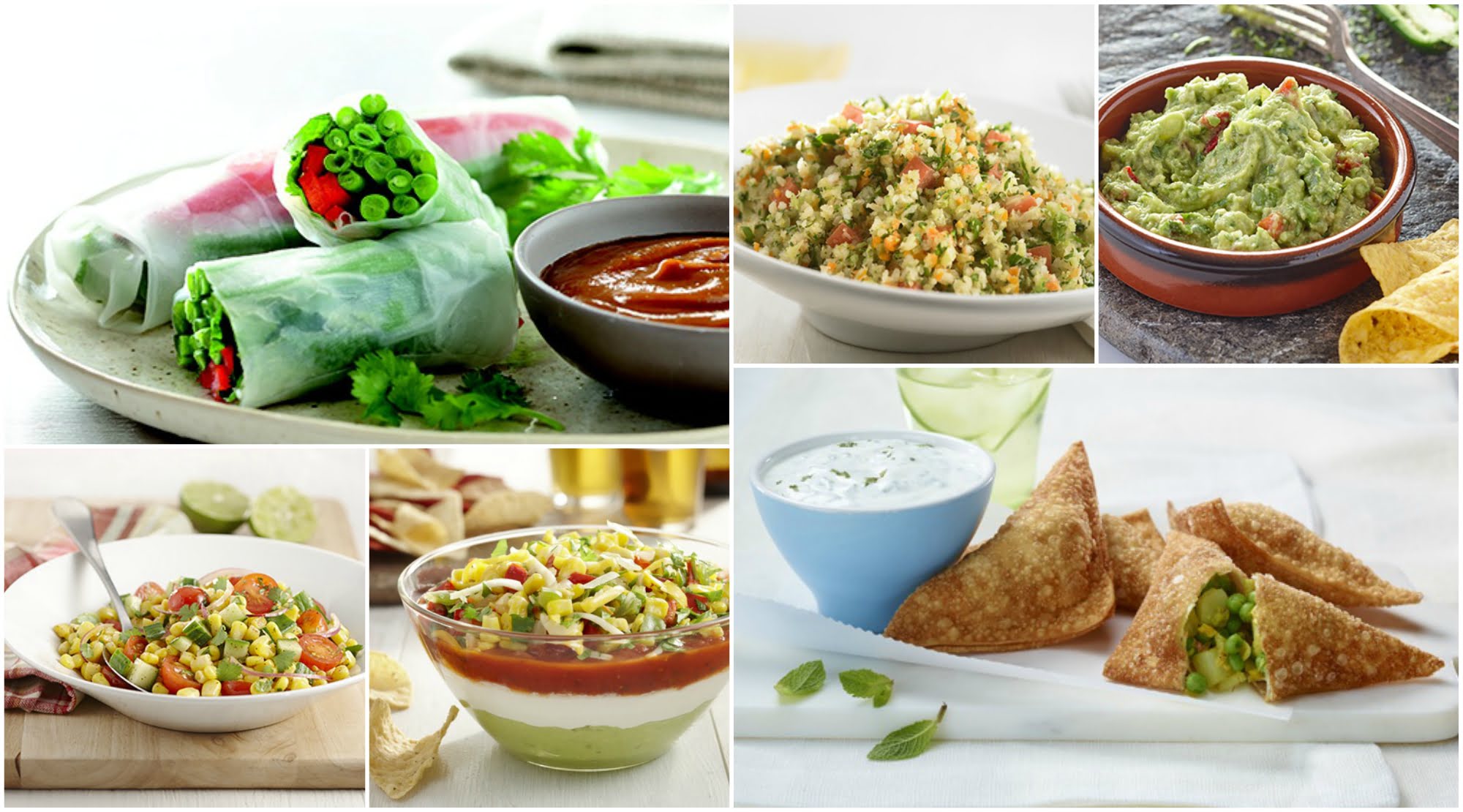 It's tempting to give in to the easy solution of offering chips and salty peanuts, but delicious healthy options can also save the day. Replace nuts with spicy roasted peas and chips with homemade veggie chips, crunchy asparagus fries or spicy edamames.
For people who like to snack, offer a plate of crudités. It's not often you can refuse bite-sized veggies. Why not make different dips for them? Opt for a classic spinach dip or dare to innovate by proposing a variation of traditional options like green pea guacamole, veggie guacamole or even a broccoli hummus.
Add corn chips and a layered dip or a sweet pea, cream cheese and smoked salmon dip to a cheese plate. Guests will be more than satisfied.
It's also interesting to have several salad options for guests. So why not try a barley salad with asparagus, edamame and goat cheese, corn and cherry tomato salad or a California veggie tabbouleh?
If you prefer small appetizers, try these green bean spring rolls with peanut butter sauce, chili cheese pretzel bites or these veggie samosas – you won't be disappointed. You and your company will love these healthy appetizers.
Now you're finally ready to welcome spring in all its glory – and to serve healthy drinks and snacks to your guests. And how do you vegetize your happy hour?