Salad guide 101 : a whole lot of freshness
Salad. A much-used word, sometimes unloved, sometimes adored. In fact, it's such a vast world that it's certainly possible to find a recipe that suits you. From green salad to fruit salad, appetizer and side, there are as many recipes as there are people making them. It's up to you to find out what YOUR salad is.
Making your own main dish salad by following the food guide
« Tip: protein must represent 1/4 of your plate. We don't always think about putting complex carbohydrates  in salads, but they're important for good digestion and they support us for several hours.»
There's a myth that says salad is not satisfying enough to serve as a meal. That's not true if you know how to make a decent salad! To satisfy you, it must have enough fibre and protein, in addition to the fruits and vegetables that make it overflow with vitamins. Here are a few tips on how to make a main dish salad using advice from Canada's Food Guide:
1. Sources of protein
If your diet is varied and includes several sources of protein, your need must be met. Tip: protein must represent 1/4 of your plate. But some food contains more, so this ratio isn't accurate. Here are some ideas for protein and optimal amount:
Nuts: They're a great source of protein and good fat, but you should still pay attention to the servings size that you ingest as they've got a lot of calories. A serving of 30 grams is enough for a good portion of protein. Reduce the amount if you're combining nuts with another source of protein or if your dressing is a nut butter.
Legumes: Peas, lentils and beans excellent sources of protein, but also fibre. The perfect solution for a meal to satisfy you. Add about 3/4 cup to your salad.
Tofu: A serving of tofu represents 150 grams or about 3/4 (175 ml) of a cup. By itself, this serving contains 12.3 grams of protein. For more taste and better texture, stir-fry tofu cubes in a pan with a little olive oil until golden. Another trick is to marinate it before griller which gives it a more savoury flavour. This article will show you how to marinate it. You can make it ahead of time and add it to your salads during the week.
Tempeh: This excellent source of protein (100 g of tempeh contains 19 g) is delicious when it's been seasoned. Experiment a few ways of cooking and enjoying it to find what you like best.
Super grains: They won't be the main source of protein in your salad because like nuts, they contain a lot of good fat. However, a small handful can be an amazing complement to a salad by giving it a protein addition. Add 1 tbsp hemp seeds (4.6 grams of protein), a portion of squash seeds (see how to prepare them for proper tasting) or 1 tbsp of chia seeds (4 grams of protein).
Cheese: Depending on the other ingredients in your recipe, many cheeses add a pleasant taste and texture. As they contain a lot of fat, it is good to combine them with another source of protein. A serving of feta (2″ cubes) contains 5 grams of protein and provides a pleasant salty taste. A serving of goat cheese (2″ cubes) contains 12 grams of protein and is delicious in a salad with berries.
Eggs: A hard-boiled egg contains 6.5 grams of protein and adds an interesting texture and taste to your crunchier veggies like cucumber and broccoli. They're easy to make a few and keep them in the fridge for future use.
2. Fiber and complex carbohydrates
We don't always think about put them in salads, but they're important for good digestion and they support us for several hours. They should represent a quarter of your plate, but just like protein, the amounts depend on the food you choose. Women should consume about 25 grams of fibre per day, and men 38 grams. Here are a few ideas that go well with salads:
Cooked quinoa: ½ cup of cooked quinoa contains 1.4 grams of fibre, but also protein and iron which is important to eat in sufficient quantities if you don't eat meat.
Cooked brown rice: It contains less protein than quinoa, but remains a good source of complex carbohydrates with 1.8 g of fiber in 1/2 cup.
Sweet potato: In addition to containing carbohydrates and fibre (100 grams contains 3 grams of fibre), it's full of vitamins and minerals such as calcium and vitamin A. Thin slices grilled in the pan are a perfect addition to a salad.
3. Fruits and vegetables
They must make up half of your plate. They contain the most fibre and will give you the most vitamins and minerals in your salad. Here are a few tricks so you don't get bored of them:
Vary your combinations: Nothing's more boring than always eating the same old salad. There are so many possibilities out there, it's easy try something new.
Balance textures: Don't just use very crunchy vegetables like celery and broccoli. You'll get tired of gnawing on all that crunchiness which won't be pleasant. Instead, consider pairing them with avocado, tomato, cooked zucchini or pumpkin.
For a salad with a hint of sweetness, add berries or apple or pear slices that go really well with veggies in general.
Cook a few vegetables in a pan with olive oil and spices that go with your dressing. A warm salad is always a winner and changes the taste of raw broccoli and cauliflower.
Keep frozen veggies in stock like corn or peas that will get you out of a jam if you're missing fresh vegetables for a salad.
Make the perfect side out of a salad
Some foods save your meals by adding whatever is missing. For example, if you cook a General Tao tofu, you'll find that, although excellent, it would be smart to complete it with a good dose of vegetables. A green salad made up of vegetables and a source of complex carbohydrates would be great here. On the other hand, if you're enjoying an excellent recipe that lacks protein, you can add a salad of legumes as a side to make sure you're full for a long time. Basically, follow Canada's Food Guide and adapt your meals with the appropriate salad.
And where's the dressing?
« No need to follow a recipe exactly to create a tasty salad dressing. Knowing just a few tricks, you'll be able to improvise no problem! For example, if you drink wine with your meal, it's better not to use vinegar in your dressing, but instead, opt for lemon juice.»
A good dressing changes a salad's destiny from dull and ordinary. It's fun to vary your recipes so you don't get bored. We'll give you tricks so you can reinvent any salad you want.
How to whip up a homemade vinaigrette
No need to follow a recipe exactly to create a tasty salad dressing. Knowing just a few tricks, you'll be able to improvise no problem! Just remember the proportions:
3 parts oil: olive, argan, walnut (to mix with another oil because it does have a pronounced taste), hazelnut (very good in salads with avocado), etc.
2 parts vinegar: cider, wine, etc. which can be replaced with lemon juice.
(optional) 1 part any other ingredient you can think of like mustard, maple syrup, herbs or spices.
Salt and pepper to taste, but they're not mandatory. If you choose good ingredients and spices, enough flavours will already be present.
For Lesley Chesterman, food critic at the Montreal Gazette, the perfect ratio is 5 parts oil to 2 parts vinegar. This means that, depending on your taste, you can modify the amounts slightly to change the level of acidity in your vinaigrette.
She also mentions that if you drink wine with your meal, it's better not to use vinegar in your dressing, but instead, opt for lemon juice. If you absolutely must add a little salt, mix it with the lemon juice before adding the other ingredients. It'll dissolve more easily.A pro's trick for mixing vinaigrette: Instead of using a fork or whisk, put all the ingredients in an airtight container and shake vigorously. It's faster and you can make larger quantities of your favourite dressing and keep it in the fridge for up to a week.
Choosing a good store-bought salad dressing
Homemade dressings are healthier, but if you just don't have time to prepare one, make sure that the one you buy respects these criteria:
less than 125 g of sodium per 15 ml
less than 1.5 g of saturate fat per 15 ml
fewest ingredients possible
olive or canola oil base
Salad recipes for inspiration
If you're not ready to invent your own salad or if you're lacking inspiration, here are a few interesting recipes to add to your culinary arsenal.
1. Main meal salads
They're really hearty and have everything you need in a meal. You can always decrease the portions and serve them as sides.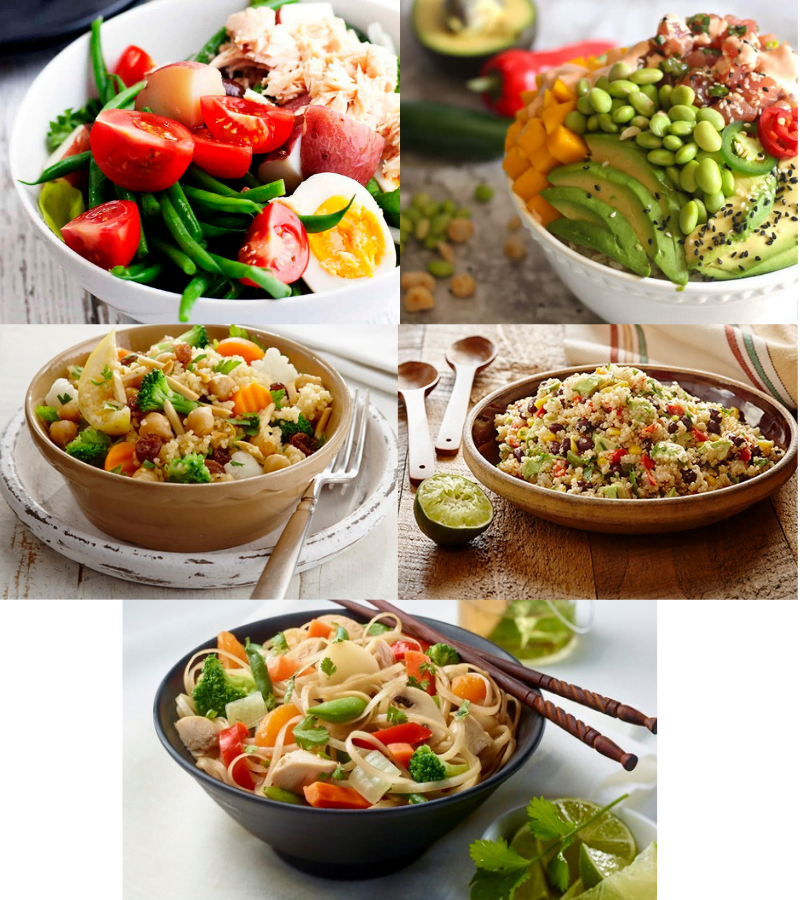 2. Side salads
These are great recipes to serve as sides. They're versatile because you can easily transform them into main meals. Add protein and complex carbohydrates to make a complete meal.
Original salads for a nice change
Several of the recipes we've shown you are great classics. Sometimes though, it's refreshing to get off the beaten path and try new and unexpected combinations. Here are just two that have surprisingly delicious flavours.
4. Fruit salad and all its variations
Salad isn't only synonymous with appetizers, sides or mains. With many dessert salads, you can simply change the yoghurt or fruit to finish a meal with something healthy.
5. Vinaigrette recipes
Yes, it's easy to make your own salad dressing, but to give yourself some ideas and try new tastes, here are a few inspiring recipes.
Tips and tricks to becoming a salad pro
We've proposed various tools so you'd be aware of what's available. Find out how to store food properly, as well as ideas for making salads ahead of time.
Tricks for storing ingredients
You've certainly noticed if you consume vegetables: they don't always keep for very long. They all have their own peculiarities and shouldn't get the same treatment from us. But don't give up. There are ways to do this without too must waste.
Storing lettuce
Cut the base of the lettuce head, then remove the leaves by hand to avoid the effects of oxidization from the knife.
Paper towel: Wash and wipe all the lettuce leaves, then store them in the paper towels in the fridge.
Or wash the lettuce and wipe it dry, then put it in an salad bowl, covered. Make sure that the leaves can breathe and aren't crowded together.
According to some people online, adding pieces of dry bread can help to preserve the salad—to be verified! Others suggest rinsing the lettuce in a mixture of water and white vinegar.
To revive lettuce that's started to get old, plunge it in ice water with a little lemon juice. Leave it for a few minutes, then dry it well. This will extend its life. Store in the coldest spot in the fridge, usually the vegetable drawer.
Storing other vegetables
On the counter, away from direct light:
All other vegetables should be kept in the fridge. To store herbs, take a peek at our guide.
Storing already-prepared salad
The best trick to storing salads is to not add the dressing before putting it in the fridge. Doing this will cause many vegetables to wilt. Make your vinaigrette separately and only dress the amount of salad you need. The same for fresh herbs—only add them at the last minute to keep them fresh. Actually, anything that's got too much moisture should be kept away from the salad, so it stays fresh as long as possible. That means adding cheese only when you're ready to serve.
Meal prep for salads
If these tips make you think it's impossible to prepare salads in advance, think again. It is possible to plan individual portions for the week's dinners. Here are some tips to keep your mason jar salads perfect:
Put the vinaigrette at the bottom, so it won't wilt the veggies.
Add complex carbohydrates, such as quinoa or brown rice, after the vinaigrette. They will partially absorb the dressing, but will still taste good.
Add vegetables and protein, then lastly lettuce on top. It won't get smushed and will keep its beautiful shape.
If you prefer, you can also prepare the vinaigrette in separate small jars to add it at the very last minute.
Here's a great recipe to prepare in single servings for lunches:
If you like preparing several meals in advance to organize your week, read our article on meal prep.
You can now use all these tools to create the perfect salad to enjoy as an appetizer, side, main or healthy dessert, but they're far from being boring or disappointing. Now let's get cooking!