Delicious and practical, herbs can sometimes be expensive and hard to find, so why not grow them yourself? Then you can choose your favourites and grow as much as you want. This kind of seasoning allows you to enhance recipes without adding fat or salt. To learn how you can grow, preserve and incorporate herbs into your diet, keep reading!
How to grow herbs
Herbs grow well in outdoor gardens. They just need to get enough sun and not too much water, so grainy sand soil is ideal. It's better to sow the seeds indoors before transplanting them in the garden, but you can also sow outside if there isn't a risk of frost. The other option, if you're a beginner, is to plant them when it's warm enough. As there is a large variety of herbs, it's important to adapt growing to the characteristics of each one.  
Most herbs are annuals and can be grown easily. This applies to dill, savory, basil, cilantro, chervil and marjoram that can be grown this way without invading the rest of your garden. Parsley and sage are perennials, but in our Canadian climate, they're more often annuals.
Perennial herbs like garlic, chive, oregano, tarragon, mint and thyme grow back every year. However, chive must be split and replanted every two or three years. Mint, on the other hand, can spread quickly in humid soil and stop growing in dry soil.
How to grow herbs outdoors?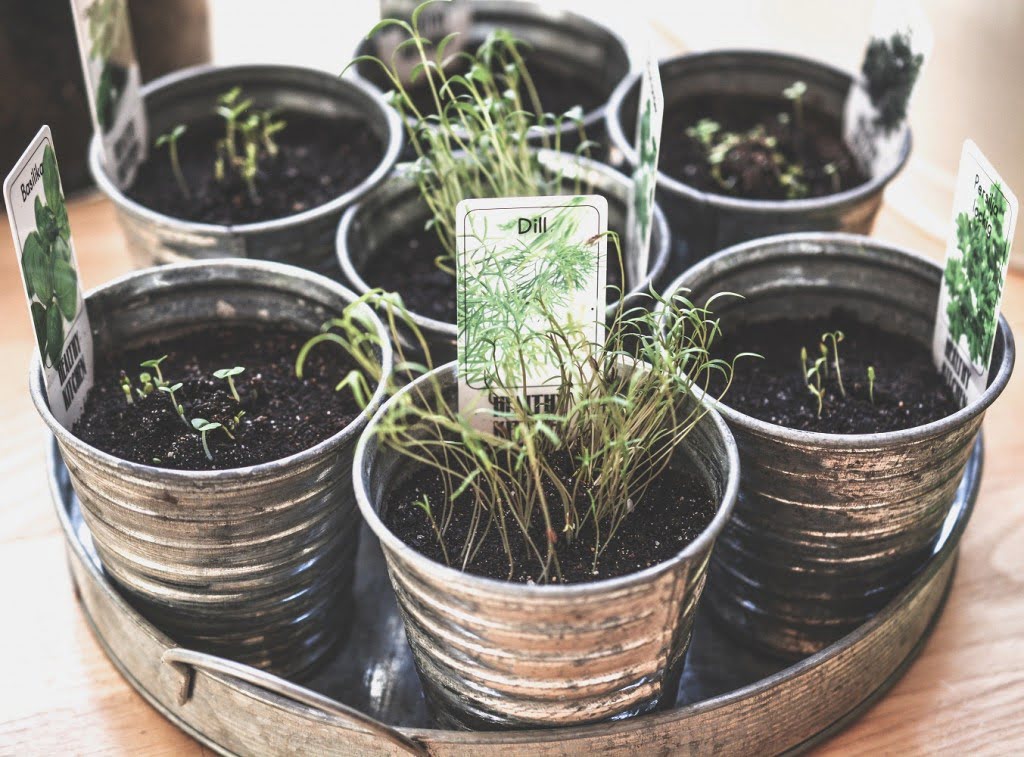 Don't want to worry about the weather, don't have the space or just prefer not to grow herbs outdoors? No problem! They're just as easy to grow inside. Just choose a spot where they'll get between six and eight hours of sunlight per day or use a growth lamp.
As with outdoor growing, the choice is yours: seeds that you plant yourself or seedlings that you transplant. You just have to remember to water them every day in the summer and every two to three days in winter. Also, when you grow herbs indoors, it's important to repot them once a year. There are various strategies and techniques for growing. Keep reading for more details.  
Which herbs should be planted together?
As with anything related to gardening, planning is important. Since you're generally working within a limited space, it's essential to decide which seedling will go where and next to what. It's the same thing with herbs and veggies. The characteristics of herbs can help you decide what to plant together. Here are a few suggestions of combinations:
Tarragon, sorrel, parsley, chive and cilantro plant well together, but have to be in the sun and in fresh soil

Thyme, bay leaf and rosemary can be planted together in a nice, sunny patch

Parsley and sweet cicely are great neighbours if they're planted in a semi-shaded area with rich soil

Lemongrass and chive can be planted together in fresh, but dry soil

Basil and garden cress grow well side by side, but require a lot of water

Parsley and chive make good neighbours
It's important to know that mint has to be planted by itself. If you plant it with other herbs, it will destroy them because it's so invasive.
For indoor growing, however, herbs should be planted in small separate pots; otherwise, bigger pots for bigger herbs.
You might not know this, but some herbs go really with veggies – and not just in the same dish at the dinner table. In the garden, some herbs can be useful to vegetables that are growing well. Here are a few examples of companion planting between veggies and herbs that will help you be a better gardener :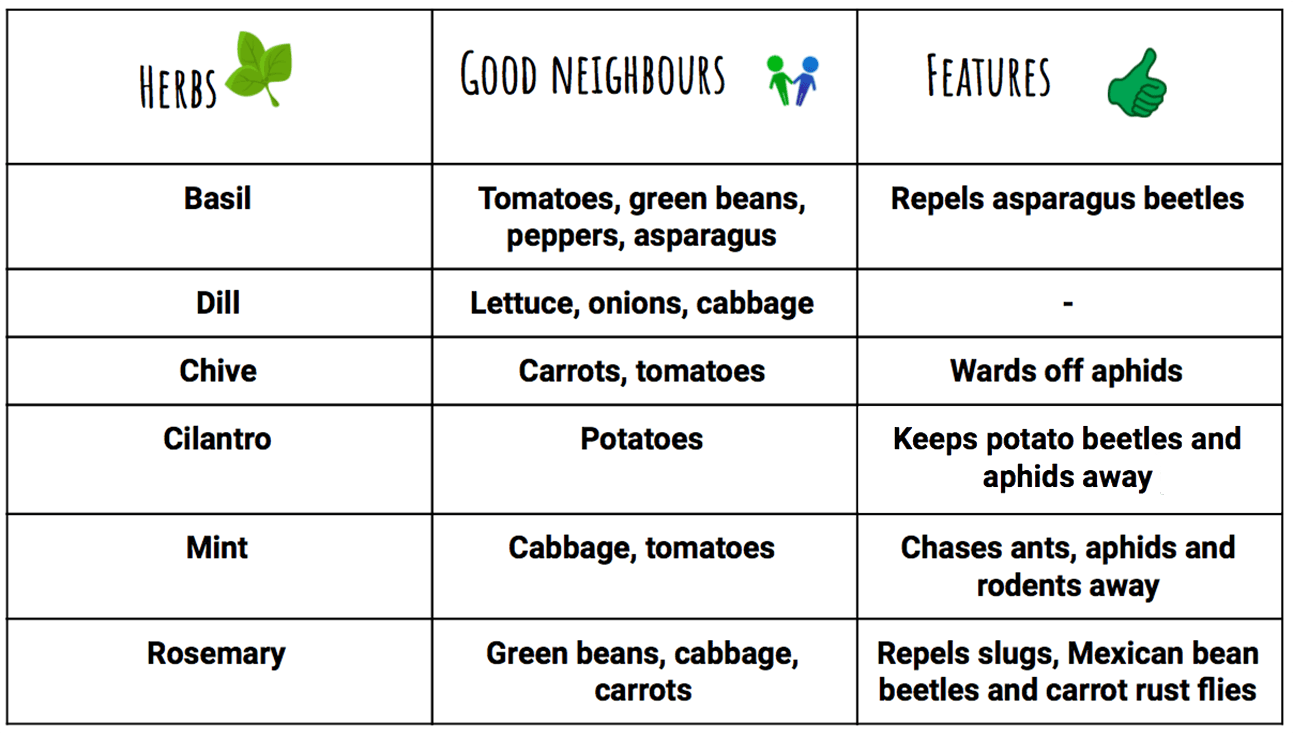 Growing herbs can be planned in several ways. That's the time to give free rein to your imagination and resourcefulness.
Growing techniques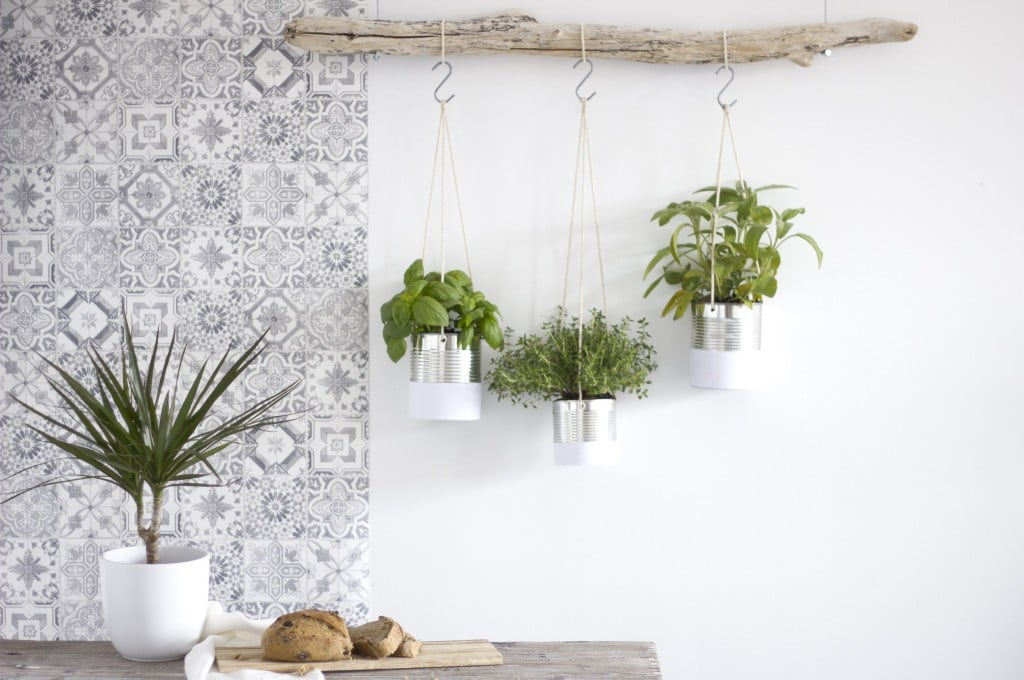 Credit : La délicate parenthèse
If you're a DIYer, you'll be happy to discover all the choices available for growing herbs. Whether it be indoors or out, look at these 15 Fun and Easy Indoor Herb Garden Ideas that will inspire you this summer.
Here are a couple of ideas that might interest you :
Use mason jars or any container you want. Metal boxes for tea, empty coffee cans or pretty mugs are also perfect.

Plant herbs in wall-mounted flower boxes. This technique works well both indoors and out.

Paint rainwater gutters whatever colour you want, then plant herbs in them.

Use a wooden box, part of a pallet or cement block as an herb box. See how :

https://www.gimmesomeoven.com/diy/diy-herb-planter/

Get yourself a rainy pot and hang it on the wall. It's a plastic pot with a little cloud mounted above it that you pour water into. You'll find it online and in some gardening stores. Young and old alike will love this gadget!

Recycle glass bottles: Old bottles can be used as herb containers. Just keep the top part (from the neck to about a quarter of the bottle's length), put it upside down in a glass of water, add some earth and herbs, and voilà, you're done!

 Crédit : Déco Tendency

Make a hanging garden. There are many ways to make one for herbs.

One way is to pierce holes in wooden planks, then add pots with herbs in them. Then, attach the planks one on top of the other with some cord. See how by visiting this :

website

 

You can also use a cloth shoe rack by putting earth in each slot and adding your plants before hanging it up like in the picture below.

It's also possible to create a hanging aromatic garden with empty coffee cans! See how by reading this

article

.
Looking to build a garden with the kids? Check out this site for spending quality time together!
Suggestions: herbs to try
When it comes to herbs, some are better known than others. Basil, cilantro, parsley, mint and chive come to mind. Although they're delicious and healthy options that enhance recipes, there are many other great herbs that you should know about.
Why not try some this summer? There are, for example, many kinds of basil. Thai basil has hints of cinnamon and licorice. Greek basil has tiny leaves and has a bushy look. Purple basil has a rich, deep colour and lemon basil tastes, well, lemony.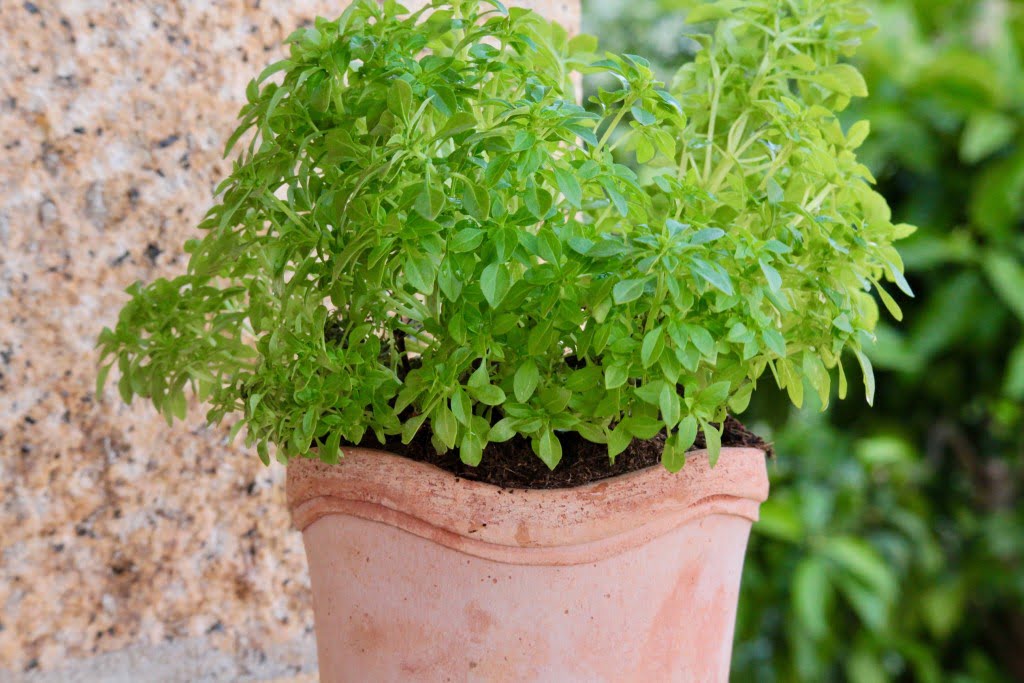 Other than that, you can try Vietnamese cilantro which has a more pronounced taste and can be picked all summer long. Lemon balm could be another interesting choice for your meals. A little like dill, its citrus taste goes well with fish and seafood.
Fennel's licorice taste goes well in marinades and the leaves are absolutely delicious with fish, lovage has a similar taste to celery or parsley and garden burnet is reminiscent of cucumber. These are all herbs you should definitely try!   
If you have a sweet tooth, there are many kinds of mint you'll just love. There's peppermint and chocolate mint. There's stevia which is a natural sweetener that's sweeter than sugar, but that doesn't raise your blood sugar. Dried or fresh, mint is perfect for all kinds of recipes.
Some edible flowers decorate summery salads and dishes beautifully. Nasturtium has a spicy flavour like radish and the whole thing is edible. You can also eat chive blossoms. They have a slightly garlicky taste. Other flowers like heartseases, marigolds and carnations have a fairly light flavour and their colour will certainly enhance your dishes and your garden.
Preserving herbs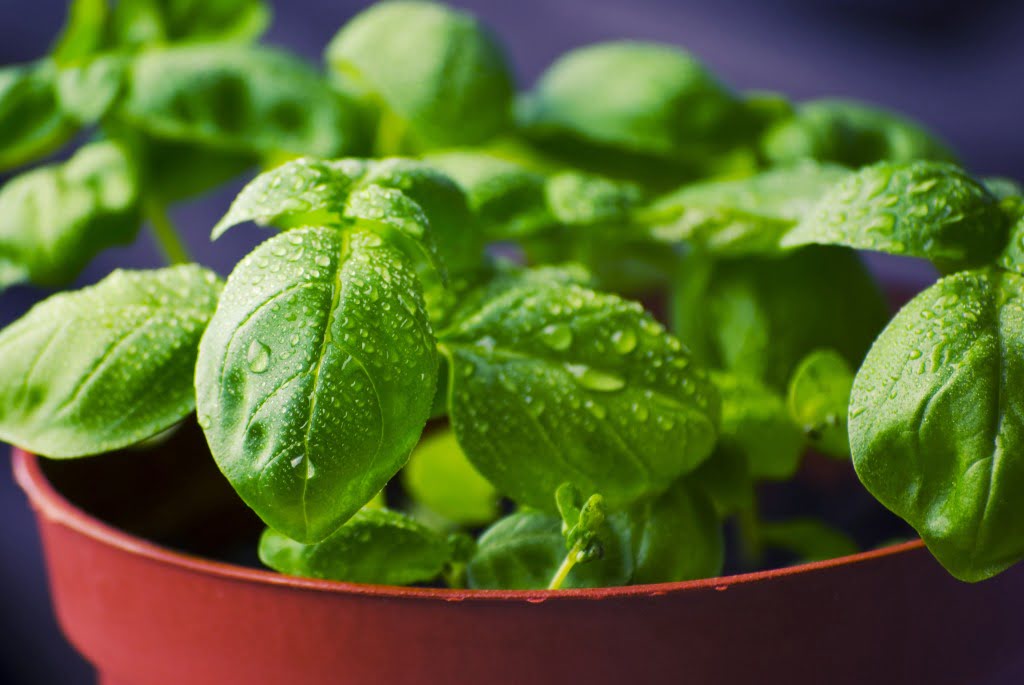 There are many ways to preserve herbs. Fresh, frozen, dried or in oil, it's up to you to choose which is best for you. Our article Tricks for Cooking Veggies and Herbs in their Entirety discusses seven techniques for storing that will inspire you. Continue reading and discover other methods.
In the fridge
Do you have trouble keeping herbs fresh before you end up having to throw them out? Don't worry, there are many ways to preserve herbs without comprising their freshness. There are two ways to preserve them in the fridge.
The first consists of cutting the tips off the stems, putting them in a pot half-filled with water, then covering the whole thing in a plastic bag, tying it with an elastic before putting it in the fridge. This is a perfect technique for parsley, cilantro, chive, basil and mint which can be stored this way for 7 to 10 days. Watch this video and you'll see just how easy it is.
The second technique is to wrap the herbs in a moist rag or paper towel, put them in a resealable plastic bag, then in the fridge. Rosemary, oregano, marjoram, lemongrass, dill, sage and thyme are the best candidates for this preservation method and will keep for 10 to 14 days. See how by watching this video!
In the freezer
Herbs keep in the freezer longer than the fridge. After chopping the herbs, put them in an ice cube tray with oil, with a little bit of water or directly in the tray. Once frozen, put the cubes in a resealable plastic bag, then in the freezer. If you'd prefer, freeze the leaves whole and cut them after. Regardless of which technique you choose, herbs will keep between four and six months in the freezer. Cilantro, dill, chervil, chive mint and tarragon freeze well. Once blanched, basil freezes well, too. Parsley can also be frozen, preferably coarsely chopped.
Drying herbs
Although dried herbs have less flavour, the drying technique is simple and inexpensive. The simplest way to dry herbs is to separate the stems from the leaves and dry them flat in a hot, dry and well-ventilated place. Some herbs like rosemary and thyme, dry well if hung. It takes four to eight days to dry and they'll keep up to 12 months. Dried herbs must be stored in glass jars away from light. Rosemary, oregano, savory, marjoram and thyme are perfect for drying. Basil, parsley, chive and mint dry easily, too, but really lose a lot of their flavour.
In oil
Another option for preserving herbs is to marinate them in oil or vinegar. Their flavour goes into the liquid which makes it easy to incorporate their taste for cooking. As well, infused oils can be stored on the counter and add a little style to your kitchen!
Gardening Chart
Where to plant an herb and how to preserve it varies from one herb to another. To help you figure things out, here's a little chart for the top herbs: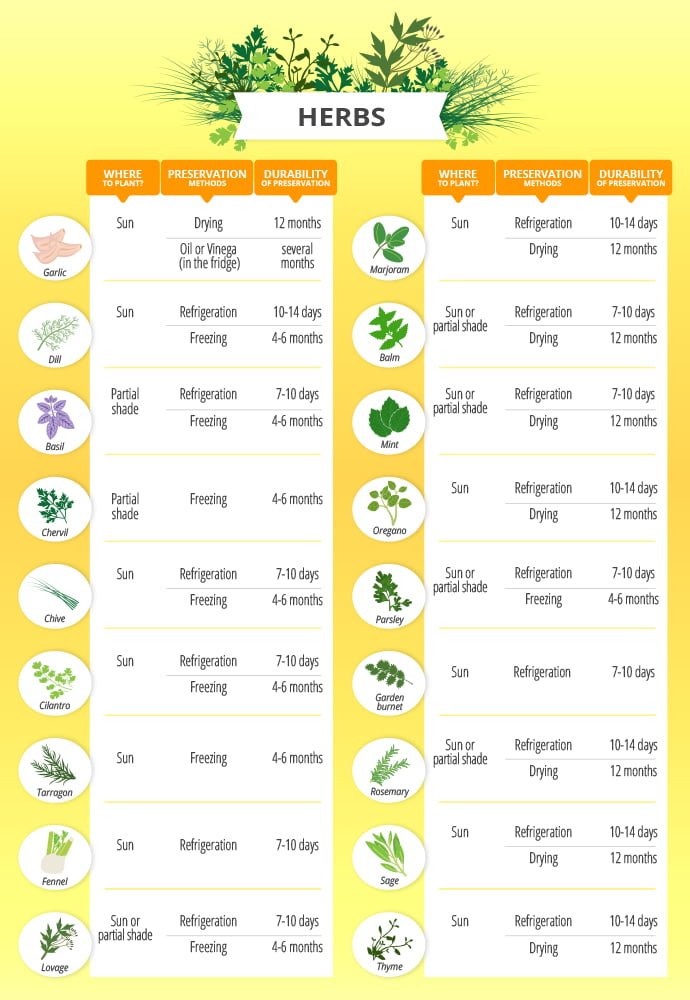 How to cook with herbs
Herbs incorporate very well in daily cooking. Proper preparation and good combinations with other ingredients make it easier.
Preliminary prep
Want to incorporate herbs in your menus more often? It's easy! Some of the preserving techniques presented earlier will already save you some prep time when cooking. There are, however, other ways to easily integrate herbs.
Take a look at these few recipes that will help you use whatever herbs you have on hand.
Credit : Meilleur avec du beurre
By making your own salted herbs, you can incorporate your favourites herbs to any recipe. See how by visiting this page!
A bouquet garni is also really easy to make and allows you to enhance any stew or soup. Here's how to prepare one!
Combinaisons with food
To get the most out of your herbs, it's best to combine them with the right ingredients. Our Herb and Spice Guide will help you choose the herbs and spices that go best with food. You can also consult this chart to get more details about perfect combinations for your meals and how to prepare them.
Recipes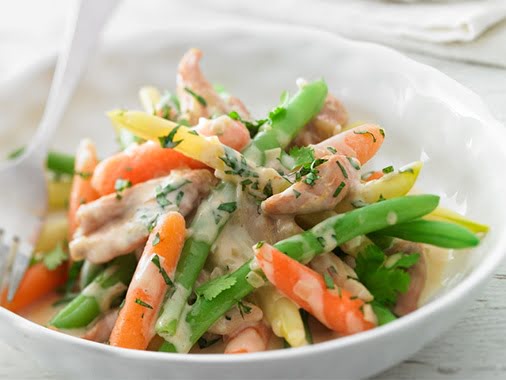 Herbs go well in just about any dish. They enhance the taste of food without adding salt or fat.
Try these recipes and you'll see just how herbs can change your eating habits!
Apple-Fennel Salad with Pecans & Pomegranate
Radish and Sugar Snap Pea Salad
California Vegetable Tabbouleh
Roman Style Broccoli and Cauliflower
Chicken and Vegetable with Herbs Fricassée
Sweet Potato Pancakes with Arugula Pomegranate Salad and Herbed Yogurt
Spinach Stuffed Shells in Florentine Sauce    
Early Summer Frittata with Peas, Garlic Scapes and Shiitakes
Zucchini Basil Mini Crustless Quiche
Credit : Cuisine estudiantine
Consult these 10 Easy Pesto and Salad Dressing Recipes and you'll see just how versatile herbs can be.
Herbs are great with grilled food and can add some punch to your marinades! Read our Guide to a Remarkable Veggie BBQ to learn even more.
You've got all the necessary tools to get the most out of herbs. We're hoping they will have the confidence to grow them yourself, so happy gardening! Don't hesitate to share all things herbs with us – experiences, tips and recipes are welcome!