Recipes for an unforgettable Easter brunch
Easter is often synonymous with chocolate, but when you think Easter, you also think brunch. It's the perfect excuse to get the whole family together for a good meal, so why not use the occasion to swap out a few chocolates for a few veggies? It might not sound like the most appealing idea ever, but wait till you see our veggie-rich recipes. Not only are they delicious, they're easy to make, so are perfect for hassle-free entertaining. Here are three tips that will simplify your life if you're planning on having your family over.
Hosting at Easter: 3 tricks that will simplify your life
Brunch buffet
Brunch is well-suited for buffet-style entertaining and it frees up space on the table. You can put everything on a corner table or right on the kitchen counter and guests can simply serve themselves. This saves time and the host doesn't have to serve people, so can enjoy themselves as much as everyone else.
A table decorated in advance
Prepare and decorate the table in advance so that when guests arrive, you can relax and make the most of the occasion. You can already set the table: cutlery and plates, glasses, napkins, pitchers of water or juice, coffee, decorations, flowers, etc. Arrange your table to your taste and keep it simple. The only left to do is savour the moment.
An Easter egg hunt to keep the kids busy
After 20 minutes at the table, the kids won't be able to sit still any longer even though you'll have just started eating. To spend time with your guests, plan a traditional Easter egg hunt to keep the little ones busy and entertained for a long time.
Need ideas for a fun Easter egg hunt? Read « 7 Ideas for the Best Easter Egg Hunt Ever » by Taste of Home.
12 recipes for a vegetized Easter brunch
Without further ado, here are 12 recipe ideas to help you incorporate more vegetables into your diet, starting with Easter brunch. Put on your apron and get your hands dirty!
Ready in just 15 minutes, these updated eggs Benedict will satisfy everyone's cravings. Prepare the English muffins and topping before the guests arrive, then poach the eggs at the last minute. This recipe is essential for a vegetized brunch and goes down easily thanks to its small individual portions.
Here's an excellent way to add more veggies to your brunch. This recipe contains potatoes and spinach, but let your imagination go and add as many veggies as you want. Mushrooms, peppers, asparagus… go nuts because you can never have too many veggies!
by Happy Healthy Mama
With its slightly sweet taste, sweet potatoes are all the rage and even find their way onto your breakfast plate. As well as adding an original touch to the world of breakfast, this recipe is also a new way to eat eggs. Simple to prepare, but exquisite to enjoy, your guests will be pleasantly surprised by these little boats.
Another great way to cook eggs for your Easter brunch. Quiche is often associated with an evening or lunch meal, but really, it's just as delicious in the morning. Plus, you'll get all the veggies you want in this recipe. To go with sweet peas, we recommend carrots, asparagus and green beans.
The kids will definitely fall in love with these breakfast wraps. The melted cheese with eggs and broccoli make it creamy and delicious. You can easily prepare them in advance, then warm them up in the oven for a few minutes or grill them a bit in a panini machine if you've got one.
by the SAQ
A brunch without crepes is like a winter without snow in Canada – impossible! While the sweet version is often well-loved, the savoury version is just as tasty. Have you ever tried putting vegetables and cheese in your crepes? After tasting this recipe, you'll be asking for more! You can also prepare the crepe batter the day before and make them the next morning.
You find scones bland and kind of tasteless? This recipe will make you a believer! With mixed vegetables, cheese and spices, this salty scone is slightly spicy and far from dry. As well, it lends itself really well to buffets and makes excellent appetizers to share. Serve them with butter and enjoy!
by Foodal
Even if they don't contain vegetables per se, this recipe is a brunch classic. Made with white beans, these vegetarian baked beans are a good source of protein and complement the Florentine breakfast cassolette or the eggs Benny with spinach. But nothing is stopping you from adding whatever veggies you love, like onions or mushrooms, for example.
In the same style as the Florentine breakfast cassolette, this vegetable and sausage strata goes with everything. Rich and hearty, this dish can be prepared in 15 minutes and the oven does the rest of the work! Serve this recipe with a hot tomato sauce with basil, if you'd like.
by David Lebovitz
Another brunch essential, here is the vegetarian pâté that will knock your socks off with its authentic taste and texture reminiscent of a real meat pâté. Made with lentils, it also contains mushrooms, sunflower seeds and food yeast which contribute to the taste and velvety texture. Try it – you'll be surprised!
However vegetized it may be, what would a brunch be without a touch of sweet? The taste of veggies is subtly hidden by the bananas and vanilla, so this vegetable banana bread will definitely fool the kids. But this healthy version contains one and a half cups of vegetables. Your kids will love this moist and delicious banana bread.
Muffins can easily be made in advance and make an ideal snack for brunch. In this recipe, oats, dates and coconut create the perfect muffin. Dates and coconut naturally sweeten the batter and, together with the cauliflower rice, give the muffins a velvety, rich texture. To add to the festivities, prepare this recipe using Easter muffin liners!
Inspiration for a well-decorated table
The classic table
This style is perfect for minimalists. Subtle and neutral, flowers, Easter eggs and little white rabbits bring a light festive touch that make you think of Easter. The classic table is easy to reproduce at home.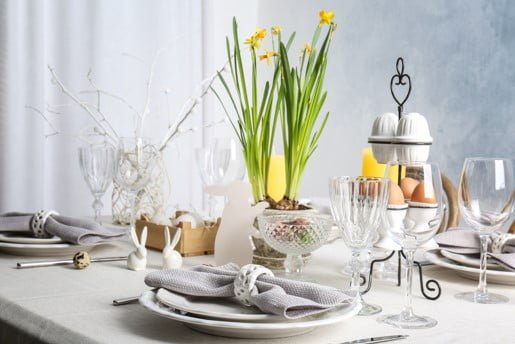 The colourful table
If you've got a lot of kids in your family, this colourful table will delight the little ones. Although it requires a little more preparation, you can combine all the colours you like. To stay with the Easter theme, choose pastel tones such as yellow, blue, green, purple and pink.
The spring table
If you don't want to overload your table with Easter eggs and bunny rabbits, you can always opt for a style with a spring flair. Since Easter rhymes with spring, add as many flowers as you want and you'll get an equally beautiful and classic table.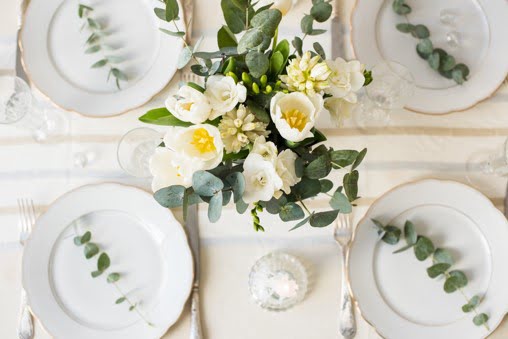 After whipping up these recipes, you'll certainly have consumed your serving of vegetables for the day! So which recipes are you thinking about making for an unforgettable brunch? Will you be making one of these for Easter?
Happy Easter to everyone!