Hiking is one of the best outdoor activities. From beginners to expert climbers, everyone can benefit from being outdoors. All you have to do is choose your destination and plan your outing well. Nutrition and hydration are important to ensure your well-being throughout the adventure. Discover Quebec's beautiful scenery!
Health benefits of hiking
According to WebMD, there are several health benefits to hiking:
It strengthens the body's upper and lower muscles (if you use walking sticks).
It improves cardiovascular health which reduces cardiovascular disease.
It promotes psychological health through the relaxation it provides. Contact with nature and the endorphins that physical activity produces are beneficial in reducing the risk of mental illnesses such as depression.
Any reason is a good reason to get into it!
What you should know if you're a newbie
« Hiking is accessible to everyone. Start with an easy mountain, then gradually increase the difficulty of your trips from outing to outing. »
Hiking is accessible to everyone. No need to spend a huge amount of money on state-of-the-art equipment. Many salespeople will recommend you buy hiking boots to support your ankles and avoid injuries. This is necessary if you're venturing into more challenging terrain, but for trail hiking, a good walking or running shoe is sufficient. Just remember that if you have pain in a specific area when you try on your shoes, it'll only get worse during the hike. It's better to be 100% comfortable from the start. Apart from having good shoes, you have to carry a backpack with comfortable shoulder straps because it'll contain the food and drinks for the whole trip. Finally, don't forget sun protection and a headgear to avoid sunstroke, a first aid kit and a light raincoat if it rains.
It's important to choose a mountain for your level if you don't want to be totally discouraged at the end of the day. The goal is to want to do it again! Start with an easy mountain, then gradually increase the difficulty of your trips from outing to outing.
Hiking with young children
« Your children's ages obviously influence their physical abilities and endurance when hiking. If your kids are stimulated, they won't notice the time pass. A good trick is to satisfy their need for exploring. »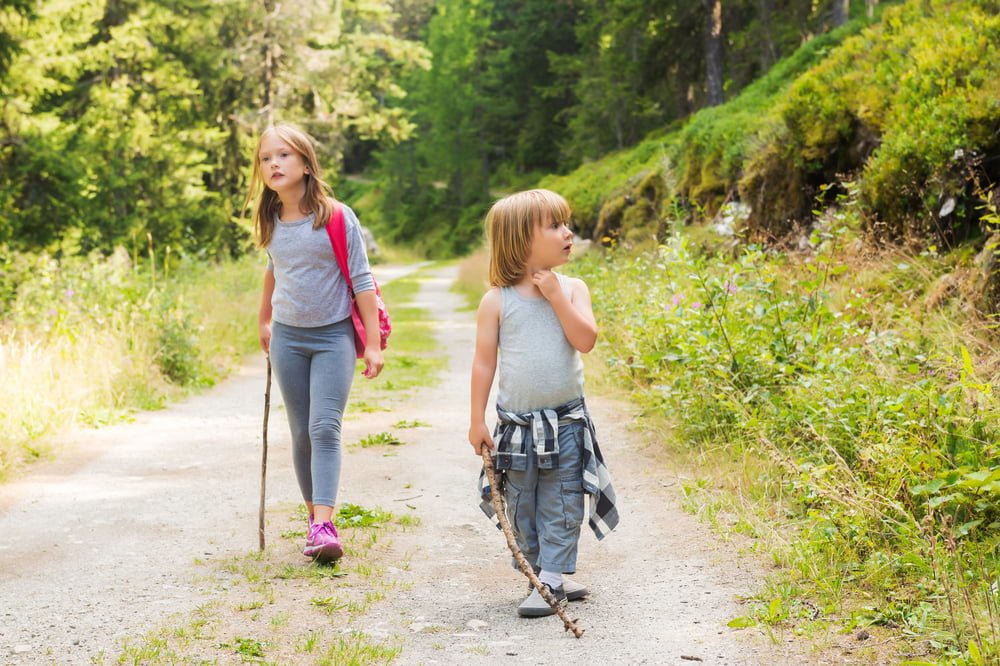 It can be worrisome to go on an adventure with young kids, especially when you have to assess their physical abilities to ensure it's a good experience for everyone. However, there are several tips and tricks that can help you prepare for your future getaway.
Your children's ages obviously influence their physical abilities and endurance when hiking. According to seasoned hiker François Jourjon, the distances children are able to walk vary according to their age:
3 years: 1 km
4 years: 1.5 km
5 years: 3 km
6 years: between 4 and 5 km
In addition to the distance to cover, there are several details to consider ensuring the well-being of the youngest during the hike. It's really important to monitor the temperature. If it's very hot, in addition to sunglasses, sunscreen, a hat and more water, it would be smart to reduce the distance you were thinking of doing to avoid heat stroke. It's also essential to establish safety rules at the beginning of the hike so that kids know how to behave.
Many parents are afraid that their kids will get bored and want to go home when there's still halfway to go. If your kids are stimulated, they won't notice the time pass. A good trick is to satisfy their need for exploring. Instead of walking continuously, take breaks and encourage them to climb small rocks, play in streams, that sort of thing – even if it means planning a shorter trip. You can also give them the goal of finding a particular kind of plant or tree along the way.
Another good way to keep kids motivated is to set small goals that will encourage them to keep going. It can be walking to a specific place for a snack or reaching a peak or a place where the view will be breathtaking. You can also give them an important role, such as the guide or hiking leader who's responsible for observing the signs and guiding the family.
Singing during the walk is a fun way to enhance the journey. You can also ask your kids to tell a story inspired by the things they encounter along their way.
Finally, show interest in what interests them. This will give them the hiking bug. If they see a particular plant or animal, pay attention to it as well.
If you want to do several outdoor activities with the kids this summer, check out this outdoor activity guide for a few useful tips and tricks.
4 regions to go for family hikes
3 trails in the Eastern Townships
This five km trail connects the village to Sutton mountain. As a family, you can count on two to three hours to do it AND take in some great scenery!

This is also five km and can be completed in two or three hours. From the peak, you can see Lyster Lake and its magnificent beach – a great place to go after a long hike.
The Coaticook Gorge trails are perfect for beginners. Two trails of three to four km allow you to cross a suspension bridge, climb an observation tower, see a hydroelectric power plant and explore a cave. And that's not an understatement! In addition, the Foresta Lumina trail is a hike to do once the sun sets, to let yourself be transported by the multimedia effects created by Moment Factory.
If your courageous family is already used to hiking and your kids are seven years or older, intermediate hikes are also available in the Estrie region. Check them out right here.
2 hiking trails in the Mauricie
Mauricie National Park is the perfect place to introduce kids to the outdoors. There are trails for children under the age of seven and intermediate trails for older kids. To add a fun aspect to the walk, pick up a brochure that gets kids to solve a puzzle throughout the hike. Lunch on the waterfront is the perfect way to finish a wonderful hike.
This outing is perfect for people in a hurry or families with young kids. The short trip with impressive falls will appeal to young and old alike. A suspension bridge also adds an interesting point to the hike.
3 hiking trails in the Montérégie

In addition to offering easy and intermediate hiking trails, Mont-Saint-Bruno Park offers a wide range of fun activities for the whole family. Its gourmet stopover in the tearoom Le Vieux Moulin allows you to enjoy a drink, a Viennese pastry or even a gelato in a 250-year old building. You can also to participate in activities with animals and guided hikes.
2. Mont Saint-Hilaire Nature Centre
The trails in this nature reserve are breathtaking: in addition to being accessible to everyone, they're home to more than 200 species of birds. A diversity of animal and plant species can be seen around Lake Hertel.
Cultural richness and the wide range of activities are what make this park stand out. As well as the hiking trails, the park is home to the Oka Calvary, a Station of the Cross built between 1740 and 1742. This is an opportunity to teach the little ones a bit of history. You can also bike, canoe, pedal boat, kayak and even more.
2 hiking trails in the Charlevoix region
Hautes-Gorges-de-la-Rivière-Malbaie National Park
This magnificent national park has several accessible trails for beginners. The view is worth the detour! Dogs are allowed on several of the trails.
Visiting the picturesque village of Les Éboulements leads to the 4-km long Promenade des maraîchers trail that's perfect for the whole family. Its charm comes from its location between the river and the mountains which gives it a unique character.
To learn more about this region and its trails, this website is very complete. Check it out if you want to go soon.
Apart from this small list of treasures, Quebec is full of hiking trails and mountains to climb. The Sépaq website can inspire you to find your next activity.
Can you go hiking with your dog?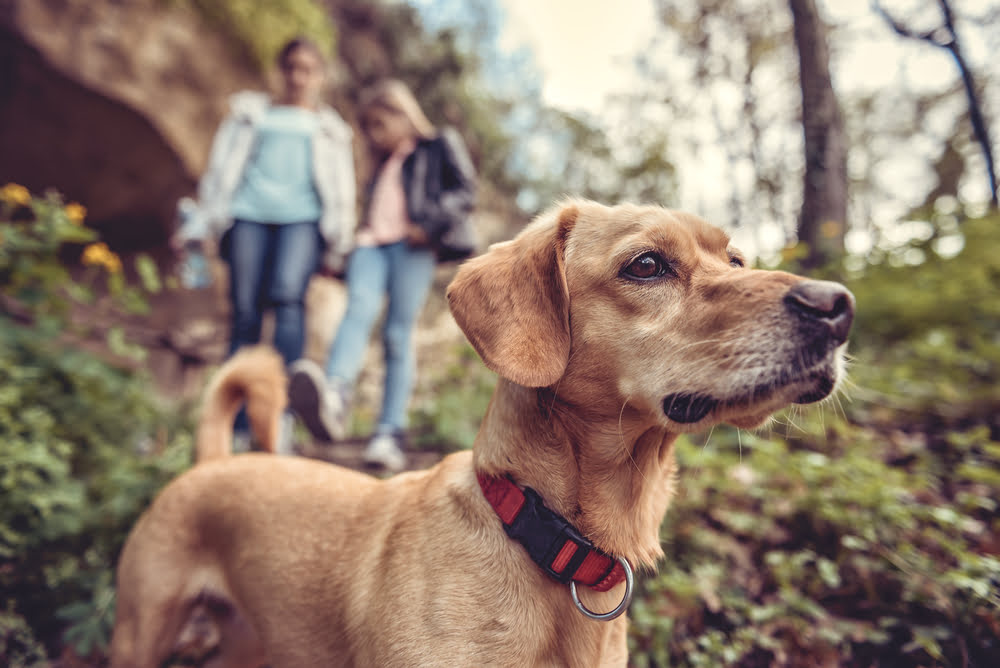 Absolutely! Hiking is good for both you and your dog if you follow these tips:
Bring a leash – you never know what might spark your pet to go running off the trails.
Don't let your dog drink stagnant water. Give them a water bowl for hiking.
Bring protein treats and other food if you'll be gone for a while. If you leave for more than a day, remember that your dog will need 30% more food than usual.
Think about bringing bandages for them in a first aid kit. Don't needlessly cover their paws which help them regular their body temperature.
There you go, you're ready to bring your BFF with you!
Where can you take your dog?
Unfortunately, dogs aren't allowed everywhere. Some places accept them and sometimes a leash is mandatory for a walk. Generally, the website of where you want to visit indicates whether or not dogs are allowed.
What to eat when you're hiking
« The meal before the hike is very important as it plays an essential role in the level of energy you'll have during the expedition. Also, you have to take breaks every hour to have a snack and hydrate yourself. After the hike is the time to replenish the vitamins that you've neglected like those in vegetables. »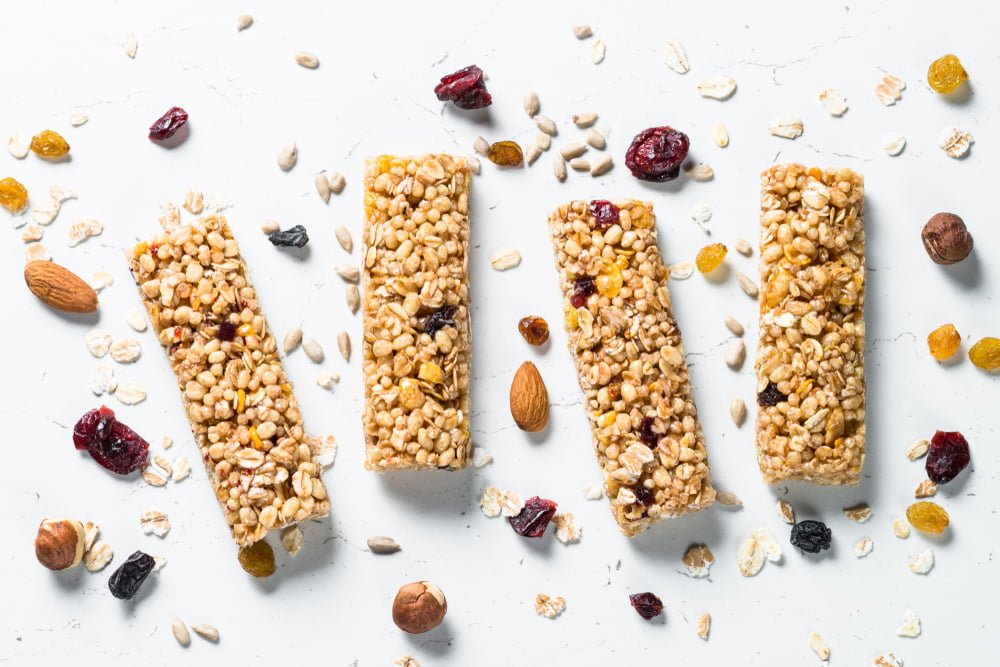 One thing that's important to consider when leaving on an adventure is nutrition. What should you eat before, during and after hiking and why. These are questions that many people ask themselves. Here's our advice to stay pumped throughout your grueling day.
Before leaving
The meal before the hike is very important as it plays an essential role in the level of energy you'll have during the expedition. It should include complex carbohydrates which are slow to digest and provide energy longer than simple carbohydrates. A good protein intake is also necessary to ensure a feeling of satiety that lasts. Vitamins and minerals should also not be neglected. For example, calcium and sodium are necessary for muscle contractions, but are lost in large quantities when you sweat.
Here are examples of perfect breakfasts to sustain you:
This smoothie contains everything you need before hiking. If you want to prepare a complete smoothie without a recipe, read our "How to make a complete smoothie: our tips and tricks" article.
As well as being a good source of fibre, oatmeal also contains protein. The only left to do is add your favourite fruit and, if you want, an additional source of proteins like nuts.
If you leave a little later or go a little longer, just take a snack that will sustain you throughout the hike. Whether it's smaller than a complete meal, it must be made up of the same elements. Here are a few ideas for a complete snack:
Snack smoothie (same recipe as your breakfast smoothie, but reduce the serving size)
Oatmeal muffins with dates and coconut
Add nuts to get even more protein!
Sweet peas are a good source of fibre and protein. A perfect food for a light snack that provides everything you need.
Greek yoghurt + fruits + granola
During the hike
According to sports nutritionist Anne-Marie Villeneuve, you have to take breaks every hour to have a snack and hydrate yourself. Often, people wait till they're hungry, but when you're hiking, your energy requirements are a lot higher than at rest. You may, therefore, be exposed to a decrease in energy (you'll also hurt more the next day). This is where simple carbohydrates come into play. For a quick snack, fresh or dried fruit is a good source. If you're hungry and want a bigger snack, choose food that also contains protein and fibre without neglecting simple carbohydrates to get energy quickly because you may not have consumed enough at your previous meal. Here are some recipes for satisfying snacks:
If you're going for more than four hours, it's smart to plan a meal to replace all that spent energy. For lunch, think about having a complete meal that has fibre and protein, as well as a good source of fat to compensate for what's been spent during your physical exertion. Here are examples of good recipes to enjoy during a picnic during the hike:
If you choose whole wheat pita or a whole wheat bread, this wrap provides all the fibre needed. The tofu and dip have the protein and the avocado has the necessary dose of good fat.
The wrap is perfect because it travels well and you can adjust the ingredients according to the whole family's tastes. Completing your meal with a vegetable juice is also a good way to ingest minerals (particularly sodium) that you've lost through sweat. Finish with a serving of fresh or dried fruit to get the energy necessary until the next snack.
After the trip 
It's recommended you eat within the 30 minutes following physical exertion. Nutritionist Anne-Marie Villeneuve suggests food that is rich in protein and carbohydrates to repair tears in muscle issues. In fact, the examples of snacks before a hike that we gave are fine, but if you've made an intense effort, you need a little more carbohydrates and good fat. Here are examples of the perfect snacks:
Peanut butter on whole wheat bread
Protein smoothie (preferably if you're close to home so you can consume it fresh)
Tofu spread + whole wheat bread
The first meal that you take at the end of your day is important. You will have consumed lots of food to help you conserve your energy during this long expedition, but you've certainly lost several nutrients as well. This is the time to replenish the vitamins that you've neglected like those in vegetables. A complete salad could be a great idea for eating a balanced meal that will allow you to restock vitamins and minerals. Our favourite recipe to replenish veggie reserves is:
Californian veggie Buddha bowl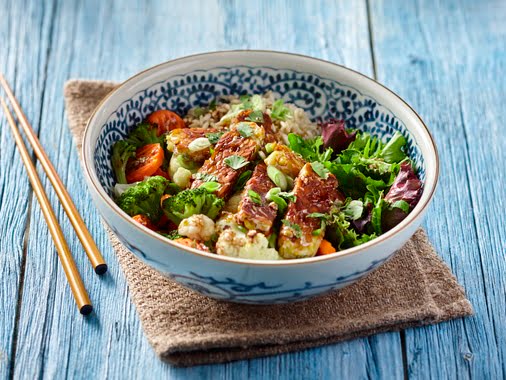 How to keep well-hydrated
Even if you follow our nutritional advice to the T, your hike will be a success only if you know how to hydrate properly. We're not always sure what to drink, how often and how much. Although the numbers vary slightly from person to person, try to rely on these amounts to make sure you don't neglect your hydration:
2 hours before the hike: drink 500 ml
During the hike: drink between 125 and 250 ml every 15 to 20 minutes
What should you drink? Water. You don't need anything else unless your level of sweat is really high. So it's recommended you take a sports drink like Gatorade's G2 that provides a good amount of sodium.
How to become a good hiker
A few little tips and tricks are good to know to become a better hiker. For example, to keep food fresh, transport a frozen reusable water bottle (be sure that you can freeze your bottle). The weight of it won't be for nothing because you can drink it as it thaws.
1. Reducing waste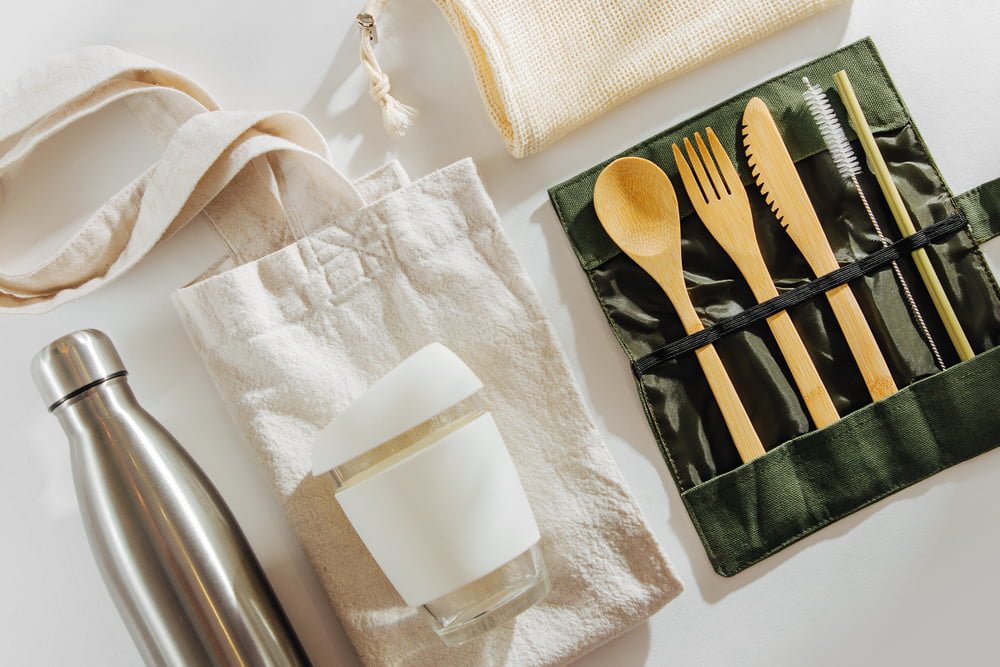 Forget about single-use plastic bags. Think ergonomic by using reusable containers. Bento boxes are lunch boxes that have compartments to stock everything you need efficiently, as well as saving space.
If you find that containers are unnecessary for some snacks and that they take up a lot of space, equip yourself with reusable snack bags. Several Quebec companies sell them and they'll be useful for more than just hiking. Think about bringing compostable utensils or the ones you use at home to avoid unnecessarily consuming plastic.
2. Planning the right amounts
Remember that each family member will need their own snack every hour. Calculate provisions by bringing a little extra. Knowing the amount of water for everyone, try to calculate accordingly. Bring a little more without cluttering up with useless provisions.
3. Preparing yourself physically to avoid injuries
Easy hikes for beginners don't require training for the big day. Just go at your own pace. On the other hand, it's smart to warm up before heading out. Just a few movements to prepare your limbs are explained in this complete guide.
4. Safety tips
Safety is without a doubt an aspect of hiking that you must keep in mind. Preparing a first aid kit is a great tip. However, just pack only what's necessary to avoid carrying extra weight for no reason. Here are suggestions on how to build the best hiking first aid kit.  In addition, it's smart to bring pepper spray in case you come up against an unexpected furry beast.
The best places for a long hike in Quebec
After scaring you with stories about bear attacks, let's change the subject to something a little less worrisome: the best place to sleep after a hike! If you want to get away from it all by sleeping under the stars, here are a few places that are just magical:
At Canopée Lit in the Saguenay fjord
If you have the time to go as far as the Saguenay, then Canopée-lit is a destination worth the detour. You can rent a bubble to sleep under the stars in superior comfort. What's around there? Five km of hiking trails, kayaking, quad biking, hydroplane flying, fishing and whale watching. It's the key to an extraordinary expedition.
To discover other places that offer hiking with a place to sleep, the Sépaq website has a section where you can easily find what suits you, from yurts to the complete cottages.
After reading this article, you're ready to go out on your own. You know what to eat, when and why, how to keep hydrated, what equipment to bring and how to make environmentally-friendly choices. Now it's up to you to create memories with your family! The only thing left to do is decide: where will you go first?