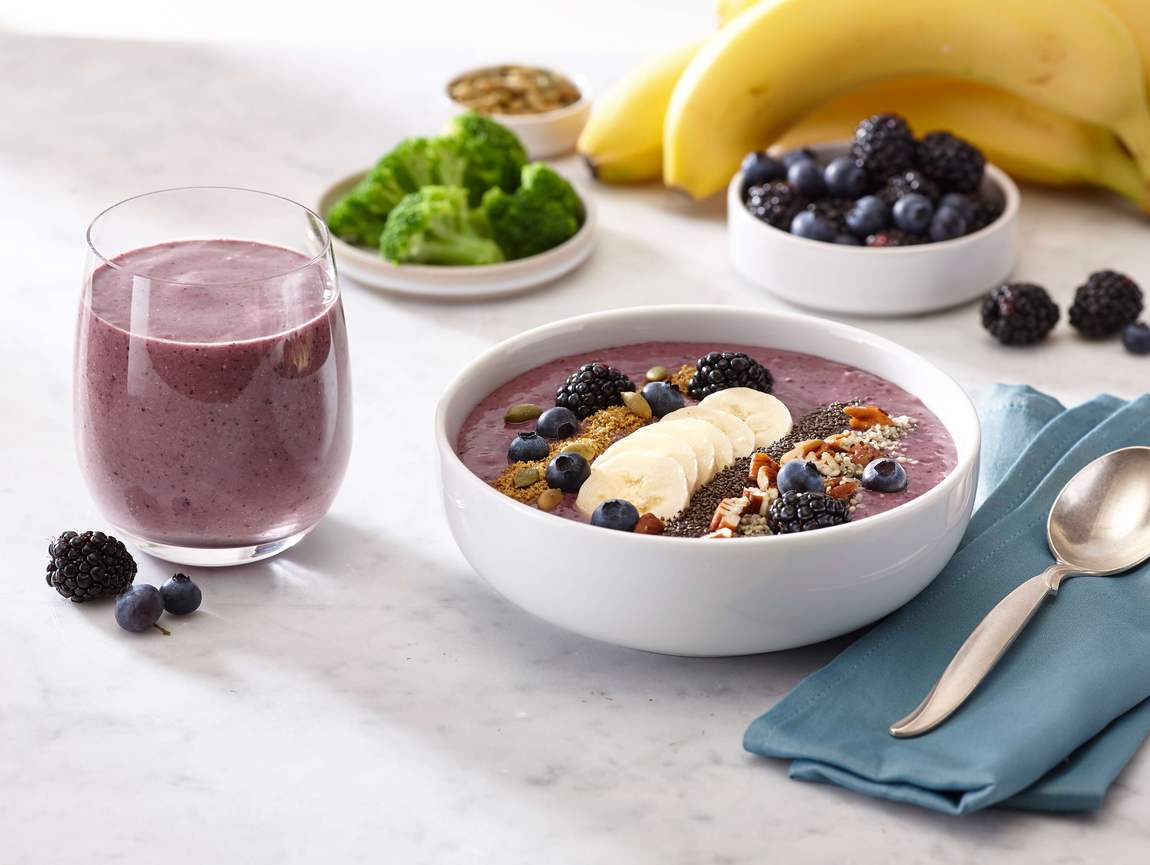 Ingredients
2/3 c (160 ml) Arctic Gardens broccoli florets
2/3 c (160 ml) bananas, frozen and sliced
1/4 avocado
1 1/3 c (330 ml) mix of frozen super fruits (blueberries, blackberries, pomegranate, cherries, etc.)
1 c (250 ml) cranberry juice with no added sugar
1 tbsp (15 ml) nut butter, your choice
1 tbsp (15 ml) honey or maple syrup
2 tbsp (30 ml) oat flakes
1 tsp (5 ml) chia seeds
1 tsp (5 ml) hemp seeds
1 tsp (5 ml) ground flax seeds
1 c (250 ml) non-dairy milk

Preparation
Boil or steam broccoli florets for 2 minutes to thaw. Let cool.
In a blender, combine all ingredients except non-dairy milk.
Process until smooth.
Gradually add the non-dairy milk through the opening of the blender. Blend until smooth and creamy. Adjust the quantity of juice or non-dairy milk to obtain desired consistency.
Pour into 2 large glasses and enjoy.
Smoothie bowl version : Proceed the same way, but use half the cranberry juice and save the seeds as a garnish (double the quantity, if desired). Add fresh fruit, nuts, nut butter and/or granola.
Nutrition Facts (per serving):
Calories: 655 kcal
Protein: 9,2 g
Fat: 41.9 g
Carbohydrate: 49,5 g
Fibre: 11,6 g
Sodium: 37,4 mg
Recipe ideas using this product