Veggie burgers : 1001 possibilities
When you think summer, you think burgers! With the nice weather, the idea of cooking supper on the BBQ is a legitimate one. If you're a vegetarian, if you're simply looking to reduce your meat consumption or if you want to discover new flavours, exploring the universe of veggie burgers is a tasty avenue. The varieties are virtually limitless, so it's up to you to discover your fave – besides the traditional ground beef hamburger, that is! We propose several recipes, trips and tricks to concoct your burger, as well as to make a burger bar and a successful mini burger and cocktail pairing. Head for the veggie burger!
Why trade in the classic burger for a veggie burger?
Eating less meat provides several benefits for your body. Among other things, it reduces type 2 diabetes, high blood pressure, obesity, certain types of cancer, but especially cardiovascular diseases.
It's not just your stomach that will thank you, but the planet, too. Eating less meat and dairy products reduces your environmental footprint because producing one kilo of beef requires 15,000 litres of water, whereas the number is only 600 litres for a kilo of wheat, which isn't a negligible difference. Farm animals are also – how can we say – emitters of gas and by the same token, big diffusers of CO2 and methane which increases the greenhouse effect.
How to know if your veggie burger is a healthy one 
We often wrongly think that veggie = healthy. Unfortunately, it isn't that simple. You shouldn't forget that fries and onion rings are vegetarian! To make sure that the patty in your burger is good for you, there are a few criteria.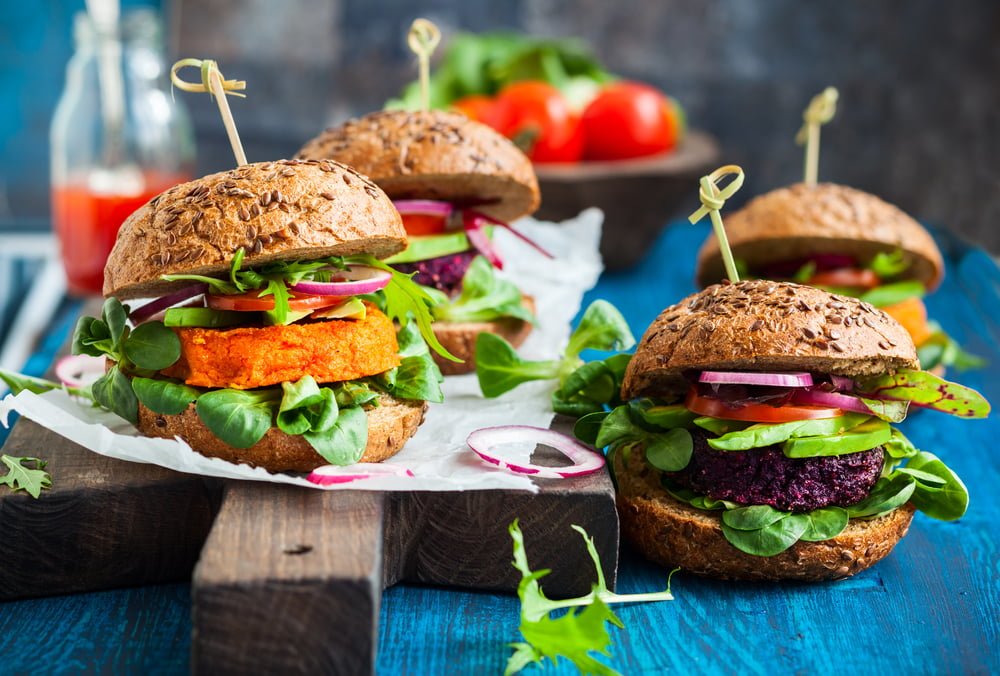 Essential nutrients in a vegetarian diet
There are nutrients that are indispensable to your health and they have to be in a vegetarian diet:
They're often found in legumes, nuts and grains.
Vitamin B12
We also have to consume food containing B12, like soy, nut or oat milk, as well as tofu which is loaded with it.
You should neglect iron and you can do so by eating more legumes, fruits and vegetables.
Dishes bursting with dark green veggies help with calcium intake which is just as important.
Incorporating these elements into your veggie burger also ensures that the nutritional value is there.
Beyond Meat and fast food vegetarian
Well, it's obvious that if you want to eat a burger, health may not be your first criteria. But it's still possible to make intelligent choices without skimping on taste.
Some people are falling for the popular belief that vegetarianism is good for your health and the environment, so they buy more or less anything that says "vegetarian" on it. However, nutritionists who've studied the Beyond Meat burger have determined that it's very processed, as well as polluting. Many other companies offer mock meat products, but they're also often made up of processed ingredients and they're overpackaged. The moral of the story? Only you can serve yourself well! In addition to being delicious, homemade patties are made with your own hands, so you know exactly what's in them.
Recipes that everyone will love
What's amazing about the veggie burger is that there really are lots of variations. Here, try a few for yourself!
To imitate a "real" burger: black bean and textured soy protein patties

Let's face it. Every family has their own anti-vegetarian. You know, the eternal sceptic who doesn't want to try vegetarian recipes because they're all bad, tasteless or have a horrible texture. Well, it's high time to confuse the pants off of them! Black bean or textured soy protein patties have a fairly traditional taste that's pretty close to ground beef.

Here are our favourite recipes to initiate your friends and family to veggie burgers:
Hiding veggies in your veggie burgers
Let's explore a few other avenues for making veggie burgers. Many recipes combine a good amount of protein by hiding a good serving of vegetables in them. It's an excellent, but subtle way of adding them so that the choosier ones will eat them (AKA the kids!).
Here are a few recipe ideas:
A little idea to make it even heartier: add the toppings of our hot appetizers with a southwestern flair! A slice of avocado would also be a nice finish.
6 burger recipes that will take you places
If you've developed a taste for travel and culinary adventure, maybe you're ripe to explore more exotic tasting recipes.
To visit the Middle East
Instead of eating falafels in the traditional way, turn them into burgers. Add some feta or feta sauce, Greek salad and hummus to make them even more delish.
Falafel burger from The Buddhist Chef 
The taste of Italy

To add a little of this country to your table, Italianize your burger. Start by making the burger you want. A simple flavour like this black bean or textured soy protein patty would be perfect. Finish your dish by adding some bocconcini, sliced tomato and basil (or pesto).

A touch of Tex-Mex

It is possible to combine the decadent world of Tex-Mex to this burger. A black bean patty would be just right. To give it a little kick, add a pinch of red chili flakes before cooking. For the topping, add whatever makes you think Tex-Mex: green pea guacamole, corn, sour cream or even homemade chili.

When China comes to you: the bao burger

The ultimate in Asian cuisine is the bao burger. What's burger about this burger is the shape: several toppings between two slices of bread, but you swap out regular bread for bao. It's steamed and has a really soft texture. The toppings are reminiscent of its country of origin with ginger, marinated vegetables and sauces that are typical.

How to make this Asian veggie burger
Lesson from India

Indians have more than one trick up their sleeve when it comes to suggesting vegetarian recipes. The traditional flavour of curry mixed with lentils marry perfectly with this dish giving it a unique touch.
A Thai tour to explore new flavours

The taste of Thailand could seem unusual to some, but the flavours really do go well. This recipe is sure to impress guests who've have their umpteenth burger of the summer.

Steps to make your own veggie burger without a recipe 

Making a veggie burger with leftovers is definitely possible! If you're the creative type who hates waste, training yourself to make them without a recipe can turn out really well.

Choose your base

The foundation of your mixture must have 1 3/4 cup of:

Legumes

Chick peas
Black beans or red kidney beans
Green peas
Lentils

Cooked vegetables

Carrots
Sweet potatoes
Beets
Mushrooms
Spinach
Corn
Squash
Broccoli
Cauliflower
Zucchini
Peppers

Add a solidifying element

If your burger doesn't have 1/2 to 1 cup of one of these elements, you could end up with a mushy, yucky texture.

Bread crumbs
Panko
Quinoa or rice (as they are less absorbent than other ingredients, add 1/4 cup chickpea, rice or oat flour).

Add a binding element

For your burger to stay together and be more enjoyable to eat, you could add a binding element:

1 egg
1 tbsp of ground flax seed in 2 tbsp water. Wait a few minutes so the texture thickens and that can replace the egg.
Season your mixture
If your creativity and cooking experience tell you to season your burgers a certain way, then just do it! If not, it's pretty hard to go wrong with these few tricks. First, add a little onion, 2 cloves of garlic or green onion. Then choose your spices. If inspiration doesn't come to you right away or if you're afraid of ruining your recipe, spice mixes in grocery stores can be a big help. From Cajun to Mexican, these mixes are little miracle workers. Choose them in relation to the other ingredients. A tablespoon of spice is good enough to start with. Herbs can also be really tasty if your mixture is suitable – or if you grow them yourself.
Seasoning with sauces is another option. For a little saltiness, add a dash of soy sauce. If you like spicy, a hot sauce works well. For this one, a more exotic flavour could be curry paste. A bit of BBQ sauce could be interesting, too.
Professional tips for the best results
Tips for texture
When experimenting at home, you have to be able to adapt your recipe so that it's exactly what you have in mind. For veggie burgers, it's easy to change the texture. If the mixture is too dry, then add a little water or milk. If it's too liquidy, add a binding agent. For a bit of crunch, coat your burgers in breadcrumbs or Panko before cooking. Also, the way you cut and mix ingredients is important: a food processor is ideal, but if you don't have one, make sure you cut and crush your ingredients properly because if your patties have too many large pieces, they'll fall apart the first bite. But if you overmix the ingredients, the result will be too soft. Don't forget to taste before cooking, too. That's when you can correct the texture and the seasoning.
Tips for cooking
Before cooking the patties, you have to form them. This step is easier if you let your mixture rest for a bit in the fridge. When forming the patties, dust your hands with flour to make it easier. You can cook the patties 3 ways:
In a pan
Add a little oil olive oil to the pan and fry the patties until they're nice and golden.
In the oven
Preheat the oven to 375 ºF and cook the patties for 30 minutes on parchment paper. Turn them half way. Keep a good eye on them because they can cook quickly or slowly depending on what the ingredients are and their size.
On the BBQ
It's a little more delicate cooking veggie burgers on the BBQ because they don't contain the fat that meat patties do which prevents them from getting a nice colour on the grill. A good trick is to clean the grill well and oil it or spray it with cooking spray.
That's it, you're now trained to make your own veggie burgers! If you've tried the recipes a few times and are happy with the results, you could always continue experimenting by varying the ingredients: try tofu, tempeh, different seeds or different veggies. You can also try other seasonings to make your own favourite blend.
How to make a great burger bar
Making a burger bar is an original idea that's really popular right now. It's a fun and friendly way to have people over. It consists of preparing a table where all the burger fixings are laid out and where guests have a multitude of choices to build their own perfect burger. You can go with mini burgers (also known as sliders) that let people taste more than one combo. It's also a practical way to let people serve themselves without you having to prepare every dish.
Bread
You can go with classic bread, but it might be interesting to offer alternatives. One that's more nutritious than the traditional white bread is whole grain. You can also add bread that is out of the ordinary like bao, naan or brioche buns that's a unique trick to accommodate diverse tastes. Providing different flavours is the foundation of a burger bar!

Patties

As with the bread, offering a variety of burger patties is an ingenious way of pleasing everyone and to vary the flavours. A more classic black bean patty could be combined with a vegetable burger, as well as a patty with more exotic flavours. The important thing is to offer people things that are different from one another.

Toppings

To create a burger that's extraordinary, your friends and family will have fun choosing from several toppings. Think of including the classics for the more conservative (ketchup, mayo, relish, mustard, tomatoes, lettuce, onions) and offer unexpected choices for the more adventurous. Just don't forget that each patty has to get something out of it. If you choose falafel burgers, for example, serve all toppings that go well with it as indicated in the recipe.

Generous toppings for a hearty burger

Burgers with a classic taste like the black bean or textured soy protein ones can take pretty much anything topping-wise. Think of your favourite burger, then recreate it. If you're short on ideas, here's a small list that could inspire you (to be enjoyed occasionally – think of your arteries, please!)

Caramelized onions + strong cheddar + Dijon
For a crazy night – poutine burgers! Put a little poutine on your burger to get the perfect combo of the best two comfort foods ever!
To be original, it's interesting to add toppings and sauces that aren't the traditional ketchup, mustard, mayo and relish. So if you think about it, nothing is stopping you from adding fondue sauce on a hamburger. As well, there are 1,001 recipes to satisfy everyone's taste. Test some out to find your favourite sauce. Making your own homemade sauce not only impresses your guests, but you also know exactly what's in it. The best: making a homemade Big Mac sauce. If you want a less fat and healthier option, it's really tasty to add hummus or a veggie or legume dip. That way you get taste and vitamins.
Other than the delectable sauces, hearty toppings can help elevate your burger. Here, we often think caramelized onions, sun-dried tomatoes, coleslaw and any kind of cheese that you fancy, like this aged cheddar with Porto.
The dishes
Hosting many people can mean lots to do and dishes are often part of that. Luckily, there are compostable dishes that you can buy to avoid doing the dishes without feeling guilty about our beautiful planet. And you can get them online!
Food preservation
Obviously, if the burger bar is outside, a shady spot is preferable so the food doesn't spoil. If you want it available for your guests for a few hours, you'll have to control the food temperature by keeping it in containers filled with water and ice. Simply add a little ice when it's completely melted and your food will stay fresher.
How to be really organized: our tricks
To limit the questions your guests will have and so that people can serve themselves quickly, tip-top organization is a must. Here are a few tricks that will help:
Use muffin tins for sauces
This will help limit spills and accidents and they're easy to bring outside on a tray.
Identify sauces with popsicle sticks
To avoid confusion, use popsicle sticks, then write the name of the sauce with a black marker. This will identify the sauces as well as spread them on the burgers!
Organize your table logically
Guests won't feel rushed if the ingredients are arranged in a logical order. If you choose a burger with special flavours, try to make the best condiments for it obvious to garnish it. Little labels with numbers can help better identify the best combos. For example, if burger #1 goes well with several condiments, put a label with the #1 beside them so people know they're good together. Create stations to avoid bottlenecks. One for bread, one for burgers, one for condiments.
Knowing how to prepare so you can benefit
Serving an attractive table should give you an appetite. You deserve to enjoy everything, too, and it will be possible if you've planned the meal well.
The right quantities
It's difficult to know the right proportions of food when you're making your burger bar. It's good to make two burgers per adult and one per child. Often, you'll end up with too much, but that's better than not having enough. But not to worry, there are solutions. Freeze the patties for another time. Also, with a little lettuce, almost any kind of crumbled patty (as well as its toppings) would make an excellent salad. If you're in the mood for a wrap or panini, let yourself go and test the different toppings. No waste! If you're worried about having too many leftovers, ask your guests to come with containers so they can leave with theirs.
Taste-testing mode: match sliders and cocktails
The burger bar is a really interesting option for pool parties, kids' birthdays or big receptions. On the other hand, maybe you're in the mood for something a little more refined if you're just having a couple of friends over to celebrating something significant. These are the best occasions for matching mini burgers and cocktails! It's really simple: every kind of slider is matched with a small cocktail. If you're a small group, it's nice to have several services which allow guests to taste everything in a logical order. The best tip: prepare everything in advance and you'll only have to grill the burgers and assemble them when the time comes.
It's easy to create sliders: just take any recipe and make the burgers smaller. For the last decade, mixologist Philippe Hardy has come up with some amazing alcoholic concoctions, so with his help, we've built a menu that will amaze even the most sceptical of a luxury BBQ evening.
Couple #1
Southwestern cauliflower burger + Bloody caesar 
Phil's trick: The drink's spiciness will marry wonderfully with the burger's flavours. To make it a little more decorative, add a veggie skewer of tomatoes and pickles, for example. Swipe the vodka for Bourbon if you want a new taste!
Couple #2
Falafel burger + Coin d'Rue beer
Phil's trick: To go with the taste of falafels, choose an acidic beer with a hint of wheat like this Coin d'Rue beer.
Couple #3
Phil's trick: Use Romeo gin, made in Quebec, that has notes of cucumber and dill. Add pieces of honeydew for an original touch.
Couple #4
Phil's trick: This dish would also be delicious with a Pinot Noir or any other red wine that goes well with the spices you choose for your veggies.
In short, the world of veggie burgers is immensely vast and allows you to let your creativity flow according to your desires of the moment or the ingredients you have on hand. Diving into this world is travelling the globe in flavours and textures. So what's the first recipe you're going to try?