You dip your raw vegetables in it during happy hour with friends, but what is hummus, anyway? This chickpea purée is way more versatile than you think. From pizza sauce to salad dressing, it can be added to proteins in pretty much any dish. Discover the many ways to use hummus!
What is hummus exactly?
Today, hummus is consumed in many places around the world thanks to the Near East and for good reason: its taste, texture and nutritional value are very interesting. It's a chickpea purée that traditional seasonings like lemon juice, garlic and tahini (sesame butter) are added to. The base ingredient – chickpeas – gives it a high value in protein and fibre, which is good for digestion and sustains us. You can dip pita and raw vegetables in it, but hummus is much more versatile than that because you can put it in a million dishes!
How to make homemade hummus
Nothing could be easier than making your own hummus. Just put the ingredients into a food processor and turn it on. The trick is in the proportions and choice of seasonings. Without a food processor, it'll take a little elbow grease, but you can get the same result with a mixing attachment or a ricer (potato masher).
Traditional hummus recipe
Here's the recipe for traditional hummus. Add whatever ingredients you want to test out new flavours, like cooked veggies and other spices. Just make sure you adjust the amount of seasoning if you add as many vegetables as you do chickpeas. Readjust the quantities according to the texture you like. Start with a 1/4 cup of water, then add more if you find it too thick. And voilà!
Homemade hummus without tahini
If you don't like tahini, replace it with some plain yoghurt or olive oil.
Storing
Homemade hummus will keep in the fridge for a week and in the freezer for several months. Wait until the mixture has cooled down before you freeze it. When you're ready to take it out of the freezer, put it in the fridge for a few hours.
Hummus with original flavours
Hummus can become a very tasteful protein purée. If you play with its ingredients, it can even become a perfect dessert!
Before improvising, you might first want to try these tested and approved recipes. Here are a few we propose so you can develop your taste-testing talents.
How to make hummus with other legumes
Of course, it is possible to replace chickpeas with other legumes, but then, can you really call it hummus? Because this Arabic word literally means chickpeas. Nevertheless, there are no rules to stop you from exploring other flavours.
Sweet pea and cream cheese smoked salmon spread
Maybe you didn't know this, but peas are legumes just like chickpeas, so they contain similar nutrients that can be used in ways other than pea soup.
White kidney beans are equally delish in spreads like in this recipe.
You can hide veggies in it
As mentioned for the basic recipe, you can add veggies to your hummus for the pickier eaters. Chickpea hummus has a lot of protein which makes it a snack that keeps you full. But if your goal isn't to add protein to your meal, but a good dose of veggies instead, this recipe is perfect for hiding a ton of broccoli.
Another really popular veggie hummus is beet. Not only do beets give hummus an exquisite colour, but they taste good, too. Did you know that beets are a good source of antioxidants and vitamins A and K? It's another good reason besides colour to turn it into a hummus.
Unusual hummus
Apart from changing the basic legume and adding different vegetables, you can also make hummus more exotic with more uncommon herb and spice combos or create a sweet and salty blend. Here are a few tempting recipes:
Dessert hummus
What not hide legumes in your dessert? A not-so-silly idea that combines good taste and a healthy dessert!
The chocolate hummus could be a healthy alternative to store-bought chocolate spreads that contain a lot of sugar and fat. You can spread it on toast, but also put it in smoothies (with bananas and almond milk, for example) or on fresh fruit. Yum!
5 ways to add hummus to your dishes
To add fun to your sandwiches, wraps, pasta, toasts or salads, hummus is your best friend!
It's great to dip celery and carrots into homemade hummus, but you can do so much more with your recipe than using it as a dip. It's an excellent sauce that adapts to many dishes in the blink of an eye. We suggest a few that are delicious.
1. On pizza
To add a touch of originality to your pizza or if you're just running low on tomato sauce, why not use hummus as the sauce? You could you a basic hummus and add just about anything you want as a topping or invent your own original blends like beet hummus with nuts and goat cheese. Try new combos that go well with your favourite hummus.
If you want to increase your veggie consumption, try this pizza with cauliflower crust, swap out the toppings and add hummus.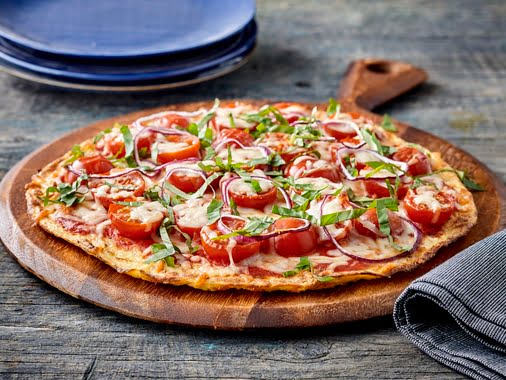 Tomato and Basil Pizza on Cauliflower Crust 
2. In sandwiches
An excellent substitute for the fatty sauces so popular in wraps and sandwiches, hummus gives a great taste and an addition of protein. Its texture is perfect for these dishes. If you prefer a more neutral taste, you could start with a basic hummus, but it's just as delicious to try it with different things and different flavours.
This wrap was created with our South-West style dip that's got a veggie and legume base like hummus. It's excellent as is, but you if wanted to change it by adding homemade hummus, new flavours could prevail!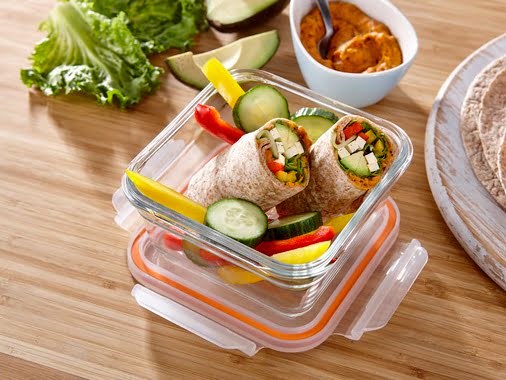 3. In salad dressings
Although it may seem unusual at first glance, hummus integrates quite well into salad dressings. Its basic consistency is too thick, but by mixing it with olive oil or lemon juice and some seasonings, you get a perfect vinaigrette that gives salad a beautiful texture like in these recipes :
6 Easy & Delish Salad Dressings Using Hummus 
Try mixing your favourite hummus with olive oil and lemon juice according to your acidity preferences. Many possibilities are available!
4. In pasta
Yup, sauce is more than just for pizza, salad dressing or sandwiches. Hummus is a versatile base that can be added to any pasta sauce to give it a fun protein source. You get creaminess while being vegan like in this recipe:
If you want to add more veggies to your meals, you can also put our red pepper dip (made with vegetables and legumes) in your pasta, which adds a healthy serving of grilled vegetables.
Pasta with red Peppers and Sautéed Vegetables 
5. After avocado toast, try hummus toast
Avocado toast has been all the rage the last little while. The idea is simple: spread ripe avocado onto toast and add a few other toppings. Avocados are healthy because they contain good fat essential for proper brain function, but you shouldn't eat too much of it. Hummus toast provide a good portion of protein and with whole grain bread, gives you fibre and complex carbohydrates. The only thing missing to make this a complete meal is a good portion of veggies. A salad would complete this meal perfectly. Take a look at our "Salad guide 101: A whole lot of freshness" for a few ideas.
Here are some mouth-watering recipes :
A hummus bar for guests
"It can be a good option for cocktails or a light meal if you want to stand around and chat with your guests."
You may have read about the burger bar trend in our article "Veggie burgers: 1,001 possibilities" which consists of having all the necessary accoutrements for guests to build their dream burger at a self-serve table. The hummus bar experience is also possible. It can be a good option for cocktails or a light meal if you want to stand around and chat with your guests. The principle is simple: you prepare a few hummus flavours that you put into bowls with garnishes for toppings and bases to support them. That's it!
Hummus
From all the recipes we've proposed, you can surely find 3 or 4 that you like. You can change the flavours, like a beet hummus, a Thai-inspired variation and a sweet and salty mixture. Or add a few roasted peppers or sun-dried tomatoes. It's up to you! When you're done choosing, prepare the recipes and put them in big bowls.
Toppings
Add a drizzle of olive oil on top of the hummus, as well a pretty reminder of what's in it as decoration: spices, veggies or nuts. The attractive presentation of hummus will add to your beautiful table since hummus is already naturally delicious.
For the biggest toppings, put them on trays like some of these ideas:
sliced, hard-boiled eggs
nuts, sesame seeds
cheese
sun-dried tomatoes
grilled veggies
fruit (like pomegranates for a sweet hummus)
etc.
The bases
It's fun presenting delicious hummus and a wide range of toppings to complement them, but you'll also need something to spread them. Give your guests a variety of choices by offering them several bases:
crackers
whole grain toast
rice cakes
veggies
pita, toasted or not
naan
etc.
The only left to do is pick a nice wine! A dry white, a fruity and spicy red or even a light rosé would go marvellously with a hummus bar. Bon appetit!
To wrap up, hummus is much more than just a chickpea dip. It's something to be integrated into your diet because you would eat more protein and fibre in a fun and creative way through to the many things you can put it on: sandwiches, pasta, salads, and much more. What will you try first?