Have you ever noticed the exotic food aisle at your grocery store? Whether it's making traditional dishes from other countries or discovering new food, the exotic food aisle at the grocery store will surprise you with its wide selection. Getting a handle on these products and trying them is easier than you'd think!
Recreating traditional food at home
When travelling, you enjoy new dishes and flavours that you just want to bring home with you. Luckily, grocery stores have a large variety of exotic products from India, Morocco, Mexico and Asia (China, Japan, Vietnam and Thailand)! Here are some seasonings and flavours that will add a touch of the exotic to your dishes.
India
Spices are very important for recreating Indian dishes. To cook like Indian people, you'll need turmeric, garam masala (a fine mix of spices), coriander, curry powder, cardamom and cloves
Two well-known Indian dishes are dhal and curry.
Dhal
Dhal means lentil in Indian, so by default, all dishes with lentils are named dhal. In Indian cuisine, lentils are used mainly in soups and stews.
Try these recipes for a taste of India:
Indian Red Lentil Spinach Soup
Curry
Basically, curry is a mixture of very flavourful Indian spices. The name is used for a typical Indian dish which is a stir-fry of meat, legumes and, of course, curry! Grocery stores offer curry in pastes or powders in the Indian or Thai section.
At the supermarket, you'll find red, yellow and green curry paste. What's the difference? The red is more aromatic and less intense, the yellow is moderately spicy and the green very spicy.
If you love stronger tasting food, take a look at these curry recipes:
Slow cooker Peanut chicken curry
Apple Chicken Curry in a hurry
Morocco
To cook like a Moroccan, you have to be equipped with different spices: saffron, dill, clove, coriander, ginger, paprika, cumin, pepper, turmeric and mint – all typical flavours of this country. Moroccans enjoy sweet and salty at the same time, so you'll often find dried fruit in the main dish.
Morocco offers a big selection of dishes, but the best known are without a doubt couscous and tajine.
Couscous
Couscous is durum semolina that is actually well-known here in Canada and many Canadians have been eating it for years. In Morocco, they serve couscous hot and ingredients change according to the occasion.
In Canada, we've adapted couscous recipes: we serve it as much hot as cold, with veggies or meat, as a side or a main.
These recipes will allow you to incorporate couscous into your diet if you haven't already.
Moroccain Chickpeas and Couscous
Chicken Scallopine with grilled veggies and couscous
Tagine
Tagines are prepared in clay dishes that allow food to be steamed. The cooking device gave its name to the stew that cooks in food the same way slow cooker gave its name to slow cooked food! Lemon, olives and caramelized onions give tajines their unique flavour.
Tagines are slow cooked, so they can be made in an oven-proof casserole dish or the slow cooker. No need to run out and get a special Moroccan baking dish.
Fish and vegetables tagine à l'orange
Moroccain style Roast Chicken and Potatoes
Chicken tagine with Leeks and Carrots
Mexico
The staple of Mexican cuisine is corn tortillas. Other typical ingredients of the country are tomato, avocado and beans. Of course, they're all available at your grocery store regardless of the season.
Naturally, with tortillas, you can make enchiladas, quesadillas and tacos! Traditional Mexican tacos aren't served in crunchy shells like you sometimes see here. They're always served in soft tortillas.
The Mexican secret to a good guacamole is a generous amount of fresh cilantro, lime or lemon juice and a little (or a lot depending on your tastes) of jalapeños.
As for Mexican salsa, there are several kinds of salsa verde (green), salsa cruda (raw) and the most popular, salsa roja (red) that goes with most dishes like nachos.
Asia – China, Japan, Vietnam and Thailand
The Asian section of the grocery store is the largest of the exotic food aisle. You'll find desserts, sauces, canned goods, juice, noodles, etc. To recreate the taste of an authentic Asian dish, you'll need cilantro, garlic, ginger, green onion and for true lovers, fish sauce.
Here are a few recipes Asian dishes to try at home:
Stir-Fried Ying Yang Ginger Beef
Authentic Chicken and Shrimps and  Pad Thai 
Exotic food at the grocery store
Have you ever walked by a product that grabs your attention so much that you put it in your cart? Try it the next time you go to the grocery store! Here's how to cook 7 exotic products that are always available at the grocery store.
Seaweed
Seaweed, also called nori, is used mainly to make sushi, a Japanese classic that's firmly entrenched here in Canada. While some people prefer to enjoy it at a restaurant, others attempt to make their own at home.
Here are a few sushi recipes:
Toro Green Onions hand Shushi Roll 
Preparing sushi at home is fun, but what do you do with the leftover nori?
You can:
– Cut it into strips to garnish soups, salads, sushi bowls and tartars
– Grind and serve it as an aromatic (half salt, half powdered seaweed) for soups, chowders and salad dressings
– Make chips
Rice paper
Rice paper is used to make spring rolls. Simple to prepare, rice paper doesn't need to be cooked. Simply it in water for a short time in order to lay it out and roll easier. Be careful though! They're fragile and hard to work with, but after a few tries, you'll be a pro at making spring rolls!
Like sushi, many people prefer to enjoy spring rolls at a restaurant, but it can be really fun to make them at home! Here are a few recipes that will convince you to give it a try:
Mango spring rolls with Pickled with Shallot + spicy Almond butter Sauce
Green bean Spring Rolls and Peanut Butter Sauce
Fresh Shrimp Vietnamese Spring Roll
Noodles
Whether rice, soba, udon and even ramen noodles, noodles are a classically Asian. They incorporate easily into soups and salads. Try replacing rice or pasta with noodles to escape the usual routine.
Thai Stir Fry Noodles and Chicken
Vietnamese Shrimp Noodle Salad
Noodles with Pork and Lemongrass Stir Fry
Plantains
Plantains are very different from the regular fruit bananas that everybody knows, but they are from the same family. Unlike fruit bananas, they contain a lot of starch and are eaten as veggies. In the regions where they're grown, (Africa, West Indies and South America), they're served salted as a side for meat, chicken and fish dishes. Plantains are known in Canada, but few people cook them at home.
How to cook plantains
Less sweet and more firm than its cousin, plantains can be eaten raw, but people generally prefer them cooked. They're very versatile, so can be fried, boiled, roasted, poached, grilled, etc. Once reduced to a purée, you can also use them in breads and muffins to add consistency.
Black Bean, Yucca and Plantain Stew
Jibarito (Puerto Rican Plantain Sandwich)
Plantanitos, or Fried Plantains
Veggies
Daikon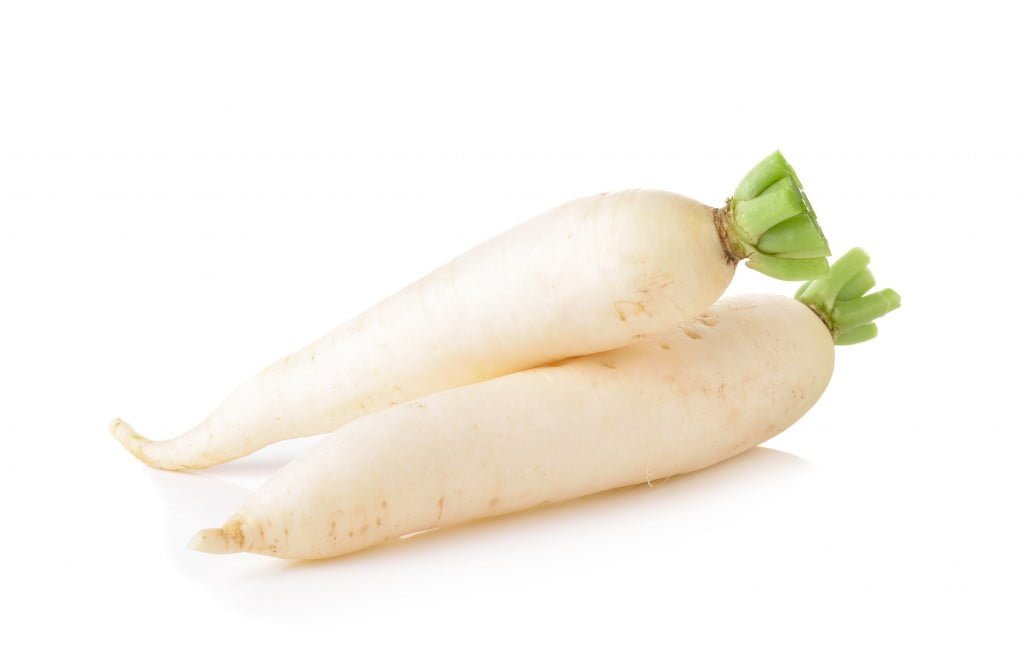 Also known as Japanese radish, daikon is a mild, white radish that is juicier than the red radishes we're familiar with. It's used a lot in Asian cuisine where they marinate it.
How to cook with daikon
You can prepare Japanese radish however you like because it can be eaten raw or cooked. Raw, it can be served as a crudité with dip. Simply julienne or cut into cubes and add to salads or even marinate it like they do in Asia! You can also steam or boil them, but not for very long as they taste is best when crunchy. Add daikon to stir-fries, soups and chowders.
Here are a few recipes that will help you tame this veggie:
Asian Noodle Salad with Napa and Daikon
Lotus Root and Daikon in a Maple-Yuzu Marinade
Rice Salad with Pickled Carrot and Daikon
Bok choy
You've probably heard of bok choy as it's become popular in the last few years. Sometimes called Chinese cabbage, this veggie has a mildly spicy taste that marries really well with Asian recipes.
How to cook boy choy
Bok choy can be eaten raw or cooked. You can grill, braise, steam or stir-fry in a wok – the possibilities are endless! It's even more flavourful when it's still crunchy, so don't overcook.
Let these recipes tempt you:
Spicy Sesame and Ginger Bok Choy with Bean Sprouts
Spinach Salad with Seared Bok Choy, Ginger and Cilantro
Spicy Beef and Bok Choy Stir-Fry
Roasted Bok Choy with Radish and Lemon
Spicy Orange Salmon with Bok Choy
Cassava
Cassava is a root vegetable that's also called tuber like potatoes and carrots. It's grown and consumed mainly in Africa, Latin America and Asia. In Africa, they not only cook tuber, but also their leaves.
How to cook cassava
Cassava can be cooked like potatoes and are fairly easy to substitute in lots of recipes. Just peel and chop before cooking.  
There's also cassava flour that's used in desserts. Actually, tapioca is made from cassava starch!
Are you curious about cassava? Try one of these recipes:
Naryal Vaaro Mogo (Cassava in Coconut Cream)
Mandioca Frita (Fried Cassava)
Yuca, Sweet Potato & Chickpea Coconut Curry Recipe
Are you curious about all this food? Let us know how you like to cook traditional meals from other countries, but mostly, tell us which are your favourites!