Whether it's because you have to or because of your desire for independence, leaving the family nest will happen eventually. The pantry will never be replenished on its own and the lingering smell of your favourite spaghetti sauce will be a thing of the past. From now on, you're in charge of the food! So a few tips about groceries are in order!
Remembering the average cost of a cart even if you've already done your first grocery trip a couple of years ago, you'll be happy to discover some new tricks to help lower the bill the next time you go to the grocery store.
Challenges of doing groceries for the first time
To give you a better idea of what the first trip to the grocery store will be like, we've asked some young and not so young people to share their experiences. When we asked them what was the hardest things about the first time they did groceries, they responded that meal planning, respecting their budget and understanding product labels (ingredients and nutritional value) were the most difficult.
Some advice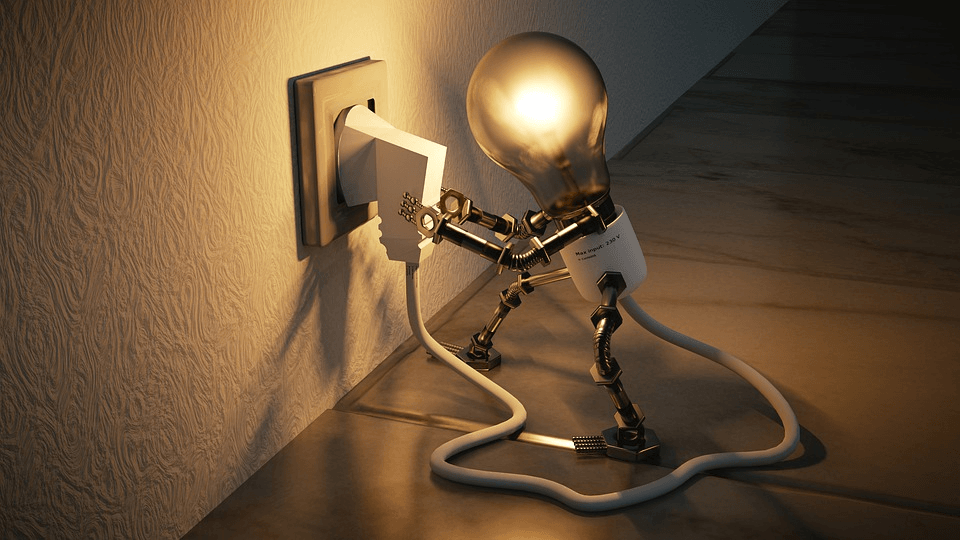 Let's see how to overcome these challenges! Here's some advice participants gave:
Planning meals

Plan meals using flyers to benefit from rebates

Cook large quantities for leftovers when you have less time
Respecting the budget

Make a grocery list based on the weekly meal plan

Shop on a full stomach so you don't give in to products you don't need

Favour economical sizes

Find someone to share expenses items that you purchase less frequently like flour, toilet paper and sugar, for example

Take your time the first time you do your own groceries: you don't have to buy all the condiments at once because they could go on sale next week

If possible, take a few things from your parents' cupboards so you don't start off completely empty-handed.

Favour the supermarkets' more economical banners (Maxi, Super C, etc.) whenever possible because according to a 2016 study by

Protégez-vous

(French only), the cost of a grocery cart will be 13% less expensive.
Understanding product labels

Ask an experienced person for advice and if possible, ask them to go with you the first time you do groceries.

In the meantime, the article "

10 Tricks to understanding food labels

" could help clarify things for you!
The basics: what to get and how to store it
Now that you're aware of the challenges facing you, let's get to the food you'll find particularly useful to start cooking at your new place. Obviously, this isn't an exhaustive list, so adapt it according to your own tastes and budget!

For tips on basic cooking terms and explanations, read our article, "Moving into an apartment: kitchen essentials". For spices, we suggest you take a peek at our article called, "Herb and spice guide for great flavour combinations". You'll learn which spices will best enhance your recipes.
In terms of oils and vinegars, olive oil and balsamic vinegar are fantastic in salads. We recommend using oils that have a smoke point above 425 °F for cooking which includes canola, peanut and refined olive oil. The smoke point corresponds to the temperature that oil or grease start to smoke at. Above this temperature, oil degrades and gives food a bad taste. That's why extra virgin olive oil isn't recommended for cooking because it has a smoke point of 325 °F.
Making a budget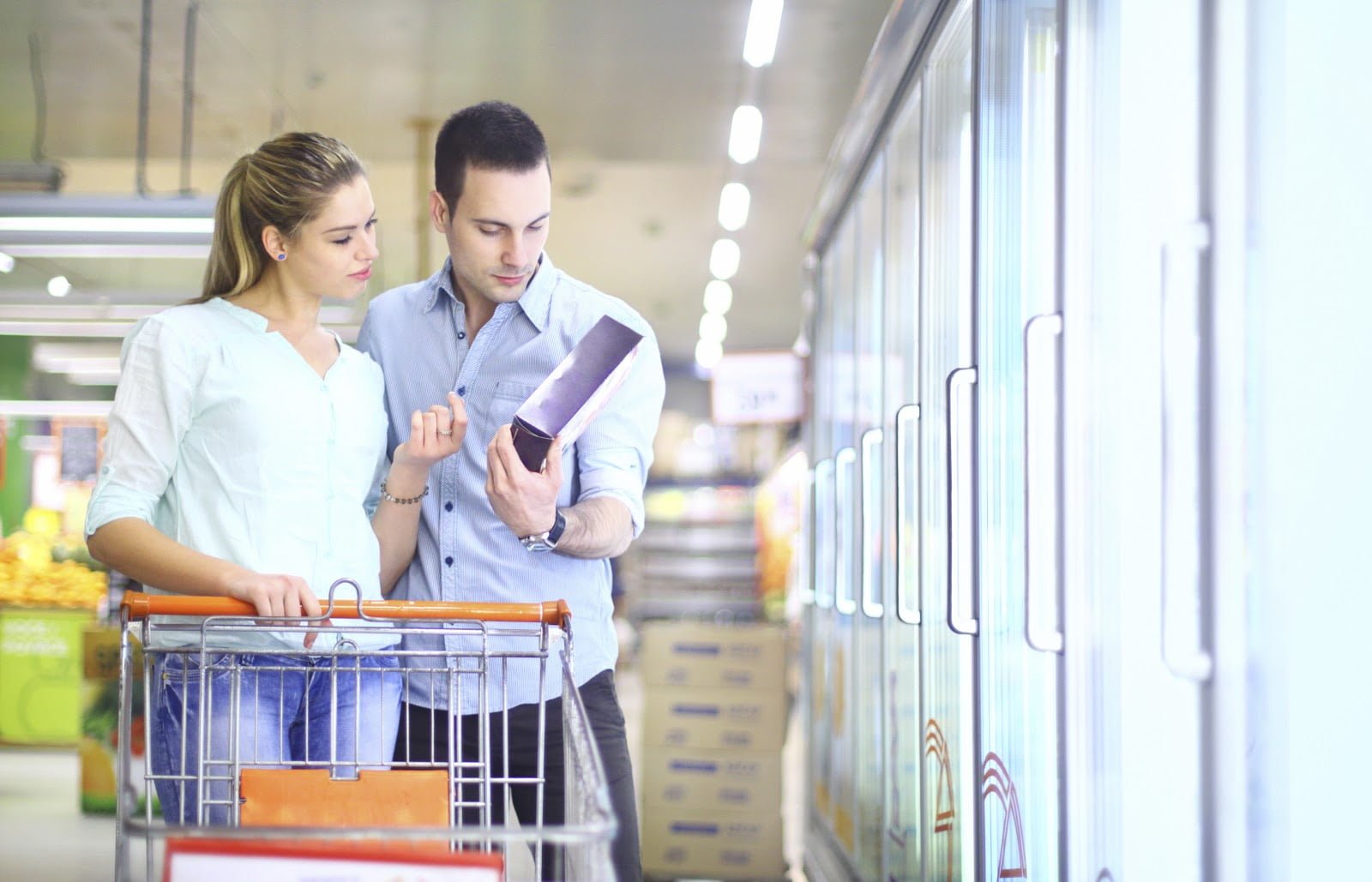 The Financial Consumer Agency of Canada has prepared a student budget worksheet that will help you establish an amount for groceries based on your income. The University of Laval budgets about $400 a month for food, $350 for groceries and $50 for restaurants.
How much do groceries cost?
The first time you go grocery shopping will cost a little more because you're starting from scratch, so it's not uncommon for the bill to be around $150 to $200. It's a necessary evil, but after that, it'll cost considerably less. If you rely on the University of Laval budget and on the survey we conducted, on a 30-day month, a student should be able to feed themselves properly on about $80 per week.
According to the Canada Food Price Report, between 2017 and 2018, an average family of two adults and two kids should see an increase from $11,600 to $11,948 in their yearly grocery, about $230 per week. This increase of $348 per year is attributed mainly to the increase of ready-to-eat food and eating out. In fact, $208 of the $348 was from eating out. The second main reason for the increase was the cost of fruits and vegetables which will go from 4% to 6%.
How to save on groceries
First of all, the advice for facing the challenges of doing your own groceries for the first time are a good starting point, but let's take a look at the tools that can take you further.

1. Choosing the right place at the right time
As a student, you can get lots of discounts – you just have to ask around. For groceries, often you'll get 10% off the total bill if you go Monday, Tuesday or Wednesday. Find out more from your grocery store to take advantage of their promotions!
2. Apps
There are lots of apps that'll help you either do groceries or save on them. Here are just a few: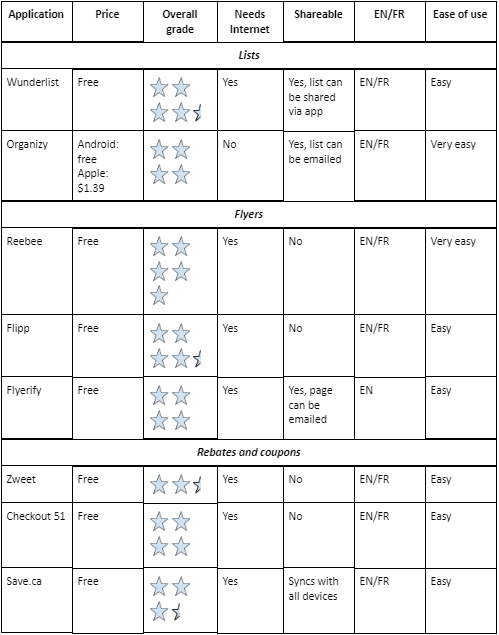 3. Loyalty cards
How to loyalty cards work? A loyalty card gathers data about your consumption habits so the merchant can give you personalized offers. In exchange, you get points.
For example:
At Metro, you get 1 point for every dollar spent and every 1,250 points give you $10 in rewards

At IGA, every $20 in purchases gives you 1 mile and 95 miles gives you $10 at IGA

At Maxi, Loblaws and Provigo, the dollar value of the points varies according to the offers and you get $10 off purchases when you reach 20,000 points
To learn more, read the article "How students can save money with loyalty programs".
4. Other tips
Avoid processed or ready-to-serve products. The cost will be lower and you'll be healthier.

At least once a week, replace meat with an alternative like tofu or legumes. This will help lower your environmental footprint and your bill – two birds with one stone!
To learn more tricks on how to save, read "15 ways to save at the grocery store".
After groceries, get cooking!
It's normal to feel out of sorts when you're first starting out in the kitchen. And planning a meal is a big challenge after you've made your first trip to the grocery store. So we've put together a few simple, quick and nutritious recipes – just the thing for students.  They'll help you avoid pizza pockets and canned spaghetti!
Tuscan style soup – 5 minutes to make
 
Ingredients

½ bag (375 g) Arctic Gardens vegetables for spaghetti or lasagna

¼ c olive oil

½ c (125 ml) pancetta, chopped small (optional)

4 cloves garlic, finely chopped

2 c (500 ml) tomatoes, chopped

1 tbsp (15 ml) basil

8 c (2 L) chicken stock

salt and pepper

3 c (750 ml) spinach, chopped

Macaroni casserole with meat and veggies – 15 minutes to make
Ingredients

1 lb (450 g) macaroni, uncooked

1 bag Arctic Gardens Italian vegetable mix

1 lb (450 g) ground beef

4 c (1 L) tomato sauce

2 to 3 tbsp (30 to 45 ml) basil pesto

salt and ground pepper

2 c (500 ml) cheddar cheese, grated
Chicken and vegetable pot pie – 20 minutes to make (ideal for using up leftover chicken)
 
Ingredients

3 tbsp (45 ml) butter

¼ c (60 ml) flour

3 c (750 ml) chicken stock

¼ c (60 ml) cream, 15% or 35%

2 c (500 ml) Arctic Gardens mixed vegetables

4 c (1 L) cooked chicken, chopped

3 tbsp (45 ml) sun-dried tomato pesto

1 lb (450 g) pie crust
Big batch spaghetti sauce – 25 minutes to make (there will be enough sauce for busy nights!)
Ingredients

½ c olive oil

3 ½ lb (1.6 kg) Arctic Gardens vegetables for spaghetti sauce

4 cloves garlic, chopped

3 cans x 398 ml tomato sauce

2 tbsp bay leaves

2 tbsp salt

2 tbsp basil

2 tbsp oregano

1 tsp ground pepper

1 tsp chili flakes
You'll also find the article, "Arctic Gardens to the rescue: fast and easy recipes just for students!" really helpful for planning your weekly menu, so take a look! And to add a touch of originality to your dishes, read this article called, "Delicious taste combos to inspire you!" You'll discover 21 veggie and spice combos you can use to create your own recipes. With these tools, you'll be equipped to put together great little meals on your own and manage your budget. Don't hesitate to share your tricks on how to save and be more efficient when you do groceries. Finally, we encourage you to visit our website where you'll find tricks and tips on how to best use frozen veggies.
Shop well, shop wise!