Are you or a loved one moving soon? Moving marks an important stage in life, especially for those leaving the family nest.
Moving into an apartment is the first step you take as a grownup. That's why it's important to thoroughly prepare. To help new renters, we've made a list of essentials to get and everything you'll need to know about cooking for apartment living, so you'll be ready for your new life!
List of Kitchenware to Buy
There is so much kitchenware on the market today that you can easily get lost! For your first apartment, don't go for the heavy stuff. Stick to the basics. As space is limited, buy practical items that you'll use often. Here's the list of things you'll need to equip your new kitchen:

Stove, fridge, microwave, toaster oven, coffeemaker and/or teapot are the essential appliances to buy to equip your first apartment.


Equip yourself with at least a small, medium and large pot, as well as a small and large non-stick pan.


As for cutlery, you'll need forks, knives and spoons (at least 6 of each).
For kitchen tools, you'll need a good knife, cutting board, whisk, can opener, ladle, spatula and rubber spatula (which is good for scraping the bottom of pots).

Fill your cupboards with plates, bowls and cups which are often sold as a set. And don't forget to pick up some glasses!


Mixer, baking sheets, strainer, juice jug, mixing bowls, measuring cups, baking dishes and containers are the last of the kitchen basics to get. Not only are they useful, but they're almost essential in the kitchen!
Asking those close to you for kitchenware they don't use anymore can help you save money. An old toaster oven, coffeemakers or microwave that hasn't been used in a while, but that still works, can be useful in your new apartment. Garage sales and second-hand stores are also good options to find hand-me-downs.
The First Time You Do Groceries
Don't be surprised at the prices when you get to the cash. The first time you do groceries will be expensive. Expect the bill to be between $150 and $200. However, it will include products that you'll rarely buy because they last for a long time.
If you live alone, you should spend about $50 or $60 a week for food, unless you eat out a lot.
List of basic food items to purchase
Fruits and vegetables of your choice
Sliced bread
Cold cuts
Meat of your choice (ground beef, chicken breast, etc.) and/or fish
Yoghurt
Milk
Cheese
Eggs
Butter or margarine
Cereal
Vegetable oil: olive, canola or avocado oil
Vinegar
Condiments: mayonnaise, mustard, ketchup, salad dressing, etc.
Canned goods: vegetables, legumes, soup base, tomato juice, etc.
Flour
Sugar and brown sugar
Salt and pepper
Spices: parsley, basil, thyme, oregano, mixed fine herbs, curry, etc.
Coffee and/or tea
Breakfast spreads: jam, peanut butter, etc.
Pasta
Rice or couscous
Of course, you can adapt the list according to your own tastes and budget!
Tricks on How to Save
When you're in school or when you start working, your budget is limited, so you try to spend as little as possible. Here are a few tricks to help lower your grocery bill:
Buy hygiene products like toilet paper, tissues and hand and dish soap at large discount stores where they're generally cheaper.
For chili or spaghetti sauce, cut the amount of meat in recipes in half and make up for it with legumes or cubed, crumbled or grated firm tofu.
Avoid waste! Eat last night's leftovers for lunch or cook them another way.
Stock up on small dishes from home when you visit your parents  😉
For more tricks, consult our article "15 ways to save at the grocery store".
Kitchen Basics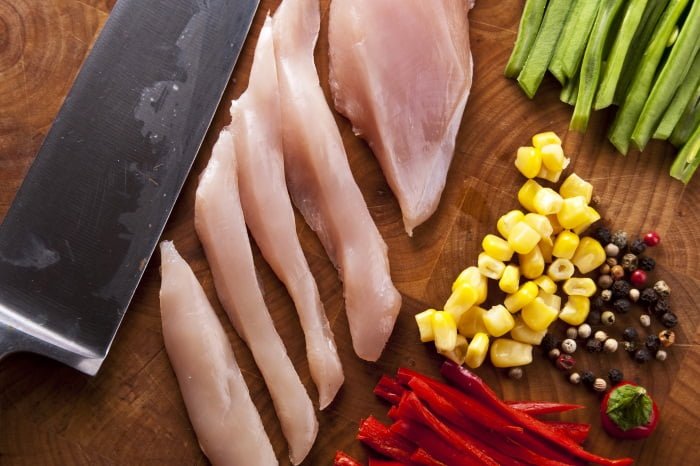 Tricks to Simplify Life in the Kitchen
Cooking can be a headache for some people, so here are a few tricks to simplify meal prep:
Plan your weekly menu. You'll never be caught off guard if you plan in advance what you'll eat during the week.
Use canned or frozen vegetables. They're precut and prewashed, so you just have to add them to your recipe. You'll also avoid wasting as you'll only use what you need.
Prepare dishes in the slow cooker. Just add ingredients to the slow cooker before leaving in the morning and you'll have a delicious dinner ready for you when you get home at night.
Separate recipe prep. If you only have time to make one recipe, divvy up the task. Chop veggies and premeasure ingredients the night before and cook your recipe the next day.
Choose simple meals. Casseroles, slow cooker meals and one-pot pastas are simple to make because they cook quickly and don't dirty too many dishes. Talk about benefits!
Cooking Glossary
Roll out: To spread out pastry with the aid of a rolling pin for a uniform thinness
Temper: Sweeten the taste of a dish by lessening the most pronounced taste, sugar for tomatoes, cream for soups, etc.
Dilute: Add liquid to the preparation
Mix: Blend several ingredients
Baste: To pour cooking juices over food to keep it moist as it cooks
Blanch: To scald in boiling water in order to cook. In baking, to beat egg yolks and sugar on high
Caramelize: To cook white granulated sugar with a small amount of water until it turns into a nut-brown coloured syrup
Deglaze: To add liquid to a pan after something has been roasting or sautéing in it
Debone: Separate the meat from bones
Shred: Separate or pull food apart by tearing with fingers or a fork
Drain: To remove water that a food was submersed in (pasta, canned vegetables or legumes, for example), but pouring everything out into a strainer or sieve
Deseed: Remove seeds from their pod (remove seeds from a pepper, for example)
Crumble: To break into small pieces with your fingers
Mince: To cut into very small pieces
Coat: To cover food by plunging or dipping it into a liquid
Thicken: To make less watery in consistency by using a thickening agent (cream, cornstarch, etc.)
Flour: To roll food in flour or dust a mould in flour to minimize sticking during the cooking process
Grate: To cover a dish in cheese, then bake in the oven (lasagna, casserole, etc.)
Chop: To cut food into small pieces using a knife or food processor
Marinate: To place food in liquid preparation (marinade) in order to give it more flavour
Whisk: To beat vigorously in order to add air to a preparation
Mash: To reduce to a soft pulpy mass with a masher
Poach: To cook very gently in liquid that is hot but not actually bubbling
Reduce: Boil a sauce or stock slowly in order to increase flavour
Reserve: Set aside for another step of the recipe
Sear: To cook the surface of food quickly with intense heat in a pan or in very hot liquid
Zest: To remove the outer layer of the peel of a citrus fruit to use as flavouring
Cooking Techniques
Sautéing
Sautéing is the perfect technique for beginners in the kitchen because it's super quick and easy! It's searing food in the pan at very high heat while continually stirring.
To learn more about this technique and discover a few recipes, take a look at our article, "Stir-Fries in a Snap!"
Grilling
In principle, you grill food on the barbecue grill, but you can also grill in the pan. Heat oil in the pan to medium. Once very hot, add food and stir.
It's best to cook meat and veggies separately so raw meat doesn't come into contact with the other food. If you're using only one pan, cook the meat first, then add the veggies.
Slow Cooking
Slow cooking is another really easy technique. It does take longer, but still has many advantages! Owning a slow cooker will make cooking a lot easier, but it isn't the only way to slow cook food. To slow cook, put food in an oven-safe pot (or in the slow cooker), then cook low and slow (at a low temperature for a long time). While it's cooking, you can take care of other things! Practical, eh?
Learn more about different slow cooker options in our article "In the Spotlight: Slow Cookers".
Roasting
Roasting is a really simple method of cooking that can be used for everything from meat to veggies. Just put seasoned food in a baking pan and put it in the oven. Follow recipe directions for the proper roasting temperature which is generally around 350 °F.
Boiling
Boiling means heating liquid (water or stock) at a high temperature until it reaches the boiling point (100 °F). Pour liquid into a pot and place it on an element heated to maximum. Once the liquid has reached the boiling temperature, lower the heat to medium and add ingredients to the pot. This is also how you make pasta, veggies, hard-boiled eggs or simply boil water for tea!
The Secret to Making a Recipe Successfully
The secret for a successful recipe is simple: approach cooking like an activity, not a task. Of course, you have to follow the recipe for it to turn out, but the more you get comfortable in the kitchen, the more you can wing it. To get comfortable, just have fun!
When you first start cooking, it's normal for dishes not to come out perfectly. The important thing is to keep trying and be daring, but mostly, have fun experimenting!
A Few Clever Tricks for Your Dishes
Prepare big batches for the freezer so you can have ready-made meals in advance. For even more fun, cook in a group.
Focus on less expensive, nourishing and nutritious food like legumes, whole wheat pasta and even canned tuna.
Use the same ingredients for several recipes. For example, make a whole chicken with a side dish for one night. The next day, use leftovers in a sandwich, salad or soup.
Add legumes to soups, chowders and salads for a complete meal.
Is your dish too salty? Add a little lemon juice to offset flavours.
Get yourself a cooking thermometer to ensure that meat is cooked safely. For more on safe food temperatures, consults this guide to safe internal cooking temperatures from the Government of Canada.
For a fast breakfast, make a smoothie that you can bring to class or work. For something that'll take you a little further, add silken tofu.
Instead of buying fruit drinks, fill up a water jug with fresh fruit and herbs to make your own flavoured water.
Inspiring recipes
If you're just starting out in the kitchen, you'll learn more quickly if you're properly equipped. There are lots of cooking blogs at your disposal. As well, bookstores carry cookbooks for beginners that are perfect suggestions as a birthday or Christmas gift!
As for us, we have a few recipe suggestions that will inspire the chef in you!
Here's a list of quick and easy recipes for weeknights:
Tuna and vegetable one pot pasta
Mexican Spaghetti Squash Bowls
Macaroni casserole with vegetables and meat
Avocado and Egg Breakfast Pizza
Tuna, Tomatoe and Mozarella Salad
Arctic Gardens also has a selection of students. Discover them in this article!
For the courageous, here are recipes that are a little more complex, but that will certainly get your mouth watering:
Parmesan and pancetta pea soup
Green bean spring rolls with peanut butter sauce
You're now ready to move into your new digs! Consult our lists so you don't forget anything when you move or for the first time you do groceries. And don't hesitate to share them with the people you're close to who are moving. So in your opinion, what are the essentials you need to know before moving into an apartment?