We tested them for you: ready-to-cook meal kits
Although most of the ready-to-cook meal kit companies have been around since 2014, they've become a lot more popular in the last year. Their offering, which essentially revolves around saving time and making things easy, increasingly meets many people's needs. The principle is very simple: you choose your recipes ahead of time, then the ingredients are delivered to your home or work. All you have to do is follow the instructions and cook.
In Quebec, the competition is intensifying around Goodfood, the first meal kit company to win Quebecers over. The company also delivers in Ontario and the Maritimes. Founded in Ontario, Chefs Plate is now delivering to every province in Canada except Newfoundland and Labrador. Quebecers can also order from Cook it (which delivers to Ontario, too), MissFresh (delivery across Canada), and Kuisto (only delivers in the Montreal area).
All of these companies use an online subscription format, but there is no obligation as to order frequency. At Arctic Gardens, all the enthusiasm has piqued our interest, so we decided to test meal kits from three of the companies: Goodfood, Cook it and MissFresh. Here's our take on ready-to-cook meal kits!
How meal kits work
The principle is very simple: you choose your recipes in advance, the ingredients are delivered to your home or your work and you just have to follow the instructions to make the recipes!
Options for different diets
Meal kits may not seem convenient for people with other dietary needs. Since the advantage lies in having all the ingredients on hand, this kind of product may not be attractive to people with intolerances, allergies or those who are on specific diets. However, some companies wanted to reach as many people as possible, so they added vegetarian, gluten-free and dairy-free recipes to their roster.
In general, the GoodFood site gives you access to 3 vegetarian, 5 gluten-free, and 6 dairy-free dishes. Cook it also offers 3 vegetarian meals, and a few low-gluten meals. MissFresh offers 3 vegetarian dishes per week.
To make sure your box meets your needs, check the list of ingredients for the recipes provided on their websites.
Kit delivery
Is your schedule so packed you can't be home to take delivery? Don't worry. The meal kit companies have thought of that.
First, you can choose the delivery day that suits you the best. Also, if you're ordering from MissFresh, you can even get your recipes delivered to your local Metro store.
Secondly, the ingredients used in the GoodFood and Cook it recipes come in chilled boxes. The ingredients will stay fresh, even if your box stays on your doorstep all day. MissFresh stores the ingredients in an insulated box for maximum freshness.

(photo: Goodfood)
Firstly, when you select your recipes, you can also select the number of portions, which generally range from 2 to 6. Ready-to-cook meal kits are suitable for everyone, from families to people who live alone. Are you a solo cook? Check out the article we wrote with you in mind on the pleasure of cooking for one.
The kit also contains the instructions for the recipes you choose, and nearly all of the ingredients, portioned out. Usually, the only things not included are olive oil, butter, salt and pepper. Liquid ingredients come in small containers, while solid ingredients are in bags.
In our view, this kind of packaging is a negative aspect of meal kits. After preparing the recipes, we ended up with an unbelievable number of containers and plastic bags. Yes, they can be recycled, but it's an extra burden on our city's recycling system. The companies chould collect the containers and bags, so that they can be cleaned for reuse in future deliveries.
Saving time
Inevitably, the meal kit offering revolves around saving time. When you order the kits, you don't have to figure out what to cook this week, or plan your shopping list in advance. Getting the ingredients delivered also means you avoid wandering up and down supermarket aisles, which can take quite a while when you're making a recipe for the first time.
In fact, making a recipe has never been this easy. You've got all of the portions of the required ingredients on hand (except for those not included), and the instructions are very precise and efficient. It takes 15 to 45 minutes to prepare the recipes, which is quite impressive when you see the final result.
Still not ready to jump on the meal kit bandwagon? Check out our article Shop smart at the supermarket! for some help with your next grocery run.
That being said, the foods in the kits are usually of the same good quality as the food you find at the grocery store.
Food quality and freshness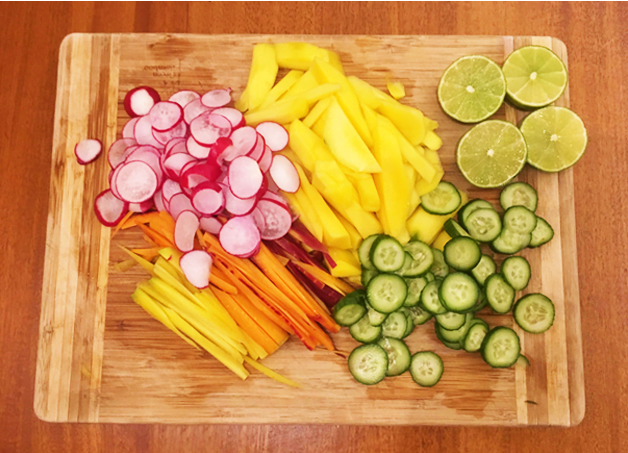 MissFresh, vegetarian poke recipe
When the box arrives, the ingredients are pretty and fresh, even if they sat in the box for a whole day.
GoodFood promotes Quebec products by buying from local producers. Depending on the season, GoodFood is also committed to having all products come from Canadian farms. The company favours products with no additives and preservatives, and buys meat and fish from eco-responsible sources.
Similarly, MissFresh works with local producers in order to offer the best products to their customers. Meat is vacuum-packed to maintain freshness.
Cook it pledges to offer you local ingredients, hormone-free meat, and fish from sustainable fisheries.
The only downside to the food is that it does not stay fresh very long. For example, if you get your box Monday and keep the recipes for Friday, you could be in for an unpleasant surprise, like food that is not at its peak, or even past date. That's why we recommend ordering 3 recipes per week, and cooking them in the days following delivery. If you get the box Monday, you would have a meal Monday night, Tuesday night and Wednesday night, with good-quality recipes.
After getting the box with all the necessary ingredients, it's time to put on the apron, and try the recipes out.
Recipe preparation
Preparing meal kit recipes is both very easy, and fast.
All the required ingredients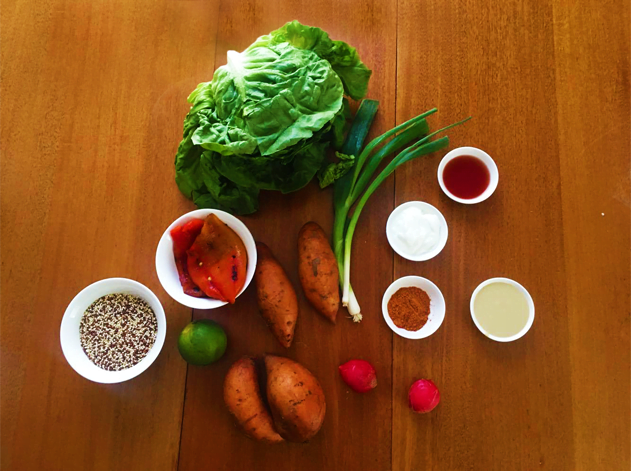 Goodfood, sweet potato and quinoa recipe
When you're making the recipes, you have all the ingredients right there. All you have to do is chop the vegetables and spices, etc. Liquids, like sauces and eggs, are portioned and ready to be added.
Meal kits have a real edge when it comes to food waste. Because you have the portions you need for your recipe, you don't have to throw anything out, or store it in the fridge. Everything has been thought through so you don't have too much, which lowers the chance of having food you don't know what to do with.
Moreover, at the grocery store, foods are usually sold in large quantities, although we often only need a little of an ingredient. The meal kit principle combats food waste, which is a common problem in our society. Did you know that, according to Statistics Canada, $50 worth of food ends up in the garbage each week, equivalent to about ⅓ of the contents of our grocery cart? For more information, see our article A sensible kitchen to control waste!
Meal kits may seem a little expensive at first glance, but they turn into a real investment because, in wasting less food, you waste less money.
Fast, easy recipes
In general, the recipes take 15 to 45 minutes to prepare, including cooking time. All of the recipes we tested were very easy to make. Have no fear, though—quick and easy does not mean boring. Most of the recipes come with sides and all are original. Since everything is on hand and already portioned, you save a lot of prep time.
The instructions are very well explained and easy to follow. Even if you're not a famous chef, you will get wonderful results. In fact, it's good for you: with the meal kits, you can get out of your comfort zone with no trouble at all.
Get your kids involved, too: these recipes are so easy to cook they're child's play. For more great ideas for getting the apprentice cooks involved, see 10 activities that make food fun for kids.
The flavour of the recipes: goodbye routine
The time has come to taste the meal kits' original recipes.
Original recipes

MissFresh, vegetarian poke recipe
The meal kit recipes will certainly get you out of a rut. The companies strive to include diverse ingredients from around the world. For example, MissFresh's vegetarian poke bowl features  tempeh, a product that originates in Java, Indonesia.
Recipes bursting with flavour

Goodfood, sweet potato and quinoa recipe
What we loved about the meal kits is that they give it everything they've got when it comes to seasoning. The recipes are all extremely tasty and introduce us to new flavours. Since everything comes in small portions, you have a chance to discover spices you would never have dared buy, thinking you would not be able to use the whole product.
With the kits, whether they come from GoodFood, Cook it or MissFresh, in addition to the basic ingredients, you get many herbs and spices to punch up your dish. Surprise your taste buds. To give that special extra touch to your traditional recipes, take a look at our  Herb and spice guide for great flavour combinations.
The recipes' nutritional value

Photo : Cook it, mushroom and miso ramen recipe
Nutritional value can vary a great deal, depending on the recipe, but you have access to that on the websites. To learn how to analyze nutritional values, see our article 10 tricks to understanding food labels. Looking at the recipes reveals a strong trend. Most of the dishes are very high in sodium. In general, the maximum sodium intake per individual is 2,300 mg a day; healthy adults only need 1,500 mg. Given that, some of the recipes provided are close to 1,500 mg of sodium, while others are much higher.
We recommend that you keep a close eye on nutritional values when you choose your menu.
Cost of recipes
The recipes generally cost between $7.49 and $10.83 a portion. This varies with the type of box chosen. A box that contains 4 portions of 4 recipes generally works out to less than a box with 4 portions of 2 recipes. To help you assess the cost, we compared two meal kit dishes with dishes we prepared ourselves using the same recipes and ingredients from the supermarket. We compared the price for the required portion of an ingredient, not the price for the whole product.
That's a difference that can really add up in the long run. On the other hand, some people find that the time they save is worth it. It depends on your priorities. .
Table comparing the three companies
Do you want to try meal kits but don't know which company meets your needs? Our little comparative table can help.
The verdict
In conclusion, meal kits have many advantages and some drawbacks. In our opinion, their value differs based on individual priorities: they're perfect for people who prefer to pay more and save time, but not for those who want to spend time rather than money.
That being said, we were amazed at the final results: the recipes were colourful, flavourful, and original. However, we recommend that you take a close look at the recipes' nutritional value, and find a way to reuse the containers, perhaps to store leftover spices and sauce, to save space.
Now, it's your turn to test meal kits. Please let us know what you think.