15 dessert recipes for a perfect Christmas
The snowflakes are perhaps not come yet, but we're putting up our decorations and Christmas songs are playing on the radio… You know what that means? Yup, the holiday season is at our door!
Well-deserved time off, having fun with the family, as well as rich, satisfying meals await you. The holiday menu is always full of succulent delicacies, especially when it comes to dessert. We've prepared for you a dossier full of recipes organized into five types of desserts to satisfy the most gourmet of gourmets out there! Arouse your sweet tooth!
Classic desserts to satisfy all tastes
Whether big or small, if you love the classics, you'll want to see them at the Christmas table. Without these desserts, the holidays would lose their magic! Here are three of our favourite classic recipes:
Christmas log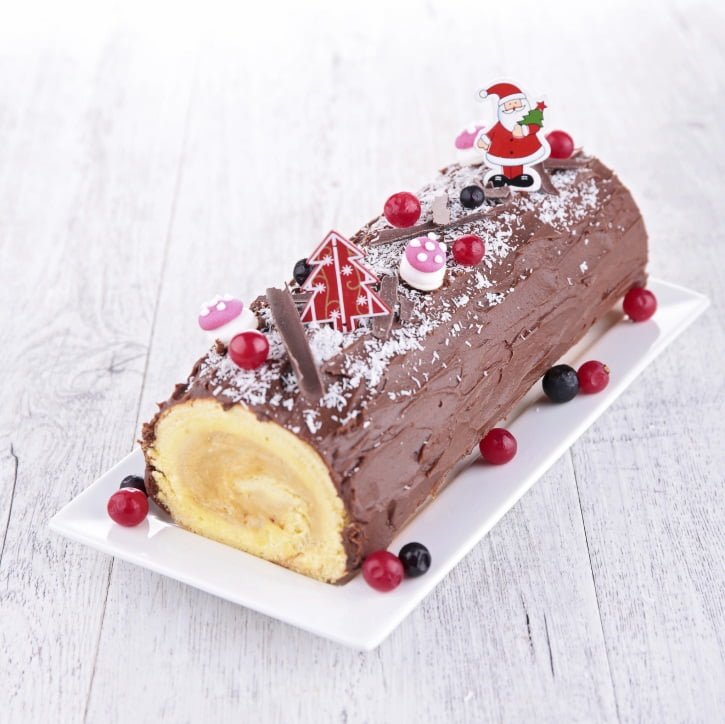 Whether chocolate, vanilla or ice cream, the Christmas log, which generally has a festive look, must be found at every table. Originating in France, this tradition has been part of our homes for many centuries. The traditional cake had a Genoese cookie base, and butter and coffee cream, but today in comes in several different flavours.
We propose this Chocolate  Yule Log that will whet your appetite!
Christmas fudge
No one can resist a plate of fudge for very long. There are as many recipes as there are families and we'd love to taste them all! So here are a few that combine two sins (sugar and cream) in one recipe: maple fudge.
Fruit cake
One of the greatest Christmas classics is without a doubt the ever-famous fruit cake. Some may find it a little dated, but it's always good! Try to prepare this classic dessert yourself and make your grandma proud!
Amazing recipes to impress your guests
A classic is great, but once in a while, it's nice to try something new to liven things up! Surprise your guests by offering them Christmas desserts that are extraordinary. After all, the more there is, the better it is! Here are three original recipes that are sure to please:
 Chocolate bark
Chocolate bark incites the imagination: you can top it with pieces of cookie, candy canes, candy or chocolate. Go with what you like. You can serve it as a dessert, but also a snack to satisfy a sweet tooth!
Christmas truffles
Photo: Squirrel Bakes
Truffles have a reputation of being messy and long to prepare, but we've found a Christmas truffle recipe that can be whipped up in no time at all and they promise to impress everyone at the table!
 Mousse in glass jars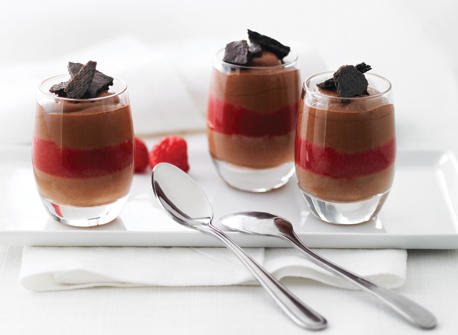 Photo: Dairy Goodness
Little glass jars are becoming more and more popular. As well as being really pretty, they're an original way to present desserts. Mousse is perfect to serve this way. We propose this chocolate and raspberry mousse in glass jars recipe to complement your meals during the holidays. Your guests will be delighted and find them delectable!
For a little more festive touch, use white chocolate. Your dessert will look a little like Santa's hat!
Easy recipes to make with kids
Christmas is a family holiday, but we don't always have enough time to share special moments with the kids because we've got to get so many things done.
The remedy so this problem is to get them involved in the cooking. But watch out! You can't be afraid to get your hands dirty! Your little chefs will love to cook these three fun and easy recipes and they'll be proud of doing a good job.
Christmas cookies
Kids can let their imaginations run wild with this Christmas cookie recipe. Give the kids the cookie cutter shapes they want. Once the cookies are baked and cooled, let them decorate them. Use food colouring to change the frosting colours. A fun and delicious activity for the whole family!
You can even leave personalized cookies out for Santa for when he stops by!
Christmas cupcakes
Your kids will love these cute Christmas cupcakes! And you know what they'll love most? Making them with you!
Show them how to use the pastry bag by filling a few with the little plastic sandwich bags with different coloured frosting. Let the kids explore. You'll see cute works of art on top of these little cakes!
Cakepops
Photo: Itinéraires gourmands
Involve the kids when making cakepops and have fun decorating them together after! Prepare a few small bowls for toppings (crushed nuts, confetti candy, crushed candy cane, mini chocolate chips, broken pretzels, etc.) and a bowl of melted chocolate. Push sticks into the cake balls, dip them in chocolate, then the toppings. It's easy and fun!
Little ones who are good at crafts will love helping you make this dessert and everyone will love eating them – even the grownups! They're mouthwatering!
Original desserts as gifts
For Christmas lovers, it's hard stay on budget because once you've started Christmas shopping, it's hard to stop! But there are way to watch your wallet while thinking of the people we love. You can, for example, make your own gifts. A little something made by hand has a lot of value and gives a lot of pleasure.
Have you already thought of something you can make for the ones you love? This year, we're making desserts that are the perfect Christmas gift. Discover these three recipes that are perfect for under the tree:
Dessert in a jar
To give desserts in this original way, layer the dry ingredients in a jar that you've decorated with a pretty label and write the cookie recipe and directions on it.
Photo: Food Nouveau
Choose your favourite cookie recipe or this brownie in a jar recipe. And voilà! You've got a nice original gift that will make someone happy!
 Hot chocolate
Like you did for the cookies, mix the dry ingredients together and put them in a nice jar. Decorate with a pretty label and on it, list the ingredients that must be added, as well as the directions, then give to loved ones. They'll always have homemade hot chocolate at their fingertips – something they'll appreciate especially on cold winter days!
We propose this delicious hot cocoa recipe to put under the tree!
Chocolate candied orange
Giving this unique chocolate covered candied orange peel recipe is like giving homemade candy! Wrap the whole thing in hand-decorated cellophane or put it in a box with a simple red ribbon. Orange lovers will adore this treat that will remind them of the holidays!
Healthy desserts to be enjoyed without the guilt
During the holidays, we eat, then eat some more! How can you not want to taste everything that looks so good? We do know, however, that we should avoid going too far.
If you want to enjoy dessert without the guilt, here are three delicious recipes that will let you spoil yourself while keeping a good conscience!
Sweet pea brownies
One bite of this brownie and you'll find it hard to stop! Arctic Gardens thought of everything by adding sweet peas into their brownie recipe. And poof! A serving of veggies as well. This is a good excuse to help yourself to another piece of this treat!
Queen Elizabeth vegetable cake
The Queen Elizabeth vegetable cake is an undisputed classic. Arctic Gardens took it upon itself to reinvent it by making it healthier by adding its floret duo. The result is surprising and exquisite which will make you the envy of all the foodies!
Upside-down apple corn cake
Ah, the smell of apple and cinnamon reminds us of the holidays. Before your guests arrive, make this upside-down apple corn cake and the aroma will get them in the mood for Christmas dessert.
So now you have festive desserts that will please everyone's tastes. Once again, the holidays promise to be pure indulgence this year!
Delight your loved ones, as well as yourself with these mouthwatering recipes. Whether a classic, original or healthy dessert, it's important to enjoy these treats with the people you love! So which kind of dessert will you dare to try Christmas 2015?