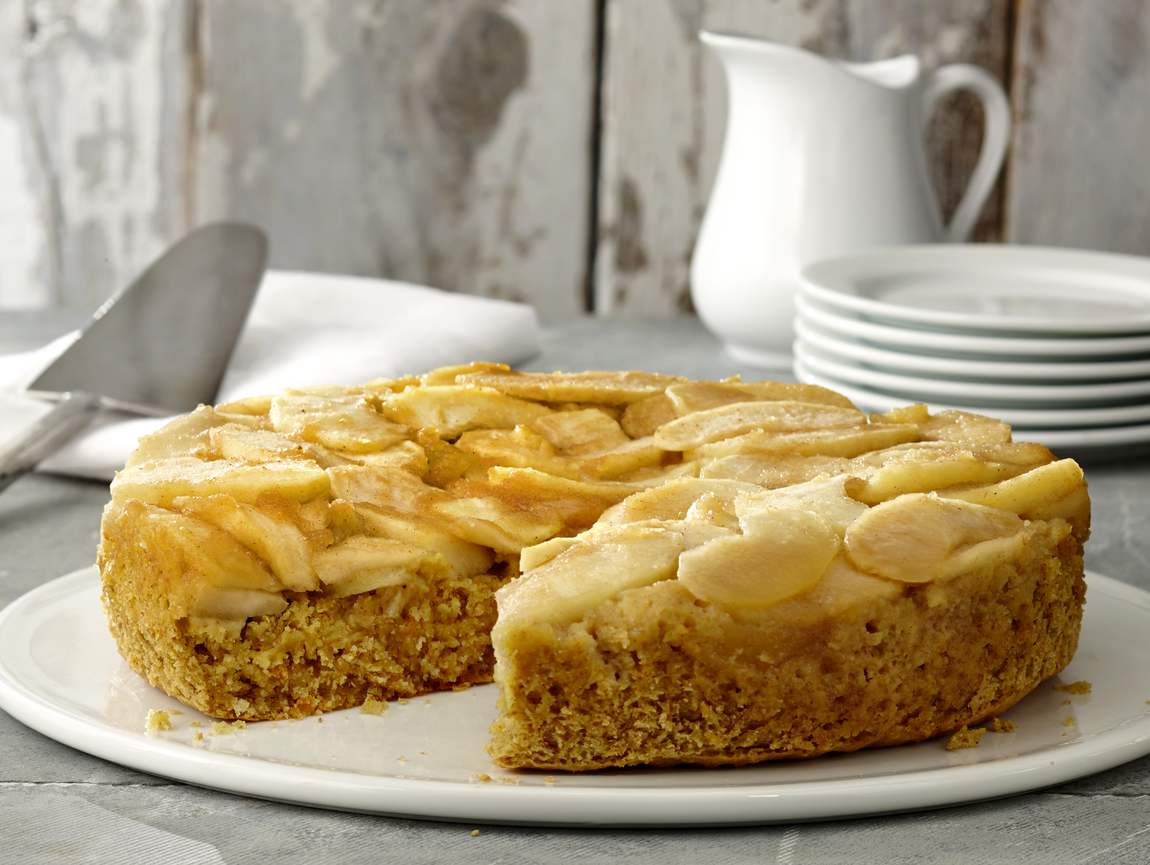 Ingredients
2 cups (500 ml) Arctic Gardens super sweet corn
½ cup (125 ml) milk
½ cup (125 ml) butter
½ cup (125 ml) brown sugar
2 eggs
1 tsp (5 ml) vanilla extract
1 cup (250 ml) unbleached flour
1 cup (250 ml) whole wheat flour
15 ml (1 tbsp) baking powder
1 tsp (5 ml) baking soda
4 cups (1 litre) apples, peeled and sliced (Empire, Spartan, Delicious, Cortland)
½ cup (125 ml) unsweetened apple sauce
1/3 cup (80 ml) brown sugar
1 tsp (5 ml) ground cinnamon
Nutrition Fact per portion :
- Calories : 359.6
- Protein : 6.5
- Carbohydrates : 59.5
- Fibre : 3.6
- Sodium : 166.3
Preparation
1- Preheat the oven to 350o F (180o C). Butter an 8 inch (20 cm) round mold.
2- Put the corn in a pot, cover with water and bring to a boil. Cook for 5 minutes or until the corn is tender. Let cool. In a food processor or with a hand mixer, process with the milk until puréed.
3- In a large bowl, cream the butter with the brown sugar. Add the eggs one at a time, mixing well between each one. Incorporate the warm corn.
4- In another bowl, mix the dry ingredients and add them gradually.
5- Mix the apples, apple sauce, brown sugar and cinnamon. Pour into the mold.
6- Cover with the cake batter and bake in the oven for 45 to 50 minutes or until a tooth pick can be inserted into the centre of the cake and removed clean.
7- Cover the mold with a large place and turn upside-down to unmold the cake.
8- Serve hot or cold.
Nutrition Facts (per serving):
Calories: 310
Protein: 6 g
Fat: 12 g
Carbohydrate: 47 g
Fibre: 3 g
Sodium: 245 mg
Recipe ideas using this product