No matter what time of year it is, are you always looking for an answer to the same old question, what are you going to eat? Despite planning a menu for the week, you often lack inspiration. Just when you're on the phone ready to order in, a miracle solution appears: stir-fries! Stir-fries are perfect in this situation. You can put almost anything in them and your meal is ready in just a few minutes.
What exactly is a stir-fry, anyway? It's an Oriental dish where food is chopped into small, equal pieces, then cooked quickly at high heat. This type of cooking is reminiscent of pan-fried European food that is cooked and covered sauce. The two techniques are similar in that they both use a pan. However, stir-fries are a lot faster and the food has to be continually stirred.
5 reasons to make a stir-fry
There's a reason why stir-fries are so popular in Asia. They're super easy at suppertime!
1. Supper is ready in just a few minutes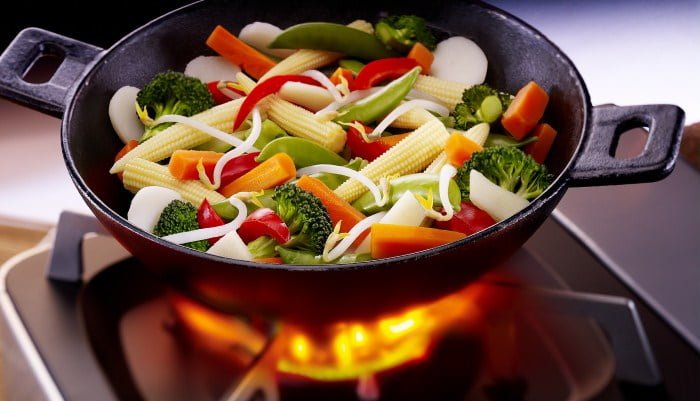 When you get home from work, you can't wait to finally relax. Cooking dinner is one of the last things you have to do before taking it easy, but some recipes take a lot of effort and time to make. But that's not the case with stir-fries because you don't have to spend hours slaving in front of a hot stove!
The principle of stir-frying is the food must be seared quickly. The stove should be so hot that meat cooks in a minute or two and veggies just have to be added. To save time during prep, buy meat already cut into strips and a frozen veggie mix for stir-fries, so ingredients are ready for cooking.
2. Leftovers totally disappear
Stir-fries aren't expensive because you can use up leftovers. You can put any kind of meat into a stir-fry. It can be just veggies, but whatever you have on hand will work fine! Stir-fries are perfect for impromptu meals because you always have food in the fridge. On the other hand, some ingredients don't always mix well. To get a mouth-watering dish, you have to know which flavours go well together. It's not any more complicated than that!
3. Flavours that are out of the ordinary
If you want to show off some originality in the kitchen, stir-fries are ideal to discover unusual flavours. Originating in Asia, this dish can often include ingredients that you're not necessarily familiar with. By adding bean sprouts, peanuts, curry paste or sesame seeds to your stir-fries, you'll completely transform the taste of your meals. Changing just one or two ingredients can take you from salty to spicy. This flexibility will give you new cooking experiences!
4. A healthy and nourishing meal
Great news! Stir-frying is good for you! It's better than steaming or boiling because more nutrients remain than with other ways of cooking. This technique elevates the taste of food and gives it a nice colour. Veggies also keep their crunch. Stir-frying doesn't need much oil, so even in terms of fat, stir-fries pass the test!
5. The perfect prep for beginners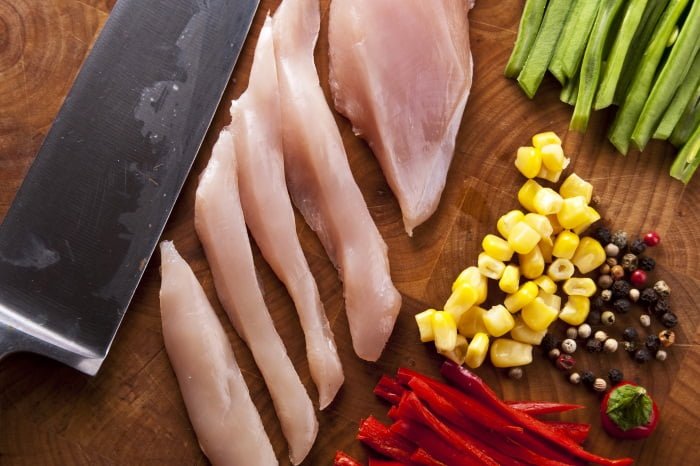 Making a stir-fry isn't a complicated ordeal, so newbies to the kitchen will appreciate how easy the recipes are to prepare, but a few basics are still useful to ensure a delicious stir-fry.
Prepare ingredients before cooking
Cook at a high temperature
Add food in small amounts
Add liquids from the side of the pan while lowering the heat
Before starting your stir-fry, make sure that all the ingredients are ready, meaning cut and measured. You'll find the cooking is so fast that you won't have time to prepare ingredients while you're stirring at the stove. While prepping the food, you'll also find it helpful to put it in bowls in the order they appear in the recipe. That will make cooking even easier and you'll feel like you're on a cooking show!
For a perfect meal, heat the element to high to properly sear the meat, then add the other ingredients a little at a time. This way, the newly-added food won't lower the stir-fry's temperature. The same for the sauce: If you pour it all in at once, the veggies will get soggy. To get around this, pour the liquids in a little bit at a time from the side of the pan. You also have to lower the heat so the sauce won't burn and stick to the bottom of your pan.
The key elements to remember for a successful stir-fry is to keep the temperature high throughout the cooking process and to move the food around a lot so that it doesn't burn. With these basics, you're definitely ready to make any kind of stir-fry!
What to use for making a stir-fry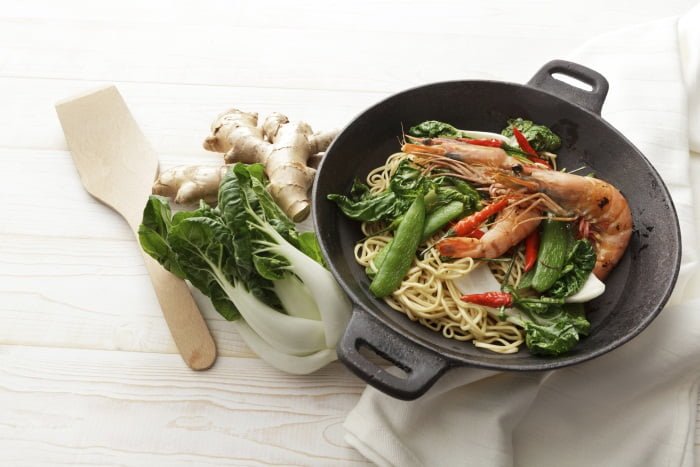 Technique isn't the only thing to consider when making a good stir-fry. A few ingredients and a few tools will help you make it perfect!
The perfect food for a delicious taste
Choosing the ingredients is really easy. Take whatever vegetables or meat to add to your stir-fry. As for sides, you generally serve stir-fries on noodles, pasta or white, sticky rice. You can also use up cold leftover rice. In fact, in China, they normally only use leftover to make a stir-fry.
The necessary accessories to manage everything well
Woks are the traditional tool used to make stir-fries, but they're not essential. Your big frying pan will do the trick. But, if you opt for a regular pan, you'll need a wooden spoon or heat-resistant spatula to properly stir the food. Actually, you'll definitely need space to work the pan like a chef.
With their high sides, woks are perfect for tossing your stir-fries in the air! If you think you'll be making stir-fries regularly, a wok is a good investment. As well, you'll be able to use it for other things like frying or boiling. However, results are better with a gas stove. Without a hot flame, woks doesn't really get hot enough, so food doesn't cook evenly.
The best oils for making stir-fries
To properly sear food, you must coat the bottom of your wok with a little oil, but not just any oil! For stir-fries, you can use any oil with a high smoke point. These oils can be heated to a high temperature without burning. Here's a memory aid to help know the smoke point of the most used oils.
Extra light olive oil and avocado oil are the best for stir-frying. Peanut and sesame oil are also good for stir-fries. They'll also add an Asian taste to the food!
Arctic Gardens original recipes
What's interesting about stir-fries is that everyone likes them. You just have to know what your guests' favourite foods are to find the recipe that will impress!
Asian peanut stir-fry
Number of servings: 2 to 4
Preparation time: 5 minutes
Cooking time: 10 minutes
Here's the perfect recipe to make for a first stir-fry. You don't even have to worry about cooking meat. Just stir-fry veggies and peanuts in an oyster sauce and it's done!
Pork and shrimp thai stir-fry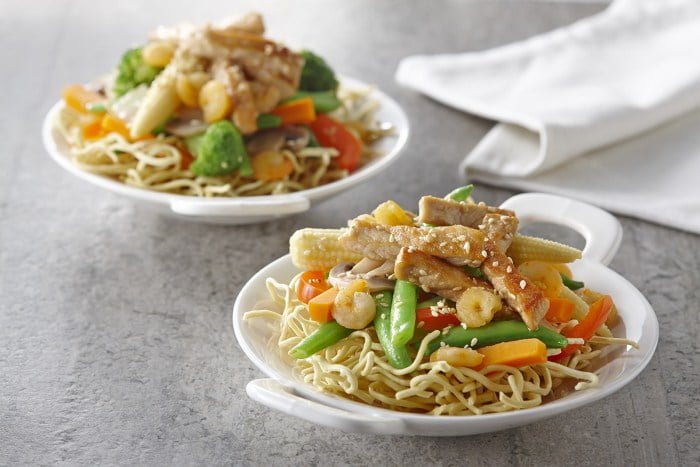 Number of servings: 4
Preparation time: 20 minutes
Cooking time: 10 minutes
Seafood lovers will love this dish. Nordic shrimp mixed with sesame seeds, honey and ginger gives this a typical Thai flavour. Stir-fries can easily be served on a pile of chow mein to make them even more appealing!
Oriental chicken and vegetable stir-fry
Number of servings: 4 to 6
Preparation time: 10 minutes
Cooking time: 15 minutes
Leftover chicken is useful in this recipe that doesn't need a lot of ingredients. With just a little chicken, a frozen veggie mix and some sauce, you're ready to get cooking!
Californian chicken and mango stir-fry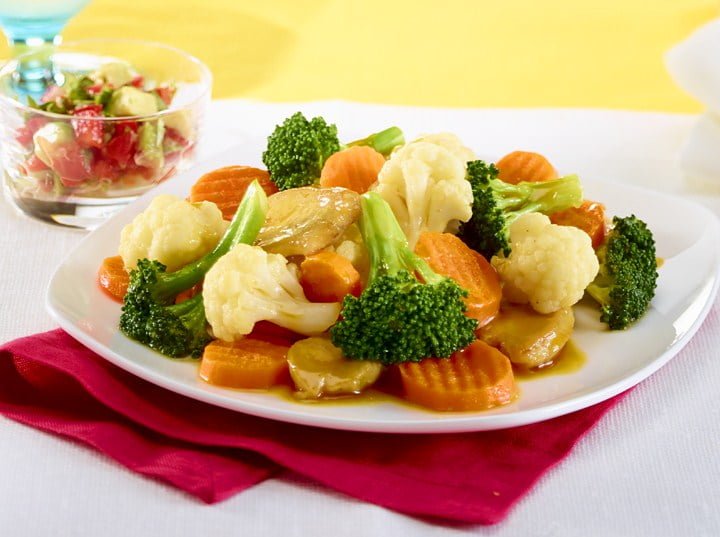 Number of servings: 4
Preparation time: 20 minutes
Cooking time: 10 minutes
This is a completely different style of stir-fry which is inspired by California. Mangos give our dish a hot and vibrant colour that makes us think of sunny California. With fruit and honey as ingredients, it's sure to be the perfect recipe for people who have a sweet tooth.
Tofu and vegetable stir-fry
Number of servings: 4 to 6
Preparation time: 10 minutes
Cooking time: 15 minutes
This recipe will allow you consume less meat while enjoying a tasty, nutritious meal.
Beef teriyaki stir-fry
Number of servings: 4
Preparation time: 15 minutes
Cooking time: 15 minutes
This is another simple stir-fry recipe that only takes 30 minutes to make. And like most stir-fries, cook all of the ingredients in the same pan. Translation: fewer dishes after supper!
Stir-fries are the perfect solution for a good meal made in just a few minutes. Our frozen vegetable mixes simplify dinner prep even more. Thanks to ready-to-use ingredients, making a stir-fry is a piece of cake! Share your stir-fry recipes and tricks for quicker prep with us.