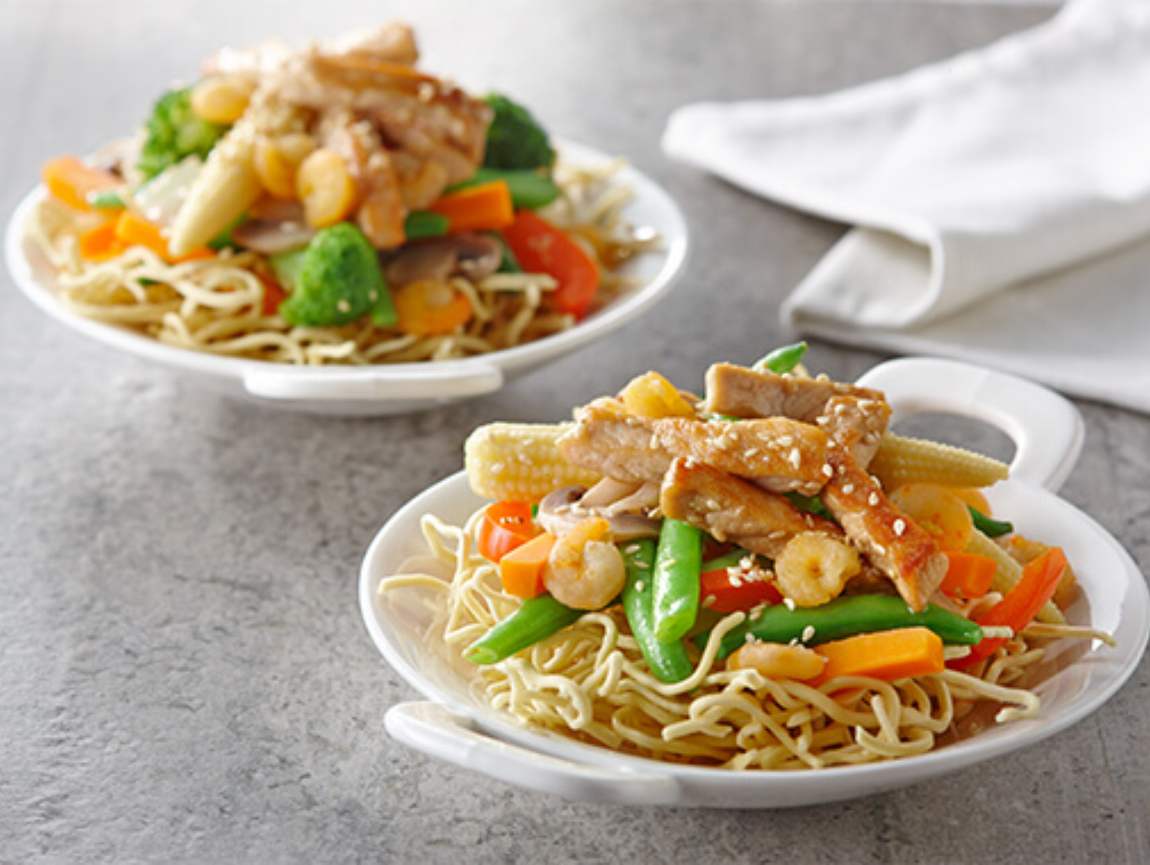 Ingredients
125ml (½ cup) flour
5ml (1 tsp.) ground cayenne pepper
100g (1/4 lb) pork loin, cut in strips
60ml (¼ cup) vegetable oil
5ml (1 tsp.) fresh ginger, minced
½ bag (375ml) Arctic Gardens Thai Style Stir Fry Blend
5ml (1 tsp.) garlic powder
salt and fresh-ground pepper
500ml (2 cups) Nordic shrimp, drained
10ml (2 tsp.) honey
10ml (2 tsp.) sesame seeds, toasted
2 cloves garlic, minced
15ml (1 tbsp.) rice vinegar
Preparation
In a bowl, combine flour, garlic powder, and cayenne pepper. Add salt and pepper to taste. Divide seasoned flour in half and coat pork and shrimp separately. Shake off excess flour and set aside.
In a wok, heat oil over high heat and sauté pork and shrimp. Add half each of honey, ginger, and sesame seeds. Cook for 2 minutes.
In another pan, heat remaining oil and sauté vegetables with remaining ginger, sesame seeds, and honey. Deglaze with rice vinegar and cook 2 minutes.
Spoon vegetables over crispy noodles, top with pork and shrimp, and serve.
Nutrition Facts (per serving):
Calories: 350
Protein: 26 g
Fat: 17 g
Carbohydrate: 24 g
Fibre: 3 g
Sodium: 242 mg
Recipe ideas using this product