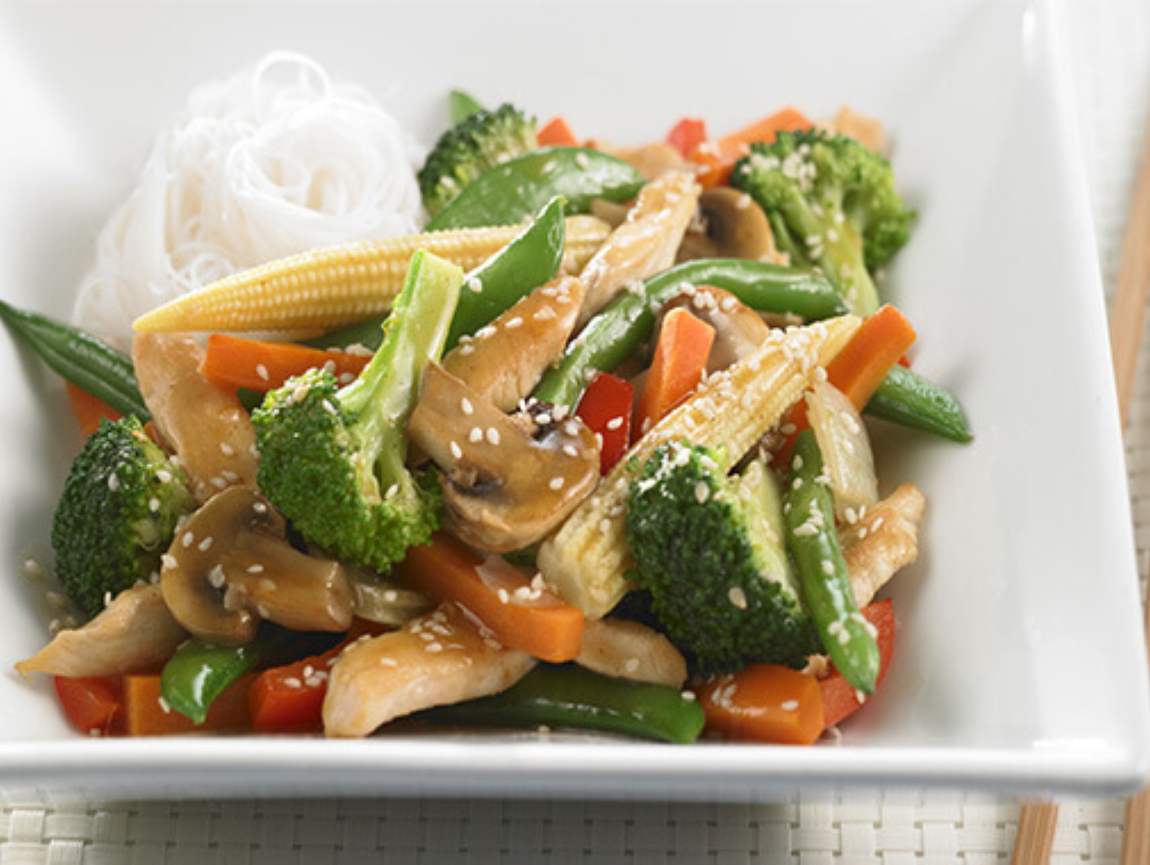 Ingredients
1 bag (750g) Arctic Gardens Thai style vegetables

30 ml (2 tbsp) sesame or vegetable oil

450 g (1 lb) skinless boneless chicken breast, cut into strips
125 ml (1/2 cup) water
1 pouch (28 g) Suwong Oriental Stir-Fry Mix
Preparation
In a large skillet, heat 15 ml (1 tbsp) oil; over high heat, stir-fry chicken strips about 6 minutes. Remove chicken from skillet and keep warm.
In the same skillet, heat 15 ml (1 tbsp) oil; stir-fry the vegetable mix about 5 minutes, or until completely thawed.
Add water. Sprinkle Oriental seasoning over vegetables, in skillet. Cook and stir until sauce is thickened and vegetables are tender, 2 to 3 minutes.
Return chicken strips to skillet. Combine with vegetables and serve.
Variation: for a homemade oriental sauce, replace one 28 g pouch of Suwong Oriental Stir-Fry mix and 125 ml (1/2 cup) water by the following: 1 garlic clove, minced; 2 ml (1/2 tsp) ground ginger or 10 ml (2 tsp) finely chopped ginger root; 20 ml (1 1/2 tbsp) cornstarch; 125 ml (1/2 cup) chicken broth; 30 ml (2 tbsp) soy sauce, or to taste; 15 ml (1 tbsp) roasted sesame seeds. Suggestion: serve with vermicelli rice or white rice.
Nutrition Facts (per serving):
Calories: 250
Protein: 23 g
Fat: 7 g
Carbohydrate: 29 g
Fibre: 5 g
Sodium: 380 mg
Recipe ideas using this product