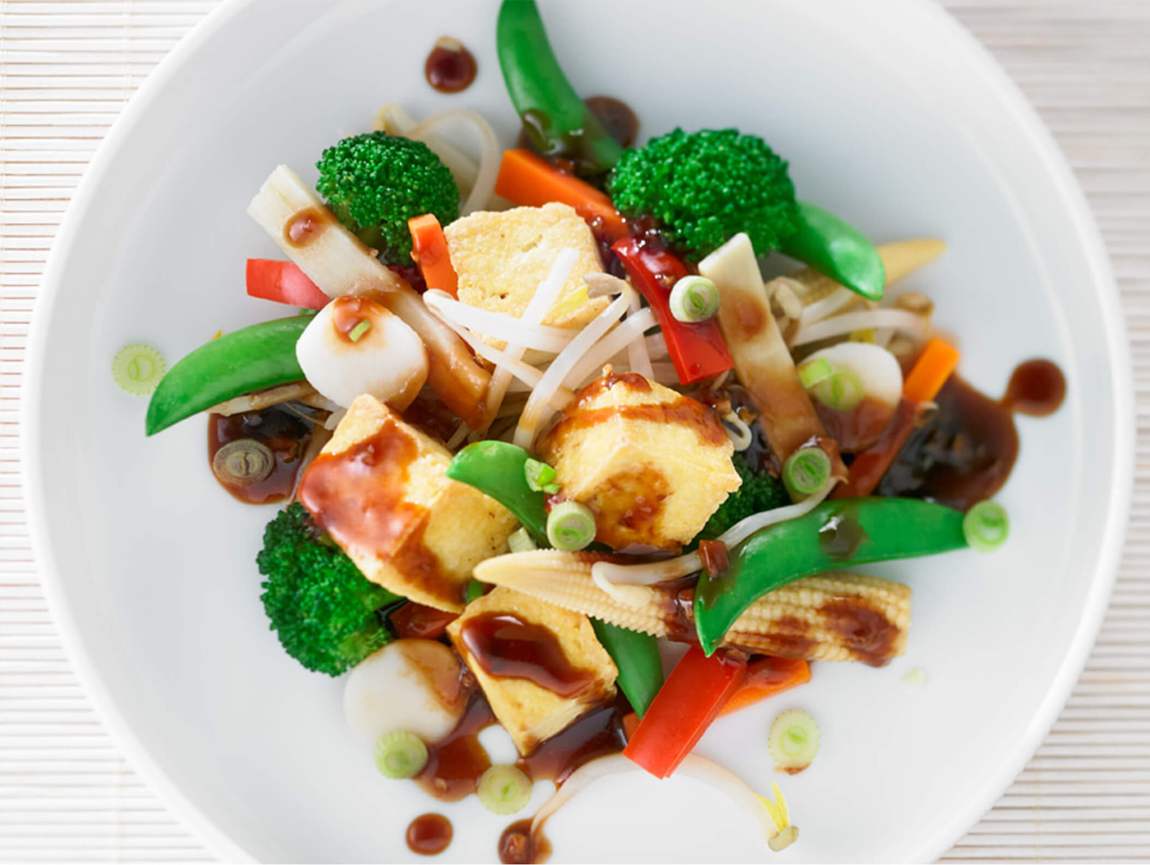 Ingredients
1 bag (750 g) Arctic Gardens Thai Style Stri Fry
1/4 cup (50 mL) sodium-reduced soy sauce
1 tbsp (15 mL) rice vinegar
1 tbsp (15 mL) hoisin sauce
2 tsp (10 mL) cornstarch
1 pkg (330 g) extra-firm tofu
2 tbsp (30 mL) vegetable oil
3 cloves garlic, minced
1 tbsp (15 mL) minced gingerroot
Pinch hot pepper flakes
2 tsp (10 mL) sesame oil
2 green onions, thinly sliced
Preparation
In small bowl, whisk together soy sauce, rice vinegar, hoisin sauce, cornstarch and 3 tbsp (45 mL) water; set aside.
Pat tofu dry; cut into 3/4-inch (2 cm) cubes. In large wok, heat half of the oil over medium-high heat; stir-fry tofu until golden, about 6 minutes. Transfer to plate.
Heat remaining oil in wok over medium-high heat; stir-fry garlic, ginger and hot pepper flakes for 30 seconds.
Add Ying Yang Stir Fry vegetables; stir fry for 2 minutes. Add 1 tbsp (15 mL) water; cover and steam for 4 minutes. Add tofu and soy sauce mixture; bring to boil and stir until thickened and vegetables are tender, about 1-1/2 minutes. Stir in sesame oil and green onions.
Nutrition Facts (per serving):
Calories: 200
Protein: 11 g
Fat: 11 g
Carbohydrate: 15 g
Fibre: 3 g
Sodium: 440 mg
Recipe ideas using this product