Spinach: a powerful partner for staying healthy
When you think of spinach, the first thing that comes to mind is that it's high in iron.
That is true, but when compared to other veggies, spinach is a treasure trove of nutrients and is versatile enough to include in your recipes.
That's why we want you to discover this veggie – so you can add it to your diet more often and benefit from all it has to offer.
Benefits and nutritional value
This nutritional gem comes with great benefits that your health will thank you for. Here's the list:
The perfect partner for cardiovascular health
Two molecules contained in spinach – betaine and folic acid – help reduce the concentration of homocysteine, an amino acid.
High levels of homocysteine in the blood are thought to be linked to heart attacks and stroke.
But that's not all. Because it's well balanced in terms of nutrients, this superfood helps improve blood circulation and prevents hardening of the arteries.
And your blood pressure would love its high potassium content.
Please note:
Spinach isn't recommended for people undergoing anticoagulant therapy because it contains a large amount of vitamin K which causes blood clotting. Talk with your doctor to determine what works best for you.
Good for bones
The combination of potassium, calcium and vitamin K makes this veggie a key ingredient in treating osteoporosis and helping to reduce the risk of fractures.
Specifically, vitamin K nourishes osteoclasts, the cells involved in bone renewal.
A gold mine of antioxidants
You may have heard about the great benefits of antioxidants for skin care and anti-ageing as they help to slow free radicals.
Spinach is one of the foods richest in antioxidants – vitamins A, C and E – making it a feisty friend in the fight against ageing.
But the role of this superfood goes beyond anti-ageing and skincare protection.
This veggie plays a key part in regulating cell division, helping to prevent stomach and skin cancer, for example.
Your body needs fibre
Spinach also has lots of fibre, making it one of the most fibre-rich veggies around. Read this article to learn more about fibre.
So there's no doubt that eating it helps stimulate intestinal function, detoxify the body and prevent constipation.
 Tip!
To consume a good amount of fibre, we recommend cooking an average of 200 g of spinach, which is equivalent to about 5.4 g of fibre.
Your eyes will thank you

By regularly including this veggie in your diet, your eyes get an essential nutrient that helps improve eye health.
It also helps reduce the risk of macular degeneration, cataracts and retinitis.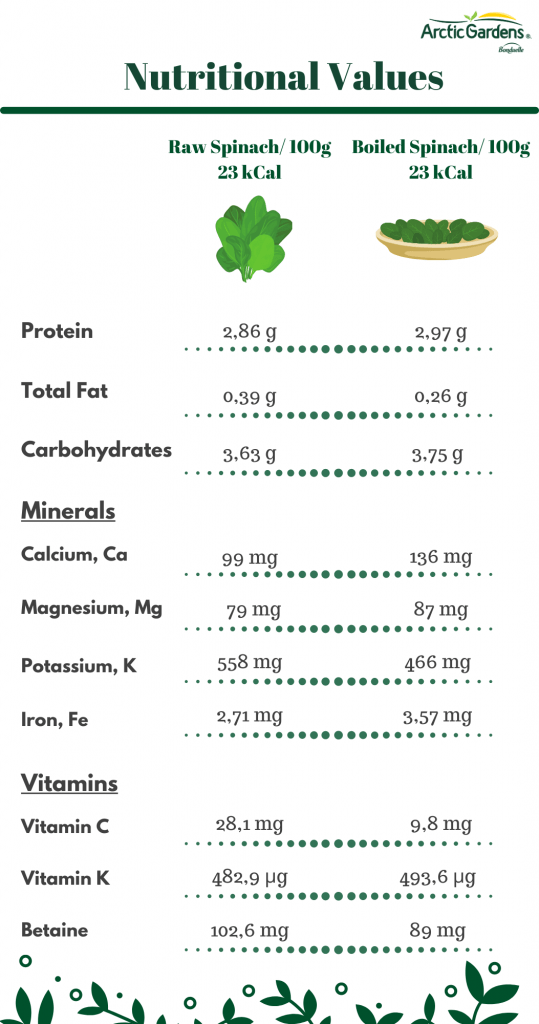 Varieties of spinach on the market
There are 3 main varieties: savoy, smooth-leafed and semi-savoy.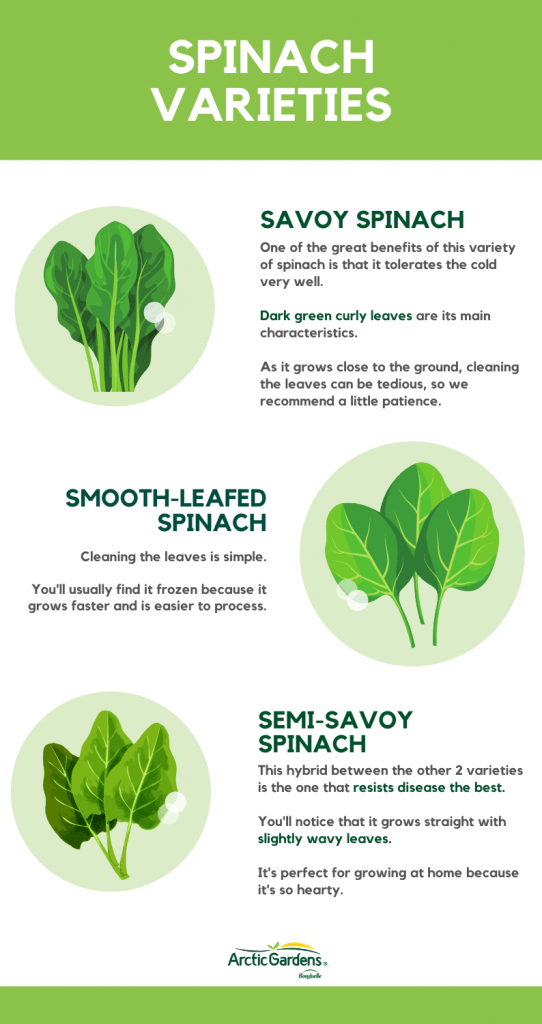 Bonus!
If you want to grow it, we recommend reading our essential guide to having a plentiful garden.

Choosing, preparing and cooking spinach
How to choose
For fresh spinach, we recommend:
Making sure the leaves are dark shiny green. Avoiding wilted or blotchy leaves.
Make sure the package is properly closed and sealed.
Choose a bag that preferably doesn't have any frost buildup because frost is a sign that the veggie has thawed.
Prepare it well
It all starts with choosing the leaves.
Cooking tip
We recommend cooking the largest, thickest leaves and eating the younger ones raw. They're delicious in salads.
Once the leaves have been chosen, carefully remove the stems and stalks.
Rinse under running water. Avoid soaking the leaves can become limp and lose their nutritional value.
If you don't have time, go for frozen spinach. It's already been cleaned and is ready to be added to your dishes. Arctic Gardens offers a 500 g format.
3 ways to prepare it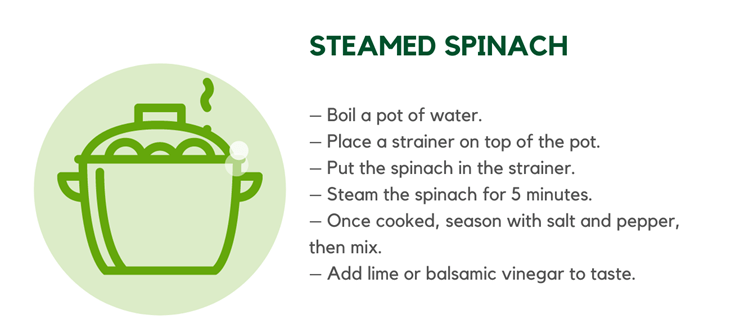 Steaming not only keeps the leaves green but also makes them tender.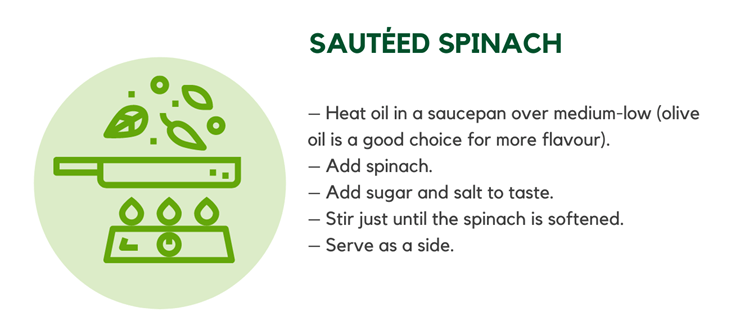 This technique is the most flavourful.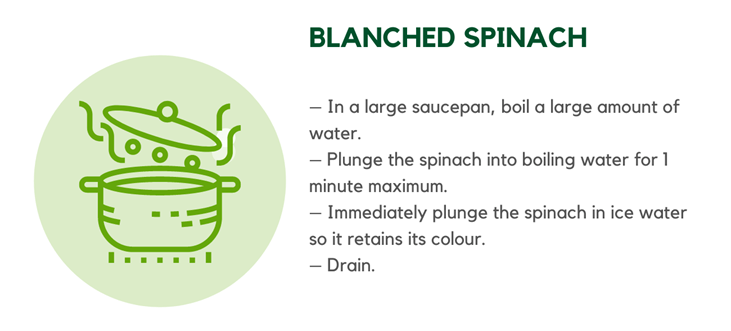 You can cook a large amount more quickly using this preparation method.
How to store spinach
For fresh spinach, it's best to eat it as soon as possible.
So go ahead and enjoy the spinach you bought 2 or 3 days ago.
Trick to minimize waste
Use fresh spinach that's starting to wilt in recipes where you cook it, so you minimize waste.
But another way is to freeze it, so cook it first, then drain and freeze.
Frozen spinach can be frozen for up to a year.
We recommend cooking only the amount you'll use and not defrost the rest because it'll be harder to store.
How to add more spinach to your diet
Spinach is one of the most versatile veggies, so it's easy to include it in your diet often. Find out how:
Add fruit like peaches strawberries, and pineapple to a spinach salad.
Smoothies and green juices are also excellent ways to incorporate raw spinach. You can mix it with pear, cucumber and celery, for example.
Finally, add raw leaves to your cream soups.
If you prefer cooked spinach, you should know that pairing it with cream is a match made in heaven. It also goes amazingly well with eggs, legumes and white meat.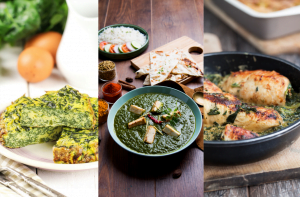 Tip for the kids
Camouflage chopped cooked spinach to increase your kids' veggie intake. An excellent example is quiche. Learn how to make the perfect quiche right here.
Our favourite recipes
To start the day
Florentine Breakfast Cassolette
Caramelized Onion and Cheddar Savoury Pancakes
For a shot of freshness
Roasted Chickpea Spinach Salad
Self soothe
Salmon Filet Stuffed with Spinach and Apple
Creamy Spinach and Chicken Pasta
For the little kids
Sweet Spinach Muffins with Banana
Now that you know all about spinach, you can let your imagination and creativity go crazy to add it to your diet more often.
The possibilities are endless, so start discovering more recipes! And let us know in the comments section what your favourite recipes are.