Green juices – a shot of vitamins in a glass
In the morning, at lunch, at snack time or to add fibre to your supper, green juices can be enjoyed anytime of day (ideally during a meal to avoid snacking).
But why green juice? Is it really good for you? Why juice your veggies and, most importantly, what are the best recipes?
All answers are in the following article.
PS After reading this article, you'll be a fruit and veggie juice expert.
The health benefits of homemade fruit juices
Fresh juices have lots of benefits. Here's a list:
Recommended Dietary Allowance
First, when you drink fresh juice, you're also consuming fruits and veggies. A small glass of homemade juice – about 2/3 cup – has about 1 cup of fruits and veggies. This is about half the recommended daily intake.
Even though extraction or centrifugation destroys some vitamins, in general, your homemade juice will be rich in micronutrients (present in most raw veggies), which the body needs to function normally.
Enjoying micronutrients with good digestion
Many people are hesitant to eat raw veggies. Some find it harder to digest them.
Making homemade juice removes most, if not all, the fibre. This allows your intestines to digest the mucous membrane more easily while benefiting from the micronutrient intakes. But you shouldn't underestimate fibre and how it's important for your body.
Moisturize and treat yourself
Finally, fresh homemade juices allow you to hydrate. Hydration is important, so try to drink at least 1.5 litres of fluids (e.g. tea, juice with no added sugar, water) a day.
The juices will help drain the water that your tissues retain and encourage waste elimination.
Fresh fruit juice or green juice or smoothies: the differences
Creamy and velvety are synonyms for smooth.
Even though green juices are pretty green, they don't have milk, yoghurt, crushed ice or anything else except fruit, roots, spices or vegetables.
A smoothie is good if you need something that fills you up and provides insoluble fibre, soluble fibre and juice. In a nutshell, your digestion will have to work longer to assimilate all the health benefits from it, between 1 and 4 hours depending on the ingredients used.
The juice mainly responds to a need for rapid hydration, an energy boost and an instant supply of essential nutrients (yup, in just 15 minutes, these nutrients reach the bloodstream). And the digestive system will be less stressed with juices. It won't need to digest the fruit's fibre.
And the difference with green juices?
The difference between a fresh fruit juice and a green juice is mainly the intake of vegetables. There are a lot more vegetables that give the juice its green colour. Therefore, in addition to the benefits found in fresh fruit juices, it allows you to add vegetables to your diet. However, you mustn't overlook importance of consuming whole vegetables.
The detox aspect of a green juice is the most controversial. Even if the effect of vegetables on your body is positive, it's better to avoid thinking that a green juice will have an incredible effect on your health.
Why is it called "detox"?
The high consumption of (whole) green vegetables is recognized as an effective means of preventing the development of cancer and cardiovascular disease. As well, fruits and especially vegetables help control blood sugar levels and ensure that intestinal transit functions properly.
Finally, smoothies are perfect for adding vegetables, fruit and fibre to your diet if you don't eat them at all. Juice will give you with soluble fibre, mineral salts, vitamins, antioxidants, so it's great if you want to vary your diet with enough fruits and veggies.
Other benefits of making fresh fruit juice and homemade green juice
As well as having significant health benefits, drinking fresh juice or green juice will bring a number of benefits to your routine and the way you consume servings of fruits and vegetables. See below.
Don't throw away ugly fruit
In today's society, ugly fruits and vegetables are a real concern. We think that a damaged fruit or vegetable isn't good, therefore, isn't nutritious anymore.
Did you know that many fruits, like apples, peaches, apricots and strawberries, actually become sweeter when overripe?
By transforming ugly fruit and veggies into juice, they lose the ugly visual that throws some people off. Now you can just focus on how they good they taste and the health benefits they provide.
1 stone, 2 birds: you minimize food waste while enjoying a delicious refreshing juice.
Kick-start your day with vitamins
Not hungry at breakfast? Make yourself a fresh morning juice or green juice to give your body some vitamins. But be careful with your juicer: most homemade juicers can preserve the vitamins in fruits and vegetables for only a few minutes.
So we recommend you drink your juice as soon as it's ready, more or less.
Try new ingredients (for example, matcha, turmeric, ginger, lemon)
A fresh fruit juice is also the time to use fruits (or veggies in the case of green juice) that you're not so crazy about. Celery can have a distinct taste, for example. But if you can squeeze the juice out and pair it with apple juice, we promise you'll slowly discover its original aromas.
Making your own juice is trying new combos with, for example, ginger or turmeric (a spice renown for its many health benefits, see our article).
Ideally, a water-intense fruit or veggie should be alternated with a hard, fibrous ingredient like ginger.
You can also add collagen or matcha tea at the end of the juicing process to add a new nutritional dimension to your drink.
Fresh juice is also great as a snack
It's 4 p.m., and your stomach is starting to grumble a little. The dilemma will be to rotate pleasure, energy and health. As long as they're fresh, home made or cold extracted juices are your best healthy friend to satisfy the most discerning palates.
Generally made up of 60% vegetables, green juices are a perfect snack to avoid sugar.
And a fresh fruit juice with no added sugar can still be very sweet. How's that? Just by adding carrots or beets.
When is the best time to drink a fresh fruit juice?
There isn't a good or bad time to enjoy a fresh fruit or green juice.
But if you want to get the most out of all the juice's vitamins, nutrients and taste, the best time is in the morning when your stomach is still empty. Also, because your tongue hasn't tasted anything for a long time, you'll enjoy rediscovering some flavours.
What should you watch out for when making homemade juice?
Fruit or veggies that aren't properly washed
It's a definite YES to ugly fruits and veggies! But be careful to remove the parts that are really too damaged, that have insects or have started to go bad.
Fruits and veggies with high pesticide content
If possible, choose fruits and vegetables that are organically grown or free of pesticide residue. But sometimes you might still not be able to find the perfect organic fruit or veggie.
So here's the Environmental Working Group (EWG) Dirty Dozen, which lists the fruits and veggies that are safe to eat and the ones with pesticide residue or aren't organically grown that have to be washed and peeled well before eating.
Fruits and veggies to be well washed and peeled:
Fruits and veggies that are the safest to eat:
Add sugar to fresh juices
The advantage of fresh or green juices is that they conserve a lot of their nutrients without added sugar. However, some people prefer really sweet juice.
Try to choose fruits and veggies that are naturally sweet like: grapes, cherries, plums and pears, followed by citrus fruits.
To keep these sweet snacks healthy, be careful not to add refined sugar. Instead, turn to more natural options such as maple syrup and honey, which should be added at the end of extraction, directly into your glass.
Demystifying misconceptions about fresh fruit juice and homemade green juice
The key is variety. Actually, some juices may have properties depending on the ingredients they contain.
Be careful though: drinking fresh fruit juice is not the same as eating the fruit itself. We're often told that green juice has more nutritional value than fresh fruit juice. This remains to be seen…
Juice cures: for or against?
We've already looked online for the advantages of a fresh fruit juice or green juice cure and even tested them. The body doesn't need to be cleansed because cells regenerate by themselves. This is the very principle of the human body.
The key to beautiful skin, a less sensitive digestive system or things along those lines is, in general, a healthy balanced diet.
So yes, a juice cure for a few days will have a real impact on your body, weight and skin. Just remember that you're beautiful just the way you are and that different is something we embrace! However, all these effects will be mostly due to a loss of water and muscle.
In short, juice cures are great to increase your fruit and veggie intake or as a way to discover new flavours.
But if you like the taste of fresh fruit juice or the benefits of a green juice, you should treat yourself!
The secrets to making green juice
The base of a green juice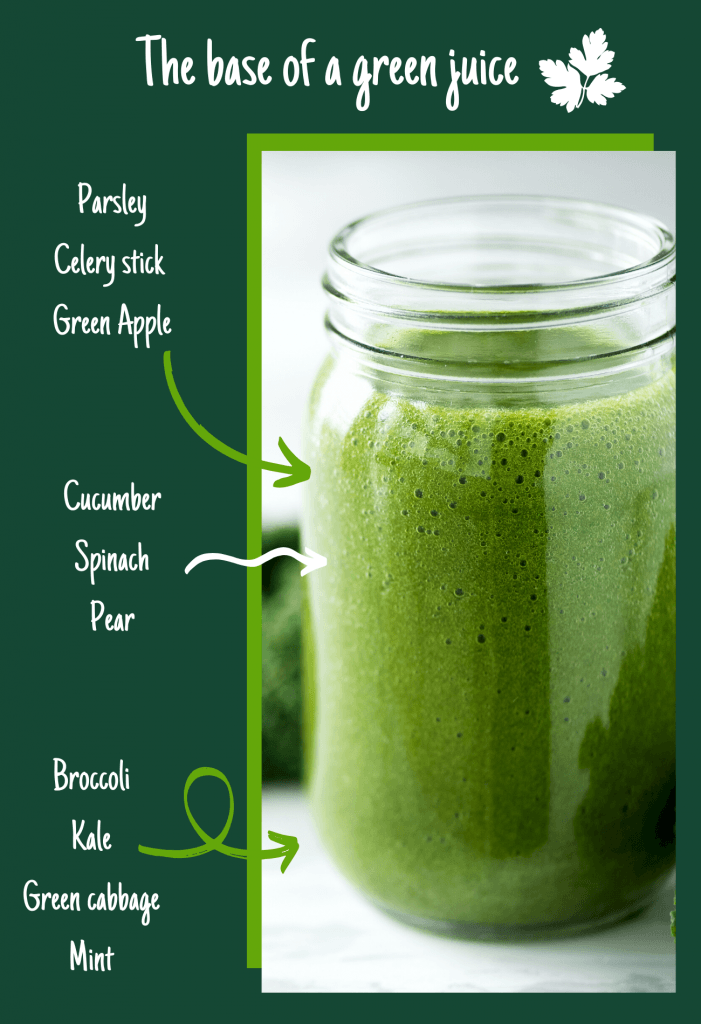 If you'd prefer to drink another colour, here's a little tip: beet juice will be your new best friend. It's deep red and really sweet. We promise you'll barely notice its special taste.
Our favourite green juice recipes
Perfect to start
Cucumbers Celery Parsley Green Apples Ginger Lime Juice
Apple Carrot Beet Ginger Juice
Tweaked for kids (fresh fruit juice and green juice)
Their tummies and taste buds are more sensitive our grownup ones. Here are 2 recipes they'll love:
The green juice recipe my kid actually loves
Kid's veggie special kids recipe
Spiced up
Green juice with ginger and cayenne
Anti-inflammatory Carrot Turmeric Juice 
There are definitely tons of super foods you can add to your green juice. Think algae (chlorella, Klamath and spirulina), chia seeds, Ormus, plant proteins, baobab powder)…
Homemade fruit and veggie pulp crackers
Zero-waste can easily be used in homemade juices. Between the skins and pulp of some fruit, there can be a lot of loss. But we've got a really good recipe for you – veggie crackers made from pulp, so here's the video:
To finish up, here's a little tip: try freezing your green or fresh juices in an ice cube tray.
Even if you lose a little of their nutritional benefits, they'll still taste great.
We hope this file has helped you learn more about green juices and fresh juices. Send us your best recipes and your comments!